UFC on Fox 3 Live Results and Analysis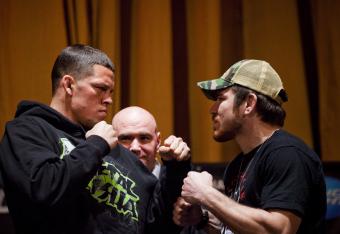 Nate Diaz vs. Jim Miller
Michael Nagle/Getty Images
Nate Diaz and Jim Miller have been staples of a fully loaded 155-lb. lightweight division for a while now, but never before have either been in a position to actually contend for the UFC lightweight title or face each other in the heat of battle.
This Saturday night, both men get to do just that in East Rutherford, New Jersey's IZOD Center for UFC on Fox 3. While there's still a question of what a win might mean for Diaz, fans will tune in to this fight with the knowledge of what this fight means for Miller before it ever starts.
With the way in which both men scrap in their fights, one can guarantee that those in attendance will not leave the IZOD Center in disappointment when all is said and done.
Also, Johny Hendricks and Josh Koscheck take co-headlining status in a bout with similar implications, as a win could do big things for Hendricks.
Finally, Rousimar Palhares and Lavar Johnson have established themselves as names to focus on in their respective divisions, and on this night, they will hope that a win will put them one step closer towards being "in the mix" in their divisions.
However, for the heel-hooking machine Palhares, a step towards the UFC Middleweight title means contending with the always-ruthless striking and underrated ground competence of Alan Belcher, who insists that he will combat the task of Palhares' Jiu-Jitsu head-on.
As for Johnson, he is a bit further away from talking about either Frank Mir or Junior Dos Santos than Palhares is from talking about Anderson Silva, Chael Sonnen, Brian Stann or Hector Lombard. Johnson could find himself much further away from that holy grail if he falls to Pat Barry, but Barry is as easy a task to overcome for Johnson's fistic firepower as Johnson is to overcome for Barry's powerful technical striking.
Who will prevail when the smoke clears?
You will find out tonight, as Bleacher Report MMA welcomes you to UFC on Fox 3: Diaz vs. Miller!
Nate Diaz makes it clear that he's got nothing bad to say about Jim Miller, he's looking to be number-one in the MMA world at his division, calls Gilbert Melendez the true #1 in the world, and shouts out to a lot of his training partners, while Miller shows some class (unsurprisingly) and gives Diaz his props for one hell of a fight.
It was fun while it lasted, but this will do it for us here at B/R MMA. For all of us here at B/R, I'm Dale De Souza signing off and thanking you for joining us at UFC on Fox 3: Diaz vs. Miller live and direct from Bleacher Report MMA!
Official Result
The winner of this contest at 4:09 of Round 2 by way of a submission due to a guillotine choke, Nate Diaz!
Round 2
Nate starts off strong and tries to continue his effectiveness in the clinch. Miller tries to muscle Diaz around, but gets busted open trying to stand up. Miller lands a few shots on Diaz, but Diaz 209s up and is finding his confidence in the stand-up and the clinch. Diaz sprawls and looks for a power guillotine. He loses his first attempt but sinks the second one in.
Can he find the tap?
Diaz cranks it up, and YES, he finds the tap! Nate Diaz is the first man to find the finish against the New Jersey kid Miller!
Round 1
You know Diaz is ready to throw down when he knocks himself in the chin, then the forehead, and then he doesn't touch up.
The fight does start up with leg kicks and Miller pressing Diaz against the cage, though. Chants of "Let's go, Diaz!" in the arena. Miller and Diaz clinch up a few times and Diaz is continually clinching with Miller. Hard to tell if he's found his range, but he and Miller jockey up for position against the cage. UFC totals show that Diaz has been effective in the clinch, and a straight left rocks Miller, who loses a submission attempt and a takedown attempt to end an exciting round 1.
10-9 overall for Diaz for the clinch striking and the knockdown, but that one was a close one.
Miller walks out first, with "Bad Moon Rising" blaring in the background. Keep in mind that this is the second time Miller has headlined a card, and this is the second time Diaz, a former WEC lightweight title challenger, will be in a five round fight. Diaz has never been in the fifth round, but he has prepared for twenty-five minutes before.
Miller is in the red and black trunks, while Diaz is in the grey trunks. Any man can see that both men are ready to throw down right here and right now, which is why these men are your main event here tonight on Fox, but only one man can prevail and move a step closer to either Frankie Edgar or Benson Henderson. Only time will tell who will be that man.
Diaz is taller than Miller and has five inches of reach, but Miller will not back down. Keith Peterson is our referee.
Johny admits that Koscheck was a difficult opponent, but that is what we all should have expected from this fight, as we knew Koscheck was going to make this one a difficult fight. Hendricks needed this fight to prove that he could effectively contend with some of the elite of the division, and whether you think he actually won the fight or not, the fact remains that he did contend with one of the top guys in this division.
We will see what the future holds for Koscheck and Hendricks in the weeks to come, and we will especially learn what this means for Hendricks moving forward, as speculation has pointed towards a title shot for Hendricks if he had beaten Koscheck. It's probably going to take another fight for Hendricks to get that title shit, since he did win a split decision over Koscheck, but he is on his way up for sure.
Menefee, Couture, and Stann go through the keys to victory for Nate Diaz and Jim Miller in the main event. Couture has Diaz, Stann has Miller, and Goldie and Rogan will call the action for this fight, which is really a pick 'em fight, if one takes all personal biases out of the equation.
The pre-fight package shows Miller and Diaz in training. Of course, you can't talk about Miller without mentioning his brother Dan, and for that matter, you can't talk about Diaz without talking about his older brother Nick. Miller has the home-field advantage, but will it matter in the long run?
Official Decision
The judges score this contest 29-28 Hendricks, 29-28 Koscheck, and 29-28 for your winner by split decision, Johny "Big Rig" Hendricks!
Round 3
Hendricks throws with wild intentions but is still going after the eye. Koscheck tries to grind Hendricks up against the cage in a brawl, but Koscheck is still getting hurt despite landing hard at times on Hendricks . Koscheck gets the first takedown of the fight and tries to look for a submission, but he's keeping Hendricks from doing significant damage. Koscheck may have taken this 10-9 , but was it enough to win him the fight?
I have it 29-28 Hendricks, but let's see what the judges think.
Round 2
Hendricks moves forward and nearly gets in a bad position but he gets Koscheck against the cage after another unsuccessful attempt at getting all of a takedown. Hendricks pushes Koscheck back with a few heavy shots but Koscheck has not been rocked yet. UFC totals through the last minute of the fight have Koscheck down in the striking totals by 32 strikes and his right eye is not looking all that great right now, though it's better than it looked against GSP.
10-9 overall for Hendricks again, 20-18 Hendricks for sure. Even though he has not gotten all of his takedowns, he is still the busier fighter and he is doing big-time damage to Koscheck at this point in time.
Round 1
Koscheck throws kicks to start and wobbles Hendricks early. Hendricks fires back. Eventually Koscheck gets backed up against the cage but gets himself back up from a takedown attempt before the fight is reset. Koscheck avoids the left of Hendricks but UFC totals through the last minute of the fight say Hendricks is the busier of the two on the feet. Koscheck doing a good job of avoiding some of Hendricks' bigger shots but hard to see if he's done more damage despite nearly being in position to finish Hendricks a few times.
10-9 Hendricks overall, even though Koscheck looked good in spurts
Return from commercial
Koscheck is taller and as the reach advantage, but can he stop Hendricks from working his heavy hands?
Koscheck is in the white trunks and Hendricks is in the black trunks. Kevin Mulhall is our referee.
Action Break—UFC 146 Promo and Koscheck-Hendricks hype
Dana White and Joe Rogan break down UFC 146's Junior Dos Santos-Frank Mir headliner, and Dana says what many have mentioned in certain circles: Junior Dos Santos has never been taken and kept on the ground. Frank Mir has taken guys to the ground and submitted them in excruciating fashion—including the arm-break that came in his UFC 140 bout with Minotauro Nogueira, so he's not a chump lined up to keep JDS busy.
Curt Menefee, Brian Stann and Randy Couture hype up the co-main event of the night, and a package shows the training of Koscheck at Dethrone Base Camp in Fresno and Johny Hendricks 's traininng in Lake Lewisville.
Who will prevail? We'll find out after the commercial break.
Belcher says he's coming for the belt after this performance—and his title trek does seem back on track after this performance—after mentioning that he had practiced those defensive techniques in training camp in preparation for this fight.
One has to wonder if Palhares was even able to grab an arm so as to pull Belcher into his guard, but regardless, it did feel disturbing to some that Palhares did not opt to close the guard when Belcher started landing big.
Nevertheless, Belcher cemented his claim as being a future title contender with a win here to night, and one has to see a step up in competition for Belcher up next.
Official Result
The winner at 4:18 of Round 1 by TKO, Alan "The Talent" Belcher!
Round 1
Both go back-and-forth in trying to land and Palhares takes him down and avoids a Twister and a Banana Split before having all of his heel-hook attempts avoided by Belcher. From there, Palhares gets Belcher in his guard but makes the mistake of leaving the guard incredibly open to where Belcher can land a few big elbows on the ground. Palhares eats ground-and-pound and does very little to try and keep his guard tightened, and Dan Miragliotta has seen enough!
Give Barry credit for doing what he could in the fight, as he was the Barry we all remember: a gamer with the "kill or be killed" mentality that fans love to see in fighters, but to beat Johnson, it takes a fighter that can pressure Lavar and really force him into a wild, sloppy slugfest, and Barry isn't that guy. Great effort from Barry but a big win for Johnson, regardless.
Palhares vs. Belcher is up next. Can Belcher avoid the crushing leg locks of Palhares, or will Palhares claim another victim?
Belcher is in the white trunks, Palhares is in the black trunks, and Belcher has a four-inch reach advantage. Can he make it count?
We will find out right now!
Official Result
The winner of this contest at 4:38 of Round 1 by a TKO (that looked like a clean KO), Lavar Johnson!
Round 1
The two begin the fight in the stand up game before Johnson ties up Pat Barry. They break and engage in an exchange that results in a few heavy fists by Johnson and a few kicks by Barry. The two remain standing until the 3:30 mark. Barry attempts a takedown, which Johnson blocks. Johnson momentarily gets top control, however Barry turns it around and gets on top.of Johnson. He quickly switches it around to side control. Immediately, Barry goes for the arm and attempts an Americana. However, the two get up and exchange in a few strikes, which Johnson gets the best of. Johnson stuns the kickboxer, Barry, with a huge kick to the head. From there, Johnson goes on the offensive and hits him with a series of jabs before finishing with some heavy uppercuts!
We are LIVE for UFC on Fox . We have an explosive four card fight here, tonight. The beginning fight is between two heavyweights. Pat Barry is known for his superb kickboxing game. Lavar Johnson, in his own right, is a heavy handed striker as well. We can expect fireworks as these two men engage in a war that will stay standing. Lavar Johnson is two years the elder and has a 4 inch height advantage and a decisive reach advantage.
Round number one underway!
This article is
What is the duplicate article?
Why is this article offensive?
Where is this article plagiarized from?
Why is this article poorly edited?