Jacksonville Jaguars 2012: Rookies Who Will Have an Immediate Impact This Season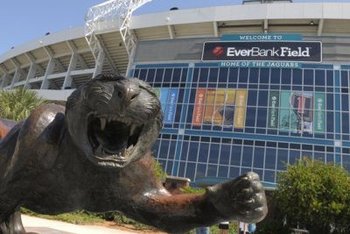 The NFL Draft has evolved through the years from a mildly covered event, whose sole purpose was to restock and build a franchise for the future, into a highly publicized, prime-time event with much fan frenzy. Every decision an owner, general manager, scouts and coaches make, are put under a microscope and analyzed like never before.
The Jacksonville Jaguars, and Gene Smith in particular, have come under fire from draft pundits questioning their draft strategy. Smith has had a knack for taking fliers on players from schools outside of the FBS, leading to his fan-given nickname of "Small-School Gene."
With new owner, Shad Khan, stepping in, many thought Gene Smith would not be back with the team, but to the dismay of most Jags fans, he was retained. So to say that entering this draft, he was on the hot seat may be a bit of an understatement. And Smith and the Jaguars responded with, what may be, their best draft in Gene's tenure as general manager, adding players who can make immediate impacts in their rookie season.
Justin Blackmon WR Oklahoma St: 1st Round
After watching the Jaguars post the 32nd ranked passing offense in the NFL last season, trotting out receivers the likes of Jason Hill, Jarrett Dillard, Chastin West, Mike Thomas and Cecil Shorts. The most productive of the bunch, Hill, was released in the middle of the season, so it was no surprise that the Jaguars made a move early to shore up the wide receiver position by trading up to select Justin Blackmon with the fifth overall pick.
Blackmon was as productive a wide receiver in college as there was, which made him the top choice for the Jaguars. He virtually steps into a starting role opposite newly signed Laurent Robinson.
His ability to use his body to shield defenders and snatch the ball out of the air without letting it come into his body, will greatly aid a still-learning Blaine Gabbert. Blackmon is a great route-runner, as well as a great leaper, making him a prime target for jump balls in the endzone.
While it is unlikely that Blackmon will break any rookie receiving records with Gabbert under center, it would not be a stretch to hear his name mentioned in Offensive Rookie of the Year discussions.
Andre Branch DE Clemson: 2nd Round
Much like the passing game, the Jaguars pass rush mustered only 31 sacks last season. They re-signed Jeremy Mincey, who led the team with eight sacks a year ago. However, there is little else at the other defensive end spot. Andre Branch of Clemson will be reaping the benefits of a thin position.
Branch is an edge rusher that the Jaguars have lacked since Tony Brackens. He is still learning the nuances and technique required to be an elite defensive end, but he has a quick first step and the speed to get around the tackle and to the quarterback.
Rookie defensive ends rarely post big sack numbers their first season. Let's say he registers five sacks in his rookie campaign, that would be the second most on the team last season, behind only Mincey. Branch will either step in as the other starting defensive end, or be the third man in a pass-rush rotation. Either way, he will make an impact this season for the Jaguars.
Bryan Anger P California: 3rd Round
Most people would not even think twice about the punter position, but much like the passing game, the Jaguars ranked near the bottom of the league in punting average. Furthermore, when your punter is a major reason why you lose games, then it definitely becomes a priority.
Matt Turk was abysmal in the Cincinnati game. He had three punts that traveled less than 30 yards, including a costly 22-yarder deep in your own territory of a close game. Turk was then released, and it was Nick Harris' turn. Average wise, he did not fare much better.
After watching the punters struggle most of last season, Gene Smith and the Jaguars could not pass up adding the top-rated punter in the draft in the third round.
Bryan Anger is a top-notch prospect as a punter. He has a booming leg and an uncanny knack for being able to down the ball inside the 20-yard line, both things the Jags lacked all of last year. Anger is the type of player that can flip the field position battle if the offense struggles.
He has the potential to be a vital "weapon" on special teams, and greatly help an already very good defense.
Keep Reading

Jacksonville Jaguars: Like this team?