Senior Bowl Stock Report: A Week In Review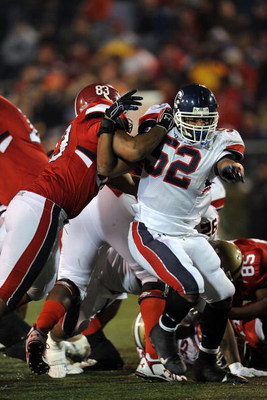 Every year, the top seniors in the country come down to Mobile, Ala. to show off their talent and potential. Most players see their stock rise during this week, but some see it fall as well. Here's a look at the top five whose stock has risen, five whose has fallen, and two players whose stock is on the fence.
Note: I was not in Mobile this week, but I watched every practice NFL Network showed, including the Senior Bowl game.
Andre Brown, RB, N.C. State: RISE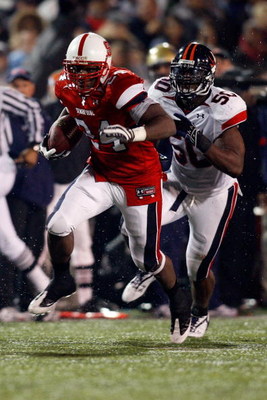 Andre Brown made the biggest jump in draft stock status this week. He really impressed scouts and coaches with his great frame, power, elusiveness, and surprising speed. He does not have that second gear and has durability issues, but Brown moved himself from possibly being undrafted to a late-second or mid-third round selection.
Robert Ayers, DE, Tennessee: RISE
I will admit that I didn't have much of a clue who Robert Ayers was until this week, but you can't blame me too much. Ayers was unproductive for three years in Tennessee and was thought to be a guy who would wash out of the program. This week, he proved his worth. He was a dominating physical presence at 273 lbs. as a defensive end and showed a set of pass rush skills that will be very valuable on draft day. He went from roughly a fifth-round pick to a solid second-rounder after this week.
Marcus Freeman, OLB, Ohio State: RISE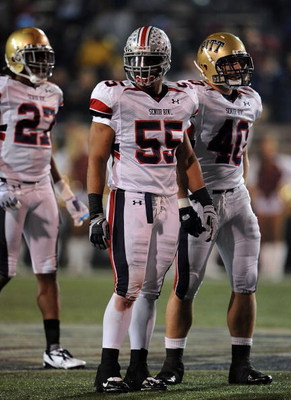 Out of all of the players who shone during the practices, I think Marcus Freeman got the least love. After a down year for an Ohio State program that was competing for a national championship, Freeman got lost among other senior linebackers like Aaron Curry, Brian Cushing, and Clay Matthews.
But during the game, Freeman showed why he could be an outstanding weak side linebacker in the NFL. He showed how fluid he was, ranging from sideline to sideline, dropping back into coverage, showcasing overall speed and a willingness to hit somebody. Freeman has convinced me that he should be on the first-round bubble.
B.J. Raji, NT, Boston College: RISE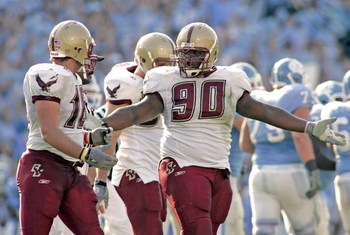 Of all of the top players that came to Mobile this week, Raji impressed the most. For a guy weighing 334 lbs., he looked like he held his weight fairly well. Not only did he have overwhelming power, he has that quick burst to disrupt anything in the backfield. The only concern with Raji is inconsistency, and that can only be addressed in interviews with NFL GMs and coaches. But based on this performance, Raji went from a late-first round pick to a potential Top 10 pick.
Kyle Moore, DE, USC: RISE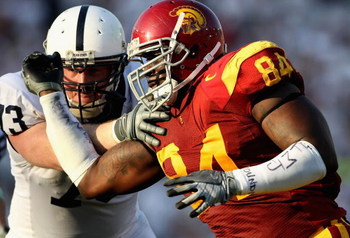 I was very impressed with Kyle Moore all season and how he kept such a low profile on a defense full of stars at USC. Well, he didn't disappoint this week either. Moore showed strength and quickness in the one-on-ones and is a good fit for a 3-4 once he puts on more weight. What impressed the most is that he looks like he could also fit at either end in a 4-3, which is a major plus, versatility-wise. Moore may not make it out of the first three rounds now.
William Moore, SS, Wake Forest: FALLEN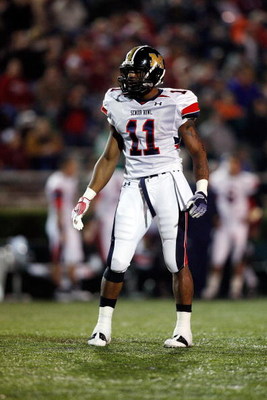 One of the few players who had a chance to separate from the rest of the pack this week was William Moore. He came into this week trying to prove that his senior year was a fluke and that he was the same dominant player that he was his junior year. That didn't happen. In fact, he might have dropped out of the top three safeties in the draft.
Moore did not show the range needed to play the all-important free safety position and showed poor consistency all week long. He definitely dropped out of the first round and will have to compete with Louis Delmas, Patrick Chung, and Rashad Johnson for the top safety spot.
Graham Harrell, QB, Texas Tech: FALLEN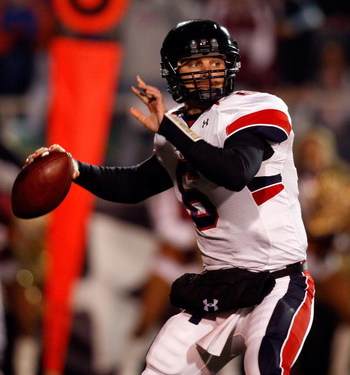 I loved seeing Graham Harrell's accuracy this week, but he had a lot of trouble from under center and his arm strength was nowhere near what I thought it was. It may be unfair to judge him after one week of being under center, but everybody expected him to come out of the pack to solidify himself as a solid third-round pick. He obviously didn't, since he had trouble throwing intermediate routes, and he will probably drafted somewhere in the sixth round.
Dominique Johnson, CB, Jackson State: FALLEN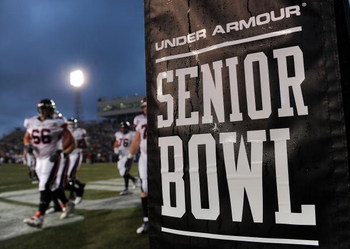 Most people didn't know who Dominique Johnson was coming into this week. For almost all draftniks, though, he was the next Dominique Rodgers-Cromartie and was supposed to prove it this week in Mobile. Johnson showed nothing this week that would warrant first-day consideration. He had a lot of trouble backpedaling with his 6'1, 190 lb. frame and could not keep up with the receivers this week. He'll probably be a late round developmental pick at this point.
Herman Johnson, OG, LSU: FALLEN
On Monday, he was one of the most impressive players in Senior Bowl history. At the weigh-in, he was measured at 6'7 and weighed 383 lbs., which was reportedly mostly muscle. His play did not reflect it at all, though, and had more trouble at pass blocking than anyone all week long. Johnson looked generally slow all week long and seemed as if he had to keep making up for lost ground. He was a second-round prospect before, but the fourth round seems more like his destination now.
Rey Maualuga, MLB, USC: FALLEN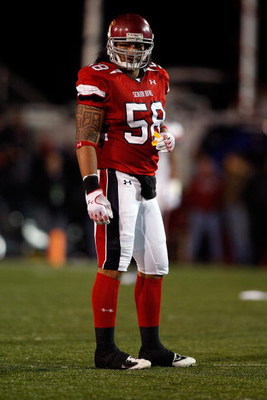 Rey Maualuga left you scratching your head after this week. He came in looking out of shape and played like it up until around Wednesday. He had a great practice on the last day of full pads and then had a pretty good overall game in the Senior Bowl. I would put him as one of my "on the fence" prospects, if it wasn't the fact that he didn't dominate like a guy of his caliber is supposed to.
I thought he was an elite middle linebacker prospect. Most draftniks don't think middle linebacker is worthy of a Top 10 pick, though, and after this week Maualuga will probably be regulated to the mid-first round.
Michael Oher, LT, Ole Miss: ON THE FENCE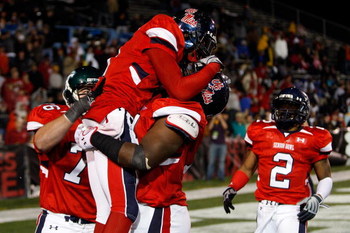 During this whole draft process, I voiced that Michael Oher was easily the No. 1 tackle in the draft. After this week, no one can be so sure. He showed insane athleticism for a man his size, a nasty demeanor in the run game, and the pass blocking skills of a legend.
The problem is that he looked like this only half of the time. Every day, he looked like a No. 1 overall pick at one point and then a mid-second rounder the next. He will probably have to gain ground to be the top tackle off the board.
Clint Sintim, OLB, Virginia: ON THE FENCE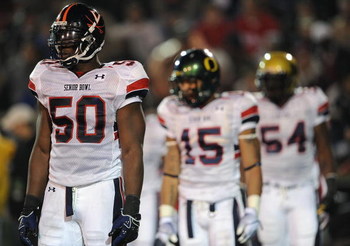 Even though Clint Sintim played 3-4 outside linebacker for Virginia, he looked out of place at the Senior Bowl practices. He was practicing as a 4-3 outside linebacker and didn't show up at all. The problem was that at Virginia, all he did was blitz from his outside spot and was pretty much always a defensive end.
So why didn't he practice with the defensive ends, if that was his specialty? That's what confused me, because not only would he have shone, but he would have showed versatility to play in either scheme. I had him as a fringe first rounder, but it looks like Larry English may have passed him up on the boards, meaning Sintim may have to hear his name early in the second round.
Keep Reading