Pittsburgh Steelers: 2008 NFL Draft Do-over with Analysis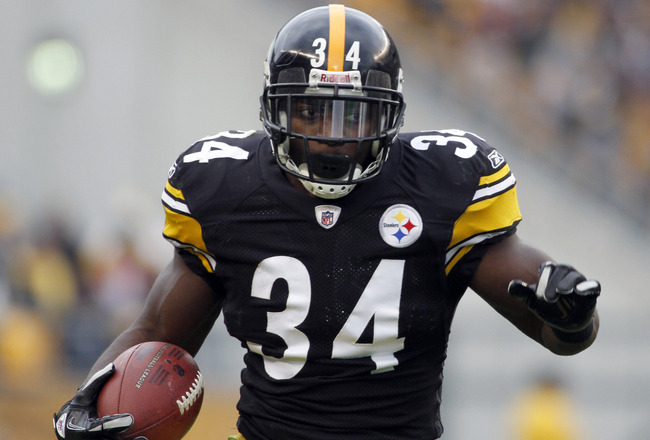 The Steelers chose Rashard Mendenhall with the No. 23 pick in the 2008 NFL draft.
Justin K. Aller/Getty Images
How is it that the 2012 NFL draft, which looks like a good one for the Pittsburgh Steelers, reminds us of the 2008 draft, their worst of the past decade?
The Steelers' 2012 and 2008 drafts are similar in a couple of ways.
Both times, the Steelers were coming off wild-card playoff losses, which is why they picked in a similar position. They were in the No. 23 spot in 2008 and the No. 24 spot this year.
Both times, a player projected to go somewhere between No. 10 and No. 15 slid to the Steelers.
In 2008, it was Rashard Mendenhall. This year, it was David DeCastro.
Like DeCastro this year, Mendenhall seemed like a steal in 2008.
While it's too early to grade the Steelers' 2012 draft, it's not too early to slap a "C-minus" on the Steelers' 2008 draft.
That grade could improve if Mendenhall comes back from his ACL injury and contributes next season. But according to Ed Bouchette of the Pittsburgh Post-Gazette, it's likely that we've seen the last of Mendenhall in a Steelers uniform.
If that's the case, then the Steelers' 2008 draft would have essentially yielded a running back who had a couple of decent seasons and a backup safety in Ryan Mundy.
Let's take a look at who the Steelers would pick if they could do it over again, as well as how the last three seasons would have been different.
Follow me @Steel_Tweets.
Round 1: Duane Brown, LT, Houston Texans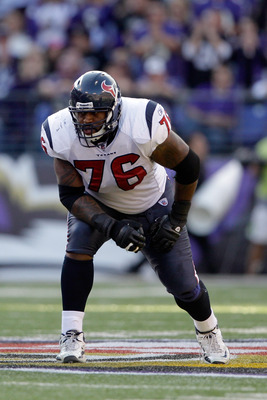 Rob Carr/Getty Images
Who the Steelers drafted: Rashard Mendenhall, RB
Rashard Mendenhall is far from a bust. He missed most of his rookie season when he broke his shoulder courtesy of Ray Lewis, but ran for 1,108 yards in 2009 and 1,273 yards in 2010.
However, he averaged just 3.9 yards a carry in 2010, and gained just 928 yards in 2012 before tearing his ACL.
Because the Steelers have an elite NFL quarterback in Ben Roethlisberger, their offense hasn't relied on Mendenhall.
Good thing, because Mendenhall hasn't exactly been an elite NFL running back.
Unfortunately, Mendenhall might be remembered most for his costly fumble in Super Bowl XLV. That might earn him a bust next to Neil O'Donnell in the Steelers' Hall of Infamy.
That legacy will be hard to erase if this ACL injury ends Mendenhall's career in Pittsburgh.
Why the Steelers should have drafted Brown
Brown went three picks later than Mendenhall to the Houston Texans at No. 26.
Unlike Mendenhall, Brown started all 16 games as a rookie.
Bleacher Report's own Matt Miller ranks Brown as the NFL's No. 3 left tackle in his NFL 1,000 series.
Brown didn't allow a sack in 2011, according to Miller, and is one of the reasons why the Texans made the playoffs for the first time in franchise history despite needing three different quarterbacks.
Offensive line was the Steelers' primary need entering the 2008 draft. But when Mendenhall slipped through the cracks, the Steelers went by the book and chose who they believed was the best player available.
Running back was somewhat of a need for the Steelers at the time because Willie Parker broke his leg late in the 2007 season. They didn't have an Isaac Redman to back up Parker. Najeh Davenport was their starting running back in the playoff loss to Jacksonville, so they had very little at the position behind Parker.
While choosing a running back made sense, the Steelers did so at the expense of the offensive line. Roethlisberger has been sacked 168 times since they passed on Brown in 2008.
Marcus Gilbert has been anointed as Ben Roethlisberger's blind-side protector in 2012. He might get some competition from second-round draft pick Mike Adams. No matter who wins the job, he won't immediately be as good as Brown.
Round 2: Ray Rice, RB, Baltimore Ravens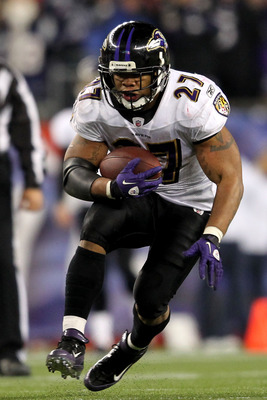 Jim Rogash/Getty Images
Who the Steelers drafted: Limas Sweed, WR
What do you expect from a guy who wore Neil O'Donnell's old uniform number? Can the Steelers retire the number 14 because of all the bad luck it brings?
Sweed was a certified bust. He caught just seven passes in 20 games for the Steelers. He tore his Achilles tendon before the 2010 season and was cut before the 2011 season.
Like Mendenhall, the Steelers drafted Sweed because they figured he was a good value. He was projected as a first-round pick in a lot of mock drafts, according to FF Toolbox, but fell to the Steelers at No. 53 in the second round because of a wrist injury he suffered in college.
Like Mendenhall, Sweed filled a second-tier need for the Steelers because he was 6'4" and Ben Roethlisberger had clamored for a tall receiver.
The Cincinnati Bengals recently gave Sweed a tryout, but nothing seems to have come from that.
Why the Steelers should have drafted Rice
Rice was taken by the Baltimore Ravens at No. 55, two picks after Sweed.
The Steelers' choice of Mendenhall in the first round probably took Rice off their board in the second round. But had they not been so enamored with Mendenhall, and just taken an offensive lineman like Duane Brown, Rice might have been on their radar and could have been a Steeler.
Rice has run for 1,364 yards in 2009, 1,220 yards in 2010 and 1,339 yards in 2011. He's averaged 4.6 yards per carry in his career to Mendenhall's 4.1 yards per carry.
Not only has Rice run the ball better than Mendenhall, he's also been a weapon catching passes out of the backfield, with 217 receptions to Mendenhall's 66.
Rice also has been healthier than Mendenhall. He's played in every game since the start of the 2009 season.
Not only would Rice have been a better second-round pick than Sweed, he'd have been a better first-round pick than Mendenhall.
Round 3: Mario Manningham, WR, San Francisco 49ers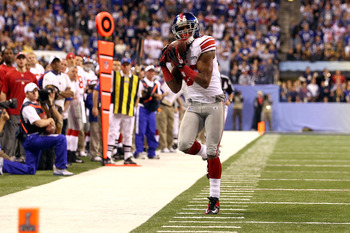 Al Bello/Getty Images
Who the Steelers drafted: Bruce Davis, LB, UCLA
James Harrison had a breakout year in 2007, and LaMarr Woodley, whom the Steelers invested a second-round draft pick on the year before, was about to have a breakout season.
Yet somehow the Steelers felt they needed another outside linebacker even though Ben Roethlisberger was sacked 47 times in 2007 and their offensive line was still unaddressed in the third round.
Davis was a sack machine at UCLA, recording 24.5 in his junior and senior seasons combined, and finishing second-most in school history with 29.
However, Davis was a bust in Pittsburgh. The Steelers converted the 6'3", 250-pounder from defensive end to linebacker. The Steelers expect linebackers to cut their teeth on special teams, but Davis was no help on special teams. He was waived after just one season.
Since then, Davis, with his four career tackles, has put a lot of stickers on his suitcase. He was on the New England Patriots' practice squad in 2009, was signed and released during the 2010 offseason by the Denver Broncos and played a few games for the Oakland Raiders in 2010.
He also spent time on the Cincinnati Bengals practice squad, according to sfgate.com, and is currently on the 49ers practice squad.
Why the Steelers should have drafted Manningham
Manningham's value might be magnified by the catch that ignited the Giants' game-winning drive in Super Bowl XLVI, but something tells me he'll do more in the NFL after his Super Bowl moment than David Tyree.
While he's not the tall receiver Roethlisberger was calling for in 2008, he gave the Giants more than Sweed gave the Steelers. He caught 160 passes for the Giants before signing with the San Francisco 49ers during the offseason.
The Giants chose Manningham with the No. 95 pick of the 2008 draft, seven picks after the Steelers chose Davis.
In the 2008 draft, the Giants were coming off their victory in Super Bowl XLII, and Manningham eventually helped them win another Super Bowl.
That's more than can be said for Sweed or Davis. Manningham also came up bigger than Mendenhall in Super Bowl crunch time.
Round 4: Brandon Carr, CB, Kansas City Chiefs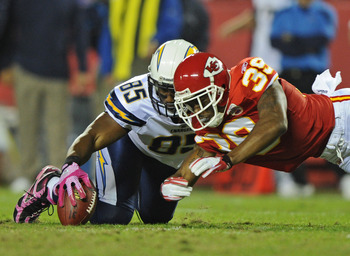 Peter Aiken/Getty Images
Who the Steelers drafted: Tony Hills, OT
In the fourth round, the Steelers finally chose an offensive lineman in the 2008 draft.
The Steelers paid the price for waiting so long, however. Hills did nothing to improve their offensive line because he rarely got on the field. He was active for four games during the 2010 season, but was one of the last players cut before the 2011 season.
The Denver Broncos picked up Hills, but did not activate him for any games.
Why the Steelers should have drafted Carr
The future looks bright at cornerback for the Steelers. Curtis Brown and Cortez Allen, both drafted in 2011, as well as 2009 draftee Keenan Lewis, seem poised to battle each other for a starting cornerback job.
However, the Steelers would have a cornerback better than any of them had they selected Carr instead of Hills with the No. 130 pick in the 2008 NFL draft. Carr went to the Chiefs ten picks later, early in the fifth round.
Bleacher Report's Matt Miller ranks Carr 16th among NFL cornerbacks in his NFL 1,000 series. Miller ranks Lewis 97th and William Gay 31st. Gay, who signed with the Cardinals, is the guy Lewis, Allen and Brown are fighting to replace. Miller also ranks Taylor 12th, which means Carr's not too far off from Taylor.
Whoever wins the other starting cornerback position will have to make major strides to come anywhere near Taylor's level.
Round 5: Carl Nicks, OG, Tampa Bay Buccaneers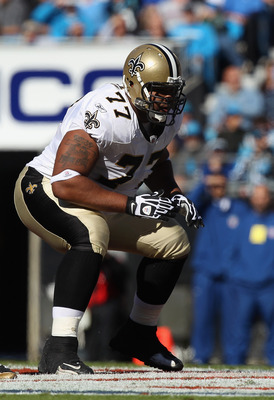 Streeter Lecka/Getty Images
Who the Steelers drafted: Dennis Dixon, QB
In a way, it's good news Dennis Dixon only needed to start three games for the Steelers, with two of those starts coming during Ben Roethlisberger's suspension.
However, he has a career passer rating of 71.4, according to NFL.com. That's worse than Tim Tebow and Rex Grossman in 2011.
The 27-year-old Dixon wasn't good enough to beat out old geezers like Charlie Batch and Byron Leftwich as Roethlisberger's primary backup; and he's currently a free agent no one wants.
Why the Steelers should have drafted Nicks
Nicks was chosen 164th overall in the fifth round of the 2008 draft, eight picks after Dixon.
He was a two-time Pro Bowler for the Saints, and was signed by Tampa Bay as one of the league's most sought-after free agents during the offseason.
While it's anticipated that guard David DeCastro and tackle Mike Adams will instantly upgrade the Steelers' offensive line, it's no guarantee. Rookie orientation doesn't reveal much regarding a player's NFL talent.
We know what Nicks and Duane Brown can do in the NFL. Imagine an offensive line with both of those guys. Roethlisberger probably wouldn't have been sacked quite as much, and maybe the Steelers run the ball a little better.
Round 6: Andy Studebaker, LB, Kansas City Chiefs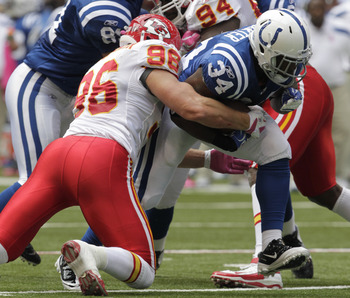 John Sommers II/Getty Images
Who the Steelers drafted: Mike Humpal, LB
Humpal, taken with the No. 188 overall pick in the sixth round, was injured in his first training camp and never played a down for the Steelers.
Why the Steelers should have drafted Studebaker
I wouldn't take Studebaker over any of the Steelers' starting linebackers. Although, it remains to be seen if Stevenson Sylvester and Chris Carter can give the Steelers more than Studebaker has given the Chiefs.
Studebaker was drafted by the Eagles with the No. 203 overall pick in the sixth round.
Drafting Studebaker instead of Humpal likely wouldn't have much of an impact now, but it might have given the Steelers one more win in 2009.
Having Studebaker in a Steelers uniform would have prevented him from making two interceptions in the Chiefs' 27-24 overtime victory over the Steelers. Studebaker's only two career interceptions both led to scores in that game, including one that was returned 94 yards to set up a game-tying field goal.
That loss was the second of the infamous five-game losing streak that scuttled the Steelers' 2009 season. Had the Steelers won just one of those games, they'd have finished 10-6 and made the playoffs.
How far would they have gone in the playoffs? We'll examine that in the final slide of this article.
Round 6: Ryan Mundy, S, Pittsburgh Steelers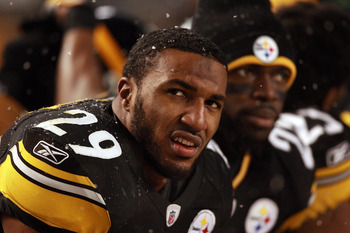 Karl Walter/Getty Images
This is the one pick of the Steelers 2008 draft that I wouldn't change.
Mundy, chosen in the sixth round, 194th overall, has been a solid backup safety for the Steelers. That's a decent contribution from a sixth-round pick.
Mundy's one career interception helped the Steelers defeat the Chiefs 13-9 in 2011, which moved the Chiefs closer to firing Todd Haley, who's now the Steelers' offensive coordinator.
No one knows if hiring Haley is a good or bad thing yet, but isn't it funny how the Steelers and Chiefs are linked in the space-time continuum?
Alternate Reality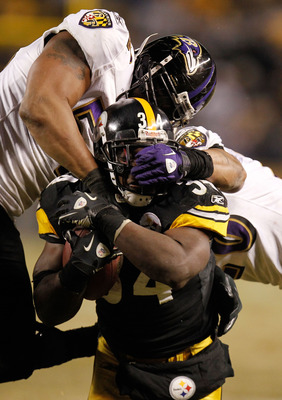 Gregory Shamus/Getty Images
Let's hop into the DeLorean with Marty McFly and take a look at how history would have been different if the Steelers could go back in time and make the aforementioned picks in the 2008 NFL draft.
2009
We've gone over how with Andy Studebaker on their side, the Steelers would have won in Kansas City, finished 10-6 instead of 9-7 and made the playoffs.
In reality, the Ravens were the No. 6 seed in the playoffs and traveled to New England. On the first play from scrimmage, Ray Rice ran for an 83-yard touchdown, the Ravens jumped out to a 24-0 first-quarter lead and won 33-14.
In our alternate reality, Rice is a second-round pick for the Steelers. The Steelers would have been the No. 5 seed in the playoffs, so they wouldn't have gone to New England, and Rice wouldn't have had that defense to gouge for 83 yards on the game's opening play.
Instead, the Steelers would have gone to Cincinnati, who hasn't won a playoff game since 1990. They probably could have handled the Bengals and advanced.
2010
Because they made the playoffs in 2009, the Steelers don't have a later pick in the 2010 NFL draft and don't get Maurkice Pouncey. The Steelers still go to Super Bowl XLV, though, because, in reality, Pouncey missed most of the AFC Championship Game.
Even with Pouncey, Ben Roethlisberger was sacked 32 times in the 12 games he played in 2010.
In our alternate-reality Super Bowl XLV, the Steelers don't have Rashard Mendenhall to fumble in the fourth quarter and kill their momentum when they're 33 yards away from taking the lead.
In reality, Mendenhall also fumbled in the Steelers' 31-24 win over the Ravens in the AFC Divisional Playoff game. So did Rice. So having Rice instead of Mendenhall in that game would have been a wash for the Steelers.
2011
Rice opened the 2011 season with a 36-yard run, setting the tone for the Ravens' 35-7 romp of the Steelers in Baltimore.
Had the Steelers picked Rice instead of Limas Sweed in the 2008 draft, maybe he does that to the Ravens, and the Steelers win that game. That would have given them a 13-3 record and the Ravens an 11-5 record.
The Steelers would have not only won the AFC North, but had home-field advantage throughout the playoffs. Their victory over the 13-3 Patriots would have given them the tiebreaker.
So instead of going to Denver and having their defense shredded by Tim Tebow, the Steelers would have had a first-round bye, had a week to heal from their injuries and awaited Tebow in Pittsburgh.
It's doubtful things would have worked out the same way for Tebow.
Conclusion
The Steelers won the Super Bowl in 2008 because they didn't need much help from their 2008 draft class.
However, an argument can be made that one bad draft cost them a playoff berth in 2009, a Super Bowl victory in 2010 and home-field advantage in the 2011 playoffs.
If the Steelers didn't get it right in 2012, get ready for more disappointments.
Keep Reading

Pittsburgh Steelers: Like this team?