Does Terrell Suggs' Injury Make Things Easier for Bengals, Browns and Steelers?
May 4, 2012

Streeter Lecka/Getty Images
There are reasons why Baltimore Ravens linebacker Terrell Suggs won the Defensive Player of the Year award in 2011—he notched 50 solo tackles and 14 sacks, forced seven fumbles and had two interceptions last season—and the other three teams in the AFC North are well aware of his impact.
So it is likely that members of the Cleveland Browns, Pittsburgh Steelers and Cincinnati Bengals felt a brief moment of relief when the news broke that Suggs had torn his Achilles tendon and is set to miss some of, if not all of, the upcoming NFL season.
Of course, no player is going to be happy for another befalling an injury, regardless of rivalry, but without Suggs on the field, the Browns, Steelers and Bengals will have a far better chance of besting the Ravens than with him playing.
Suggs has been in the league since 2003, and in that time, has faced the AFC North a combined 41 times, with the Ravens winning 28 of those games.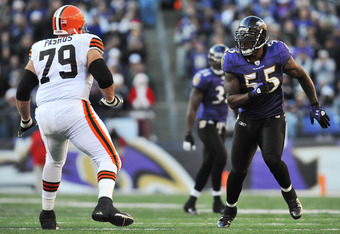 Larry French/Getty Images
Of the three teams, the Browns have fared the worst against both Baltimore and Suggs, with 14 of their 16 contests ending with a Cleveland loss and Suggs putting up a total of 13 sacks, 23 total tackles, one interception and one touchdown.
The Steelers' win-loss record against the Ravens is far better than that of the Browns, but they fared just as poorly at finding a way to contain Suggs. Though the 14-game series is split at seven apiece, Suggs has still managed to notch 13.5 sacks, 19 total tackles and two interceptions against their fiercest rival.
The Bengals came out a bit more successful. While the Ravens defeated Cincinnati seven of the 11 times they've met since Suggs has been in the league, Suggs has only managed 7.5 sacks, and forced no turnovers, though he did have a combined 23 tackles.
Baltimore's defense has been consistently one of the best in the league, and Suggs has much to do with that. Clearly, without him lined up, there will be one less thing for the Ravens' opponents to think about.
While the Ravens can use this psychological turn to their advantage—catch opponents who somehow, deep down, feel less intimidated—they're also likely to feel the effects of his absence.
Suggs is either always breathing down the neck of the opposing quarterback or keeping running backs from gaining more than a pittance in yardage. Of course, the same could be said for the rest of the Ravens' defensive front seven, so clearly the other three AFC North teams still have quite a bit to worry about when facing the venerable Ravens this season.
But one less instance of Ben Roethlisberger hitting the turf is one less chance that the Steelers will have to deal with yet another injury to their starting quarterback; it means that players like Trent Richardson and BenJarvus Green-Ellis can pick up a few extra yards here and there for the Browns and the Bengals.
And in a game of inches, where every play counts, there will be times when the Ravens will truly be hurt without Suggs on the field.
I don't think that not having Suggs will ultimately cost the Ravens games, but it will give opposing offenses a better chance, on a play-by-play basis, to have success. Things are easier for the Browns, Steelers and Bengals while the Ravens are without Suggs—but not by much, so don't rest on that feeling of relief for long.