2012 NBA Playoffs: Why the Dallas Mavs Repeat Title Run Was over Before It Began
May 15, 2012

Ronald Martinez/Getty Images
Saturday, June 12, 2011, the Dallas Mavericks defeated the Miami Heat in Game 6 of the NBA Finals to win their first championship in franchise history.
Mavs owner Mark Cuban, for years, had been willing to spend whatever amount necessary to build a championship-caliber team. In 2011, he finally had the pieces necessary to pull off the feat with veterans Dirk Nowitzki, Jason Kidd, Jason Terry and by bringing in Tyson Chandler via trade the previous offseason.
Given Cuban's track record, it was a bit of a surprise to see the Mavs convert from an annual major player in free agency to a team that was looking to shed salary, especially so soon after just winning an NBA title.
Chandler, who was a key component to the championship run, was allowed to exit to the New York Knicks via free agency with little to no resistance from the Mavs. Same with valuable contributors Caron Butler, J.J. Barea and DeShawn Stevenson, who was an underrated piece to the Mavs' puzzle.
In to replace them were Delonte West (decent), a shell of the player formerly known as Vince Carter, an unmotivated Lamar Odom and inserting Brendan Haywood into the starting lineup.
Last season, Chandler/Butler/Barea/Stevenson contributed an average of 9.9 points per game, their replacements were able to account for 7.8 PPG, but only on about 42 percent shooting compared to 48 percent by their predecessors (mostly from Chandler's league-leading .654 from the field).
It seemed as if Cuban sacrificed the Mavs' bid to repeat for the possibility to reload for the future. The Mavs shed a ton of salary and gained cap flexibility in preparation for the free agency class of 2012 that would potentially include All-Star point guard Deron Williams (a Dallas area native) and center Dwight Howard.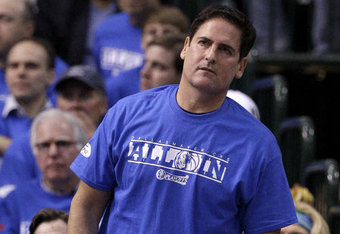 That plan appears to have hit a snag as Howard opted in for another season with the Magic and the market for Williams will include the New Jersey Nets, Los Angeles Lakers and Portland Trail Blazers, all franchises who have a need for a top-notch point guard and, with some tweaks, will be able to match any offer Dallas can throw Williams' way.
By average NBA standards, the Mavs had what could be considered a decent 2011-12 season with a 36-30 record and a No. 7 seed in the West. But as the reigning NBA champs, a first-round sweep at the hands of Oklahoma City after a mediocre regular season is a disappointment by any other measure.
If Cuban jeopardizing a Mavs repeat for the possibility of future greatness with a Williams/Howard/Nowitzki core works out in free agency, then all will be forgiven and the 2011-12 season will be an afterthought. But as it stands right now, Cuban's gamble appears to be more of a dangerous risk than a sure thing.