2012 NHL Playoffs: Another Year, Another Goaltending Issue for the Flyers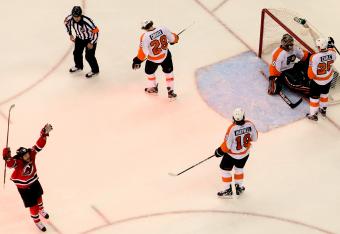 Bruce Bennett/Getty Images
Ilya Bryzgalov was supposed to be the guy. In no disrespect to another one-time Philadelphia star, Bryz was supposed to be the "The Answer." How else can you explain signing a guy to a nine year $51 million deal? Do the Flyers want a "take-back?"
Perhaps they do, as here we are in the postseason, scratching our heads yet again wondering what to make of the Philadelphia Flyers goaltending situation.
In Game 3 last night, Bryzgalov was not awful and the overtime winner was not his fault, yet every game it seems you can expect a softy to go through him. Last night, it happened in the form of Patrick Elias. With the Devils on a power play, Elias let an average wrist-shot go that found a hole in between the right arm and leg of Bryzgalov's blocker side. That made the game 1-1, and 20 seconds later it was 2-1 in favor of New Jersey.
Had Bryzgalov made the routine save and the Flyers killed off the man-advantage, who knows what the outcome of the game may have been? He was not very quick from post to post on Zach Parise's go-ahead goal in the third period either.
If you are going to win in the playoffs, you do not necessarily need your goalie to be the star or the Conn Smythe winner. What you do need is for your goalie to steal a game or two to instill confidence in the team and confidence for the man between the pipes. At this rate, it is hard to see Bryzglaov doing that for the Fly-boys.
Since the late 80's, goaltending has been the albatross for some incredibly talented Flyer teams. Yes, Ron Hextall won the Conn Smythe Trophy in a seven game losing effort in 1987, but since then it has been downhill.
One could argue that the curse began when the Flyers tragically lost Pelle Lindbergh in the fall of 1985. To this day, Lindbergh is the best goalie I have ever seen play, and it was incredibly rare to see someone of his dominance during an NHL era when goals were being scored at a record pace. Scoring was at a premium, but Pelle was a brick wall. Flyer fans will always wonder what could have been and what place would Lindbergh and the Flyers have in NHL history if he was not gone too soon?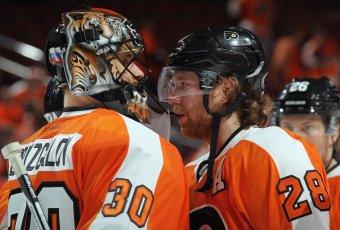 Bruce Bennett/Getty Images
But that's in the past, and when the '80's turned into the '90's, Hextall's star began to fade and the Flyers have never had that go-to guy. The rap sheet reads like a who's who of randoms and flash in the pan goalies.
Names such as Tommy Soderstrom, Roman Turek, Garth Snow, Ken Wregget, Michael Leighton, Dominic Roussel, John Vanbiesbrouck, Martin Biron, Antero Niittymaki, Roman Cechmanek and Brian Boucher come to mind. Even Sean Burke had a little stint in there, and none of them stuck. None of them could get the Flyers to where they needed to go and they have had some darn good hockey clubs in the last 20 years.
In 1995, the Flyers had reinvested in Ron Hextall and he let in a softy with less than a minute in Game 5 of the Conference Finals against the Devils' Claude Lemieux. The Devils would win the series in six games and go on to win the Stanley Cup.
In 1997, Eric Lindros, John LeClair and current New Jersey Devil, Dainius Zubrus, looked to lead the "Legion of Doom" to the promise land, but both Ron Hextall and Garth Snow were brutal and the Flyers were tossed in four games in the Stanley Cup Finals.
We all know that Michael Leighton was not what he hoped to be in 2010. He was yanked in two games in the finals, and Patrick Kane's Cup winner was certainly one he would like back.
It's been a tough road for the Flyers and their fans in this regard. And yet again, Bobby Clarke and Paul Holmgren are wondering, "Do we have the right guy in goal?"
Flyer fans may remember this stinger against the Devils in 1995
Yes, it is too early to lay the blame on Bryzgalov. Yes, we are getting a little ahead as there is easily the chance that the Flyers can knot the series at 2-2 heading home.
At the same time, folks are wondering and they should be. If Bryzgalov does not improve on his .878 save percentage or his 3.54 GAA, then the Flyers will be bounced out. It's that simple. They need him to step up and they need him to do it now.
You have to love the make-up of this Flyer team. You have Wayne Simmonds having a great playoff year, Claude Giroux is playing on another planet, Matt Carle is playing the best hockey of his career, Danny Briere has been excellent, and Scott Hartnell is the most lovable pest in the NHL.
Someone is missing from this list, and the song in Philadelphia is again on a refrain. The goaltending needs to be better, Bryz needs to be better. The Flyers are too good to continually have this issue and unless it is remedied and soon, the best team on paper will be out of the postseason.
Thanks for reading.
This article is
What is the duplicate article?
Why is this article offensive?
Where is this article plagiarized from?
Why is this article poorly edited?

Philadelphia Flyers: Like this team?