Chelsea vs. Liverpool: FA Cup Final Preview, Start Time, Live Stream and More
May 4, 2012

Jamie McDonald/Getty Images
Chelsea and Liverpool have a date Saturday at Wembley Stadium, with both trying to end their up-and-down seasons by winning the game's oldest trophy, the FA Cup.
For both, it will be a small consolation in what otherwise has been a campaign they would like to forget. But in a business where results matter over process, bringing home this trophy may be enough to appease the fans heading into the summer.
Chelsea are coming off of what quite possibly was a fatal loss in their bid for a fourth-place league finish, falling 2-0 at home to Newcastle. They now sit four points back of both Newcastle and Tottenham, who are level on points and in fifth and sixth place respectively.
Though a few fans were very perturbed by the previous result, it was obvious that Roberto Di Matteo was fielding a team with this game in mind, letting Frank Lampard, Didier Drogba and Juan Mata all rest. Not to mention the two goals against were career highlights for Papiss Cisse.
They still have a chance at making Champions League next season by winning against Bayern Munich in this year's final and that looks like what it might take.
Liverpool are coming off a loss themselves, a tough own-goal off Martin Skrtel against Fulham was enough to give the visiting Cottagers a 1-0 win. That result brought the two level on points and Liverpool only remains in eighth on point differential.
Kenny Dalglish is coming under increased fire as Liverpool continues their historic slide, making it really difficult to argue them any longer as one of the top sides in England. Though winning their eighth FA Cup would give them their second trophy of the season and restore some glory to the legendary Anfield.
Form has been mixed for both teams leading up to this point, but on Saturday any dip from either could spell an easy victory from the opposition.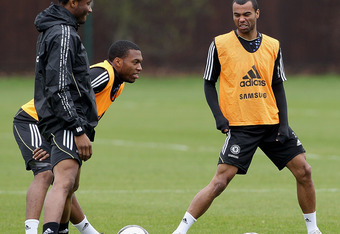 Phil Cole/Getty Images
Here is everything you need to know about the match.
Where: Wembley Stadium, London
When: Saturday, May 5th, 12:45 p.m. EDT
Watch: Fox Soccer Channel
Live Stream: FoxSoccer2go.com
Player to Watch: Didier Drogba
Without a doubt, if there was a team that called Wembley Stadium home, Drogba would request a transfer to them immediately. For some reason beyond the pale of empirical explanation, the striker produces some of his best performances when in the modern arena.
Since the new Wembley has opened, Chelsea and Drogba have played seven games in it, with Drogba recording a goal in each. His most recent came in an impressive turn and 20-yard shot to the upper 90 in the semifinals against Tottenham, in which Chelsea cruised to a 5-1 victory.
Drogba has not been the dominating striker this season Chelsea fans have come to expect. At 34-years-old, his age is finally catching up to him and he is finding himself splitting more and more time with Fernando Torres.
But he still has a knack for finding the goal at the most pivotal times. Out of the 11 goals he has scored, four have been game winners, including excellent performances against Valencia, Napoli and Barcelona, which were all must-win matches in Champions League.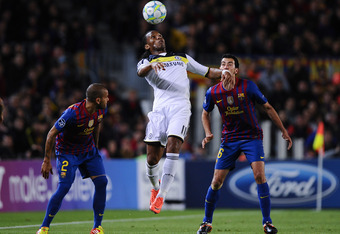 David Ramos/Getty Images
In terms of form, Drogba is not the same player he was once. But as the man Chelsea fans can count on to get it done when it matters most, that honor is still his.
Stats Tell the Story
Since the introduction of the one-game final, Chelsea has only conceded one goal in their five final wins (against Everton in 2009). However, in the two they lost during that span, they were shut out. In Liverpool's 13 FA Cup Final appearances, they have only been shut out twice, the last coming in 1950. They have also not failed to score less than two goals in any of their seven wins.
Interesting/Pointless Trivia
The kickoff time for Saturday's match 1615 GMT is the latest ever since the competition started in 1872-72. But not every final has kicked off at the traditional time of three o'clock on a Saturday afternoon.
The first final at Kennington Oval between The Wanderers and Royal Engineers on March 16, 1872 kicked off at 11 in the morning, so fans who wanted to watch the Oxford and Cambridge University boat race could reach the River Thames in time. (Courtesy of Yahoo! UK.)
What They're Saying
To some surprise, it seems Di Matteo is having trouble picking a starting 11:
It is always a difficult decision when I have to leave players out, not just the two strikers, especially as we have so much competition for places at this club.

I think we all have to be happy we have two strikers who are both in good form at the moment and I will make a final decision tonight.
It seems quite obvious who should play, given who sat out Wednesday night and the history of success certain players have in these types of games. But, perhaps Di Matteo has a trick up his sleeve to mess with Liverpool's heads.
On the other side, Kenny Dalglish is getting rather philosophical and nostalgic in his approach to the game:
Every generation at the football club have a story to tell about their travels to cup finals. That never goes amiss. It's important to have those experiences. Winning the Carling Cup was important. [The Champions League final in] 2005 was hugely important because that generation never had the stories to tell that their parents had. They got it at Istanbul and what a story to tell that was.
When the hard facts are not in your favor, it is sometimes in your benefit to resort to some ethereal level of questioning. But in the end not bringing the trophy home will probably send the Liverpool legend packing.
For all my articles, follow me on Twitter: @thecriterionman