Fantasy Baseball Closer Pickups: Best Options to Replace Mariano Rivera
May 4, 2012

Mike Stobe/Getty Images
Mariano Rivera's freak accident while shagging fly balls before yesterday's game leaves a lot fantasy teams without their best closer. The dominant New York Yankees reliever could miss the rest of the season, so owners will have to work the waiver wire to find a replacement.
Let's take a look at three potential options to fill the void. While none of them will be able to match the success of the all-time saves leader, they should made sure fantasy teams don't have a hole in the lineup moving forward.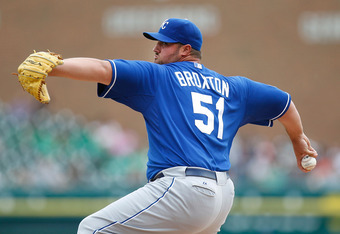 Gregory Shamus/Getty Images
Jonathan Broxton
While most of the Yankees were probably worried about their fallen teammate, Broxton was able to convert his fifth save of the season last night against New York. The Kansas City Royals closer sports a 1.86 ERA through 10 games.
His chances have been limited so far because the young Royals lineup hasn't produced as many runs as most people expected. That said, they have a lot of talent and should start scoring more once the young players settle in over the next month or two.
Broxton isn't the dominant strikeout pitcher he was during his early years with the Los Angeles Dodgers, but that's not a good enough reason to pass on him. He'll have a lot of value moving forward.
David Robertson
After making hitters look silly in his eighth inning role for the Yankees, Robertson's the logical choice to slide into the closers spot with Rivera out. He hasn't allowed a run in 11 innings this season while striking out 18.
Anybody who closes for the Yankees gets a lot of save opportunities, so even if Robertson didn't have such eye-popping numbers he would be worth owning. The stats simply make him a terrific option—if a savvy owner didn't already grab him, of course.
The only concern would be Rafael Soriano, who has more closer experience and could take away a couple chances. Over the long haul, however, Robertson should be the man.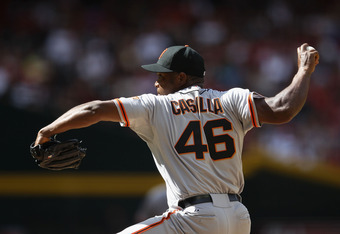 Christian Petersen/Getty Images
Santiago Casilla
Brian Wilson had Tommy John surgery last month and won't return until next season. Casilla has filled in for him pretty successfully, lessening the impact on the San Francisco Giants. He has four saves in as many chances with a 1.86 ERA and 0.93 WHIP.
The Giants' streaky offense means they play a lot of close games, so the save opportunities should continue to come for Casilla at a pretty high rate. His solid numbers over the past two years suggest he's more than capable of handling the load.
Casilla never had more than six saves in a season before 2012, so there might be some growing pains in his new role. That said, for owners in a pinch because of Rivera, he's worth any risk involved.