NBA Draft 2012: How Houston Rockets' 1st-Round Selections Will Impact Offseason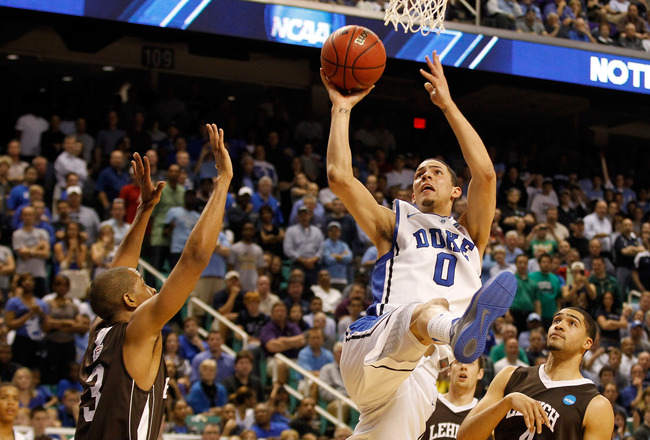 Streeter Lecka/Getty Images
The Houston Rockets have an opportunity in the draft to set themselves up well for the rest of the offseason. Not many teams get multiple first-round draft picks like the Rockets do this year. Since the Rockets and the Knicks, whose pick the Rockets hold, didn't have terrible records, Houston will likely make both selections in the mid-first round.
Often, picks at that point in the draft aren't true difference makers or bona fide starters. However, the players who will likely be available in the middle of the first round this year have plenty of promise.
The Rockets could put themselves in excellent position through the draft to build on their rotation. They could find a starter or two in the first round, and then fill other, less pressing needs in free agency. Also, two sound first-round draft picks could save the team money in free agency, as it could keep them from chasing stars to fill holes.
The following are two picks the Rockets could make in the first round with an explanation of how those picks would help them in free agency.
Austin Rivers
Mike Ehrmann/Getty Images
Austin Rivers is an interesting prospect. He didn't seem to be used correctly at Duke. He wasn't allowed to shoot or dribble as much as he should have, but showed off those skills sometimes anyway.
In those showtime moments, Rivers dazzled scouts with the brilliance they needed to see.
Rivers is a fantastic talent that the Rockets can't pass up if he's available to them. He's a terrific scorer who can create his own shots. He can see the floor and make nice moves. Also, he'll break defenders down off the dribble.
With his skill set, people should wonder how he's projected by DraftExpress.com to be the No. 16 overall prospect.
The Rockets have received scoring from different players, like Goran Dragic, Luis Scola and Kevin Martin. Now, with the rash of injuries this season to key players like Martin and Kyle Lowry, it's hard to tell how exactly scoring will happen for a team that ranked ninth in scoring.
Drafting Rivers would help fix that.
Meyers Leonard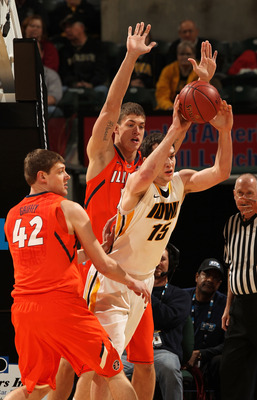 Jonathan Daniel/Getty Images
The Rockets have an aging core at center. Their two main center this season were Marcus Camby and Samuel Dalembert. Both are good at what they do. Camby is a terrific rebounder and a solid shot blocker. Dalembert is a good rebounder and a tough defender.
Now, Camby is 38 years old and Dalembert turns 31 on Thursday. Dalembert has a $6.7 million option for 2012-13 and Camby is a free agent. Dalembert would be nice for the Rockets to keep, but they'd still need someone to step into the starting role as he grows older.
Meyers Leonard of Illinois would be a fantastic pick to take on the center job. He's one of the most unique frontcourt prospects in the draft. Leonard is big (7'0" and 240 pounds) and has a long wingspan (7'3"). He's also quite athletic, able to run the floor well and move around nicely in the halfcourt—qualities that are uncommon in a center.
DraftExpress.com predicted that Leonard would be used a ton in pick-and-pop sets because he has the size, mobility and potential to thrive there. Leonard is also said to have a nice hook shot.
The Rockets would do well selecting a player like Leonard who has the physical attributes and ball skills to figure highly at center.
How This Sets Them Up for Free Agency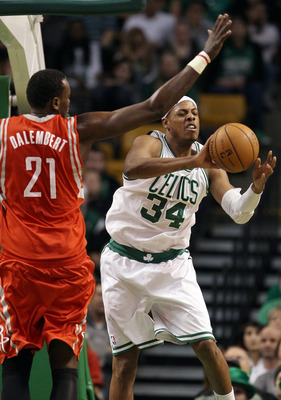 Elsa/Getty Images
With the two proposed picks, the Rockets' work in free agency will be a bit easier. They won't have to find an expensive scorer after grabbing Austin Rivers. With Meyers Leonard, they'll have a center of the future and won't have to lean on Camby or another free agent to help out.
The Rockets could start by exercising Samuel Dalembert's option. Dalembert should have at least another good year left in him, and he could help Leonard grow as an NBA center.
Next, the Rockets will have to look at small forwards, where it's difficult to find a starter in the middle of the first round. They could exercise the option on Chase Budinger, who showed promise in his third season, averaging 9.6 points in 22.4 minutes per game, while shooting 44.2 percent from the field.
Adding another small forward would be a nice move, as it would help out Buddinger grow into his role. Steve Novak would be a good addition. Novak is a wing man in a big man's body, knocking down outside shots.
This would be a good start for the Rockets in free agency. Moreover, it's made less expensive by two sound first-round draft picks.
Keep Reading

Houston Rockets: Like this team?