Brooklyn Nets: Why Brooklynites Should Be Happy There Is a Team in the Borough
May 11, 2012

My dad was born in Brooklyn, in Red Hook/Carroll Gardens, and he was raised there, save for a few years in Italy.
But he always tells me this pearl of wisdom:
"There are two types of people in this world: Those who are from Brooklyn, and those who wish they were."
While I never lived in Brooklyn myself, I am considered by some to have Brooklyn blood in me. I go there about three or four times a year. While I'm usually there to go food shopping, I have been there to see the Brooklyn Cyclones minor league baseball team as well.
I have also read about the Brooklyn Dodgers, seen some grainy highlights, and I even visited the Baseball Hall of Fame where I saw plenty of Dodgers memorabilia. 
It shouldn't come as a surprise to anybody that I'm happy a major league team is coming back to Brooklyn this fall. The New Jersey Nets are finally leaving East Rutherford and Newark behind, and they will be playing in a brand new facility that is exclusively theirs. 
However, not everyone is as happy as I am about the Brooklyn Nets.
From complaints and protests about the Barclays Center that have gone on since its groundbreaking, to criticism about the logo ever since it was unveiled, this team has been under a firestorm of controversy.
Reaction has been mixed for Brooklyn residents. Some are excited about the prospects of having pro sports return to Brooklyn for the first time since 1957, others are just opposed.
Having lived the majority of my life in a state that has only a WNBA team, a couple of minor league baseball teams, a Big East college and lost its only major league franchise to Raleigh in 1997, I find the addition of the Brooklyn Nets to be good and for a few reasons.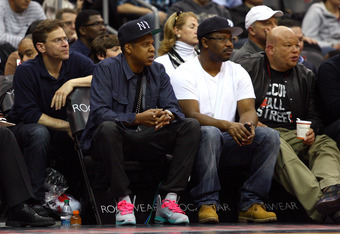 Chris Chambers/Getty Images
First of all, you have to put into account the possible price difference between going to a Knicks game and going to a Nets game. Because of the renovation of Madison Square Garden, not to mention the renaissance of the Knicks, the prices have inflated.
On StubHub, the cheapest seats I have found for a regular season game against a middle-of-the-road team are $60.
On the contrary, I have found Nets tickets that have gone as low as $6 for that same team. Now maybe the price is going to go up possibly 300 percent ($18 for the mathematically challenged) but still, I could live with that. It's not premier basketball (yet), but it still is worth it.
Second, there's many possible stars who might land in Brooklyn.
While Deron Williams' future with the Nets is in limbo, there are other players the Nets could sign in free agency, like Dwight Howard, provided the Orlando Magic have not completely sold their soul to him. In addition, the Nets could potentially get a prospect in the draft with the multitude of trades that happen.
If this is the case, the lineup could have a shot at a quality, if not top level talent.
The third reason is the arena itself. Barclays Center could prove to be a giant upgrade for Atlantic Yards.
It is aesthetically pleasing, evoking the style of the famed Brooklyn Brownstones. It has the potential to be a multi-use facility, as concerts will be held there, and there is a possibility that the New York Islanders hockey team, despite the arena's small hockey capacity could potentially become a tenant, replacing their aging home in Nassau Coliseum. 
But enough about me, what about the actual Brooklynites? 
I think they should be happy they're getting a team in the borough. If you think about it, the Dodgers often brought all the Brooklyn neighborhoods together.
No matter if you were Jewish, Irish, Italian, black, from Red Hook, Crown Heights or even Prospect Heights, the Dodgers represented the ethnic makeup of the neighborhood.
While you will not find a combination of Sandy Koufax, Jackie Robinson, Ralph Branca and Pee Wee Reese on the basketball court, what you will see is people getting together again to watch what brings people together.
You can say otherwise, but in my experience of going to basketball games, and let me tell you, I watched a pretty bad team, it's true. Despite the fact that the Nets may not be a contender for years, you can bet that every time you watch them on TV or go to a game, the seats will be filled.
Welcome to Brooklyn, Brooklyn Nets. We've been expecting you.