Kentucky Derby 2012: Longshots Experts Should Respect
May 4, 2012

The beauty of the Kentucky Derby is that once the twenty horses reach the starting gate, you can throw out the odds at that moment.
Each three-year-old and jockey leaves the starting gate with the goal and belief of winning the "Run for the Roses."
Long shots are what really make the Derby magical.
It would be no fun if the favorites won every year. Just in the past ten years, we have seen two 50 to 1 long shots capture the Derby—Giacomo in 2005 and Mine That Bird (the half brother to this year's Dullahan) in 2009. 
It is a bit bold to say a long shot is going to win the Derby, because statistics show it does not usually happen.
With that said, there are a few long shots in the 138th running of the Derby who stand a punchers chance of running their way into the history books (latest odds according to Kentuckyderbycom).
Went the Day Well 
Current odds: 27 to 1
Record: 5-2-2-0
Trainer: H. Graham Motion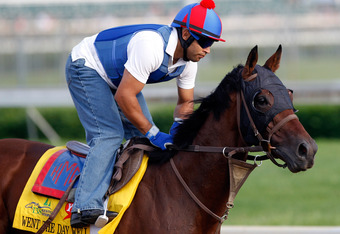 Rob Carr/Getty Images
Jockey: John Velazquez
You have to respect the reigning Kentucky Derby winning team.
Team Valor and trainer Graham Motion bring Went the Day Well to the Derby this year. The three-year-old won his last start in the Grade III Spiral Stakes. The horse looks to be improving all the time, but he will need to make a giant jump if he wants to win the Derby.
He got a good post draw at 13, but even his trainer is unsure if lightning can strike two years in a row.
"What are the chances of this happening?" Motion said outside his barn on the Churchill backstretch Thursday morning. "To come back and win this thing again…well, the laws of probability would say it's pretty unlikely to happen."
Went the Day Well will wear blinkers at the Derby as Motion hopes he will not 'goof' around as much.
This colt is outclassed by some of the better horses in the field, but you cannot disregard the reigning Derby winning connections.
Daddy Nose Best
Current odds: 13 to 1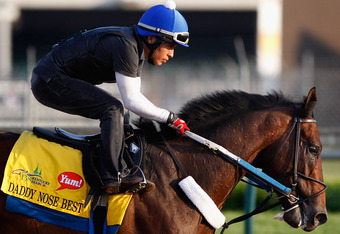 Rob Carr/Getty Images
Record: 10-4-2-1
Trainer: Steve Asmussen
Jockey: Garrett Gomez
It might be a stretch to call this horse a long shot, because Daddy Nose Best has a lot of people picking him on Saturday.
The three-year-old sired by Scat Daddy won his last Derby prep race in the Sunland Derby. This horse is one of the few in the field that has drawn a triple Beyer speed rating. He drew post ten which is a good landing spot for him.
It will be interesting to see how this horse runs against better competition Saturday, but Asmussen and Gomez are two of the best in the game.
Sabercat
Current odds: 36 to 1
Record: 8-3-0-2
Trainer: Steve Asmussen
Jockey: Corey Nakatani 
Asmussen's second horse in this year's Derby field is Sabercat, sired by Bluegrass Cat. This colt won the Grade III-Delta Jackpot as a juvenile, but has been somewhat inconsistent in his three-year-old campaign.
Sabercat's last start came in the Arkansas Derby, where he ran third in a race Bodemeister ran away with.
Sabercat is a closer, and would benefit from a fast pace in the Derby, especially breaking from post 18.
Even if this colt improves off his Arkansas Derby performance, he may not be good enough to win.
However, be sure to play him in your exotics.
Daddy Long Legs
Current odds: 26-1
Record: 5-3-0-0
Trainer: Aidan P. O'Brien
Jockey: Colm O'Donoghue
Daddy Long Legs finished in 12th place in the Breeders Cup Juvenile last fall.
He also drew the dreaded one post position for the Derby. His last race came in the UAE Derby, which he won by one and one-quarter lengths.
This horse is a lot more mature, though, since he made his Churchill Downs debut last fall. Another son of Scat Daddy, this horse still has potential to make a step forward.