Seattle Mariners: Wedge Isn't the Only One Miffed by the Whiffs
May 4, 2012

Otto Greule Jr/Getty Images
A week ago, the Seattle Mariners were coming off their first series sweep of the season. A day later they defeated the Toronto Blue Jays to bring their record back over .500. The Mariners have since dropped six straight. 
On Monday, they ruined another King Felix masterpiece.
Felix Hernandez struck out nine Tampa Bay Rays, while only giving up one earned run over eight innings. Unfortunately, the Mariners lineup rewarded the effort with 12 strikeouts of their own.
On Tuesday, they whiffed another 12 times.
On Wednesday, Mariners hitters struck out 14 times. Rays starter James Shields didn't have his best stuff, but he was still able to notch 11 K's in six innings of work.
To put it kindly, some Mariners hitters are not exercising enough patience at the plate.
Shields came into this game having struck out 28 batters over his first 35.1 innings pitched. He can thank the Mariners for increasing his strikeouts-per-innings-pitched ratio from .80 to .95.
In a quote, given to The Sports Exchange on CBSSports.com, "The strikeouts are ridiculous," manager Eric Wedge said. "We're better than that. If we have to change personnel or change roles, so be it."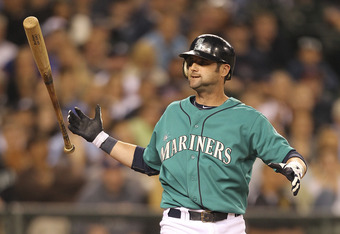 Otto Greule Jr/Getty Images
Mariners hitters have struck out 60 times over the last seven games.
After whiffing an additional eight times in the series' finale, the M's are now on pace to finish the year with just more than 1,300 strikeouts. That would establish a new franchise high, or low, or...whichever way you slice it, something has to give.
Chone Figgins has 28 K's in 95 at-bats in 2012.
Brendan Ryan has 21 K's in 64 at-bats.
The M's record now stands at 11-16. Earlier this week, I lobbied for the call-up of some young guns. 
Consider my call now clarion. 
Mr. Wedge, you are not the only one miffed by all the whiffs. Please, give us hope. Make those changes soon.