Euro 2012: Why Russia's Igor Semshov Should Not Be Overconfident
May 6, 2012

Dean Mouhtaropoulos/Getty Images
Russia's midfielder Igor Semshov stated that he is looking forward to the Euro 2012 matches in Poland and the Ukraine. Semshov made his comments in an article published on the UEFA Euro 2012 website.
Semshov commented about the "special atmosphere" since Russia will play in Poland and the Ukraine. He also predicted the predominance of Russia over the other Group A teams of Poland, Czech Republic and Greece in Euro 2012.
Russia has the advantages to win the Group A final stages of the UEFA Euro 2012 match. Russia is in seventh place in the 2011-2012 UEFA ranking.
Greece is in 11th place in the 2011-2012 UEFA Rankings. The Czech Republic is in 19th place and Poland is in 23rd place within UEFA.
According to the UEFA website, Russia arrived at the semifinals during the 2008 Euro Cup. The team has Roman Pavlyuchenko and Alan Dzagoev as top scorers.
While Russia may be at an advantage, it should not underestimate the opposing teams. Russia may defeat Greece, but Poland and the Czech Republic will be difficult.
Poland
The Poles are not going to allow Russia to defeat their team in their capital and home country. The psychological pressure of a host country on its team is powerful.
The Polish national team is not going to allow itself to lose face by taking into account the historic rivalry between the two countries. Poland may surprise Russia with a defeat on the basis of an underdog and winning mentality.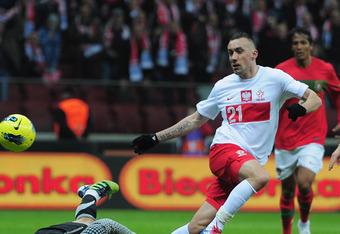 Jamie McDonald/Getty Images
According to UEFA, Poland's record against Russia is one win, one loss and one draw.  This is another factor that could be used against Russia.
Poland has the advantage of Wojciech Szczesny as goalkeeper. The team has the three Bundesliga members in its squad such as Robert Lewandowski, Lukasz Piszczek and Jakub Blaszczykowski.
Czech Republic
The Czech Republic is expected to be another tough team for Russia. Petr Cech is the goalkeeper for the Czech national football team and does not easily concede goals.
Milan Baros also commented on his country's chances for Euro 2008. During an interview with UEFA, he said that if Greece won the 2004 Euro Cup, the Czech Republic could repeat the same victory.
Russia and the Czech Republic faced each other during the 1996 Euro Cup. The result was a 3-3 draw, which was secondary to an exciting match. 
The result catapulted the Czech Republic to the 1996 Euro Cup finals. The Czech Republic won three matches with one draw since its loss to Spain on October 7, 2011.
While it remains to be seen what will transpire in Group A, nothing in life and sport should count as an absolute.