Dwight Howard's Trade Value Will Never Recover After Magic Debacle
May 3, 2012

Mike Ehrmann/Getty Images
Earlier this week, Magic general manager Otis Smith traveled to Los Angeles to check up on Orlando's disgruntled star Dwight Howard as he recuperates from surgery to repair a herniated disk. While expected to fully recover, Howard has lost 10 to 15 pounds and obtained a "slight belly" according to Smith per the Chicago Tribune.
Sure, this latest development in the elongated saga is nothing to worry about, but one must wonder what the Magic will do after Howard's first major injury in his career.
After all, ESPN's Stephen A. Smith reported a week ago that the All-NBA center will demand a trade once the Howard-less Magic are eliminated from the playoffs.
Many don't expect the Magic to keep the perennial All-Star if he does wish to be moved after waiving his early-termination option earlier this season. Why would the franchise want to go through another season full of drama, anxiety and ridicule?
Nonetheless, if Orlando decides to ship Howard this offseason, what could the organization acquire for his services?
Well, one thing is for certain: Howard's trade value will never recover after this season's debacle.
Over the course of the year, executives from across the Association have witnessed the constant whining and griping of the Magic's center. From being dissatisfied with the roster to supposedly desiring the firing of his coach and GM, Howard has not shown his best virtues and qualities this season.
However, the one thing about his recent behavior that has a few up in arms is his persistent denial of his true emotions to the media. At least LeBron James was completely honest on his intentions last year. Heck, James did a one-hour special on ESPN in front of millions to announce his decision to take his talents to South Beach.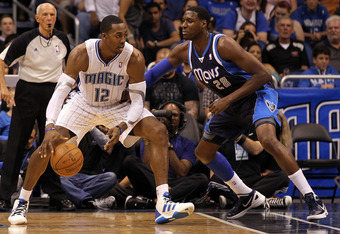 Sam Greenwood/Getty Images
Additionally, there have always been questions regarding Howard's leadership ability. Is this truly the player a team will want to add to lead its franchise? His stats are sensational, as the 6'11" center is a consistent 20-10 threat, but is he actually capable of winning the championship as the "head and heart" of a roster?
Gone are the days where Howard was the only quality center in the NBA. With centers Tyson Chandler, DeMarcus Cousins, Roy Hibbert, Marc Gasol and Andrew Bynum now dominating the paint, there are currently other options for franchises looking for a cornerstone center to explore. 
Add the fact that Howard has sustained his first major injury, and you have a player whose stock is rapidly declining.
The Magic will ultimately regret their decision of not trading Howard before this year's trade deadline.