Mayweather vs. Cotto: Result Won't Impact Possible Pacquiao Bout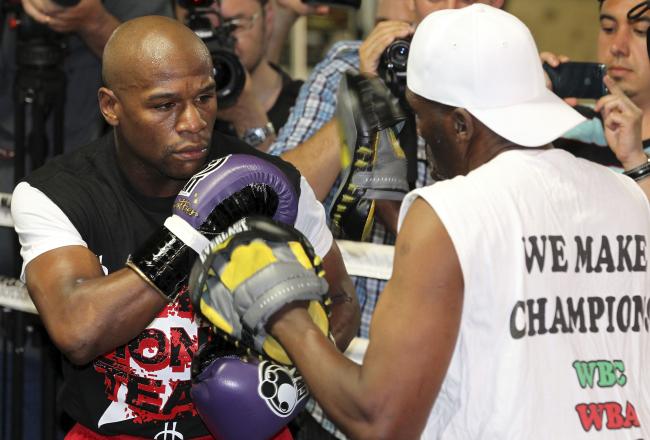 Jeff Bottari/Getty Images
Go ahead and enjoy Floyd Mayweather versus Miguel Cotto on Saturday, but regardless of the result, a Mayweather-Pacquiao is not going to come of it.
Not now. Not when Mayweather returns from his jail sentence. Not ever.
If you still have faith for the mega-mega-super-mega-fight, it's time to give up. Especially after Mayweather's recent rant with ESPN.
Here are some highlights:
"Health is more important than anything," Mayweather said. "Because guess what? When my career is over, if I'm hurt because of something that has happened in a fight, I can't come to you and say, 'I need (money).' "
Mayweather stumbled upon this topic, of course, because he is convinced Pacquiao is on steroids and why would he, Mayweather, risk his health by stepping into the ring with someone who's all jacked up, Pacquiao?
For the record, Mayweather and his camp are really the only ones who have ever accused Pac-Man of 'roiding. But anyways:
"It took me years to get to here -- years," Mayweather said. "I'm going up in weight but I'm not walking through no damn fighters. (Pacquiao) is 106; now he decides to walk through (Miguel) Cotto?"
Mayweather seems to forget he fought at 125 pounds in the 1996 Olympics and is now getting ready to fight Cotto a 154 pounds. But that's neither here nor there.
I guess.
Will a Mayweather-Pacquiao fight ever happen?
Anyways, if you want more good Mayweather quotes, I suggest you listen to his interview. It's full of plenty of good nuggets, but the real point to take from it is that he's never going to fight Manny Pacquiao.
Whether or not Pac-Man submits a drug test a few months before the fight, it's not going to happen.
Mayweather is on some other level where he could probably be convinced Pacquiao is a proponent of child labor if his camp brought it up. If he's making up apparent excuses now, before there's even a fight in place, don't expect it to ever happen.
What's more, Mayweather is 35 and Pacquiao is 33. They could both be nearing the end of their career if they aren't challenged inside the ring anytime soon.
"I want to live a normal life. I want to go to the mall by myself, but I know I can't," Mayweather told the Huffington Post. "I do want to take a walk by myself, but I can't. There's a lot I want to do."
Yeah, Mayweather-Pacquiao isn't happening.
Sorry.
This article is
What is the duplicate article?
Why is this article offensive?
Where is this article plagiarized from?
Why is this article poorly edited?