Seattle Mariners: 5 Best Trade Pieces They Have Available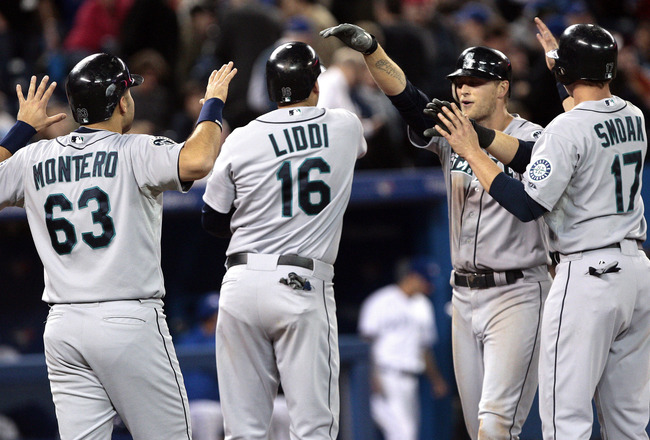 The Seattle Mariners continue to struggle with mediocrity.
Abelimages/Getty Images
The Seattle Mariners are stuck with the unenviable task of chasing both the Texas Rangers and the Los Angeles Angels of Anaheim in the American League West.
The M's roster is not terrible, but it is also some ways off from being able to compete for the postseason.
Seattle does have several quality prospects and GM Jack Zduriencik's re-emphasis on the farm system looks to be on the cusp of paying dividends.
The front office now faces a difficult decision to either keep the project intact despite dwindling attendance and a restless fan base, or make some moves to make the team more competitive in the short term.
It seems unlikely the team will abandon the plan now. Danny Hultzen and Taijuan Walker are two exciting prospects who combined with Felix Hernandez could comprise one of the most dominant rotations in baseball...two or three seasons from now.
In the meantime, the Mariners will look to deal some the veterans on the roster in order to stockpile prospects. M's fans will hope these prospects will be capable of producing at the plate.
Here are a few trade pieces Seattle has available to continue building for a Jesus Montero-led future.
Jason Vargas Is Seattle's Only Veteran Starter Worth Anything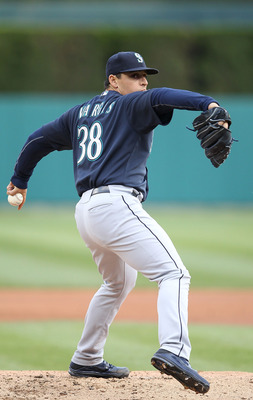 Jason Vargas has become Seattle's second best starter.
Leon Halip/Getty Images
The Mariners' front office does not have a ton of pitching that they want to give up in a trade.
It is unlikely Seattle will want to trade away Blake Beavan, Hector Noesi, Hisashi Iwakuma or any of their minor league prospects because they all have something to offer.
It is unlikely all of them will turn into productive starters, but it makes more sense to at least see what they have since the M's are unlikely to compete this season and probably next year.
Jason Vargas has proven he can eat innings and show some flashes of brilliance from time to time. There will be plenty of postseason chasing teams who could use a guy like Vargas at the bottom of the rotation.
He will not command a top-line prospect, but the Mariners should be able to get some useful pieces back as they continue to rebuild their once decimated farm system.
Brandon League Is Expendable for Rebuilding Mariners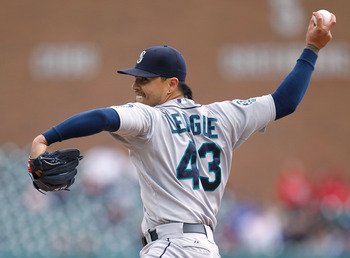 Brandon League has been one of the better closers in the AL.
Gregory Shamus/Getty Images
Brandon League has become one of the most underrated closers in baseball.
He blows the odd save but overall he has been far more consistent than guys like Jordan Walden or Fernando Rodney.
The Mariners have no real need for a closer at this time and would be better suited developing one of their young guys in that role than keeping League around.
There will be plenty of desperate teams looking for bullpen help and willing to pay for it. Seattle does have some experience dealing in this area.
No one will forget the Heathcliff Slocumb debacle when the M's dealt away a young Derek Lowe and Jason Varitek for the pitcher they thought would put them over the top.
Now would be a perfect time to use League in a similar type of trade.
Franklin Gutierrez Has No Place in Seattle
Franklin Gutierrez can give some team a lot of defensive help.
Otto Greule Jr/Getty Images
Franklin Gutierrez is an above-average defensive center fielder who can steal a few bases when needed.
The downside is that he always seems to be injured and is currently on the DL again. The best case scenario for Seattle is that he comes back, stays healthy and does enough for some team to take a flyer on him.
The Mariners will not get a lot (if anything) for him, but the team would be better off letting Michael Saunders see if he can be an everyday player.
Gutierrez would be a solid addition for a team who needs some help defensively and a little extra speed on the base paths. His hitting numbers have been falling since his career year in 2009 and anything he gives you at the plate is probably a bonus.
Justin Smoak Is a Good Player but Might Have to Make Way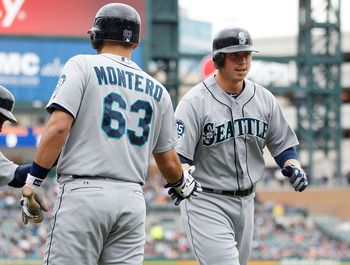 Justin Smoak might have to be moved on so Montero can play first.
Gregory Shamus/Getty Images
Miguel Olivo's injury means Jesus Montero will get a chance to prove he can catch everyday, CBS reports.
This audition of sorts while probably give manager Eric Wedge and the Mariners' front office an idea on whether or not Montero can handle the everyday catching duties.
In reality, Seattle would be foolish to have Montero handle a bulk of the catching. There are two many things that can go wrong and not enough that can go right.
The better move would be shift Montero to first base and try to trade Justin Smoak.
While Smoak is a decent player and a good clubhouse guy who has been through a lot during his time in Seattle, he still represents a lot of risk.
Montero is a can't miss player while Smoak has yet to figure it out yet. Some may say it is too soon to give up on him, but the Mariners have options available.
It is hard to know what kind of market there would be for Smoak, but it is an avenue worth investigating.
It Is Time to End the Chone Figgins Era in Seattle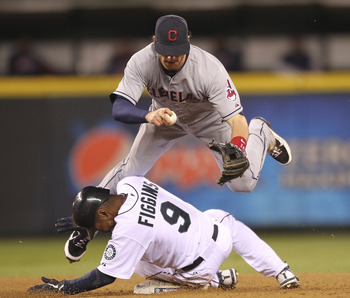 Chone Figgins has done nothing since joining Seattle
Otto Greule Jr/Getty Images
Unless the Mariners receive an amazing offer for one of their prospects, the front office is more likely to try and part with veterans.
Figgins has been dreadful since joining Seattle, but his versatility does make him attractive to other teams.
Seattle will have to eat a lot of money in order to move him because they gave Figgins a ridiculous contract.
The Mariners committed to building the team from the ground up so it makes more sense to move Figgins rather than having him block the growth of other players.
Figgins does not have a lot of trade value, but then again, neither do a lot of other players on the M's' roster outside of the club's prospects.
Keep Reading

Seattle Mariners: Like this team?