New York Red Bulls: Hans Backe, Let Ryan Meara Play for Ireland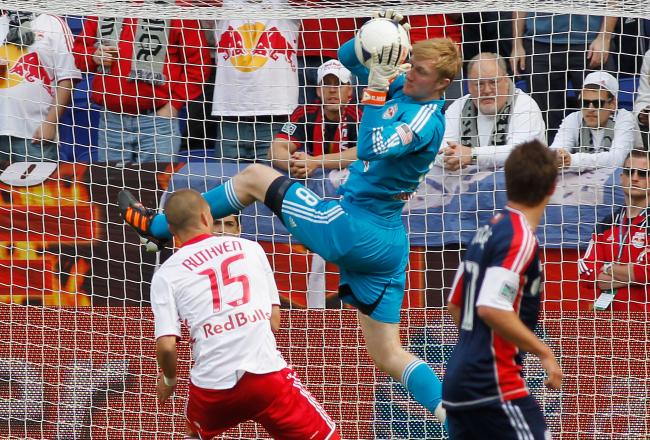 Andy Marlin/Getty Images
Rookie goalkeeper Ryan Meara has had quite a season since being drafted 31st overall in the 2012 MLS SuperDraft.
On Tuesday, his stock rose again, with a call-up to the Ireland under-21 national team.
However, New York Red Bulls head coach Hans Backe decided he won't let Meara go to a camp at the end of the month that culminates in a friendly against Denmark and a European Championship qualifier against Italy.
Backe told Big Apple Soccer:
I just told him we will turn it down. He wants to play; I don't want [it], so that's why.
Backe's decision in this situation was terrible. At the very least, he should back it up with more than just that he doesn't want Meara to play.
The friendly against Denmark is June 4, at the start of a weeklong international break in the MLS schedule. However, because it's just an under-21 call-up, the Red Bulls aren't required to release Meara to Noel King's Irish team.
Still, getting a rookie goalkeeper more experience at a high level would be good for both the player and the team. There are only benefits to be had from letting Meara play for Ireland.
New York doesn't have any games during that stretch. Why not let Meara go and get some international playing experience?
As a player, being selected for a national team is the highest honor in the game. Meara's mild demeanor precludes any sort of temper tantrum, but he has to be at least mildly disappointed in his coach's decision.
Should the Red Bulls have let Ryan Meara play for the Ireland Under-21s?
There must be more at play that Backe isn't telling the media. He was evasive in his discussion with Big Apple Soccer:
It's stupid. I'm not commenting on it.
It's hard to see how any of his players playing for a national team would be "stupid."
If Backe is concerned about Meara's recovery from international travel and how it would affect his form for the Red Bulls, that's one thing. But he was fine with Thierry Henry traveling to and from London in about a day's time in March.
Those circumstances were much different, but the principle is the same.
To his credit, Meara handled the situation diplomatically. He told MLSSoccer.com:
I got called in for the U-21s, but the Red Bulls would rather me stay here and focus on continuing to win games here. My main focus is here as well. We have a great team, and I think the goal is [to win] the MLS Cup, so that's all I'm focusing on.
Meara, a Yonkers, N.Y., native, qualifies for the Irish team because of his grandparents. He also qualifies because of his impressive first year as a pro so far.
The 21-year-old earned his first shutout last Saturday, as a depleted Red Bulls defense held off the New England Revolution for a 1-0 win at Red Bull Arena.
Meara and New York will be in action again on Saturday, as the Red Bulls travel across the country to play the Los Angeles Galaxy. The game is at 8 p.m. EDT and will be televised live on ESPN.
Liviu Bird writes for Bleacher Report and Prost Amerika. He is finishing his journalism degree and playing professional soccer for the Kitsap Pumas. Follow Liviu on Twitter.
This article is
What is the duplicate article?
Why is this article offensive?
Where is this article plagiarized from?
Why is this article poorly edited?