What Teams Must Do to Slow Down LeBron James, Kevin Durant and Other Stars
May 3, 2012

Mike Ehrmann/Getty Images
So far in the NBA playoffs, the superstars have come to play. The likes of LeBron James, Kevin Durant, Kobe Bryant, Tony Parker and other have taken their games to a higher level as they attempt to lead their teams on the path to an NBA championship.
If anything is evident, stopping these guys is going to be next to impossible, but finding a way to slow them down a bit could be the key to defeating them.
Here's a look at the best way to slow down the playoffs' best superstars.
LeBron James, Miami Heat
Good luck.
James is playing at such a high level right now that there is no way the injury-riddled Knicks can defend him.
He's shooting .563 from the floor in the postseason, but if the Knicks have a chance, they must keep him out of the paint and force him to be a jump shooter. That's easier said than done, but New York can start by making more shots, as they are only shooting .429 in the series.
Make more shots, and the Heat will have less opportunities to run. Otherwise, they just have to deal with James' production and focus on trying to take Dwyane Wade or Chris Bosh out of the game. But that's no easy task either.
Kobe Bryant, Los Angeles Lakers
Bryant has been terrific in the Lakers' two wins against the Nuggets, shooting .491 from the floor and scoring 34.5 PPG.
It's a tricky situation for Denver. If they run more defenders at Bryant, Los Angeles can pound the ball down low more often to Andrew Bynum and Pau Gasol, who are both having productive starts to the playoffs as well.
But Bryant has had his shooting woes this season. shooting only .430 from the floor. Arron Afflalo must stay with Bryant and force him to take as many difficult shots as possible. Kobe's been streaky this season, so there's a chance he could shoot himself right out of this hot streak.
Kevin Durant, Oklahoma City Thunder
Durant's been big late in games for Oklahoma City, as the Thunder hold a 2-0 lead over the Dallas Mavericks, but the defending champs don't have to do much different when guarding Durant.
Sure, he's averaging 25.5 PPG, but he's not shooting the ball very well to start the playoffs, knocking down only 15-of-44 shots (34 percent) in the series. Dallas needs to just keep putting hands in Durant's face and hope he doesn't heat up.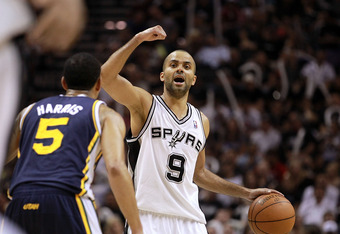 Ronald Martinez/Getty Images
Tony Parker, San Antonio Spurs
Parker is playing as well as anyone in the NBA right now, and because of his unselfishness, he may be the most difficult player to slow down.
My advice for the Utah Jazz would be to keep him out of the paint and force him to take jump shots. Parker is shooting .552 during the series and is getting a lot of open looks. Of course, he makes plays in many other ways, so he will find open shooters at will if Utah can effectively take his scoring away.
He's a very difficult matchup for the Jazz.