NBA Playoffs 2012: How Injuries Will Pave Boston Celtics' Path to the Finals
May 3, 2012

Kevin C. Cox/Getty Images
The Boston Celtics aren't yet a lock to advance beyond the first round, but they're on the right track. If they can do so, the Conference Finals—and more—may be well within reach.
Few would have given these Celtics those kind of odds at the beginning of the season, but things have changed since then. Doc Rivers' veteran team hit its stride after the All-Star break, going 24-10 and rediscovering the kind of basketball that made it a contender.
Things have also changed for Boston's postseason opponents and not for the better.
The Atlanta Hawks are tied at a game apiece with the Celtics in the first round, but Boston remains a solid favorite to take the series, thanks to a series of key injuries.
The Hawks have been without center Al Horford since January due to a shoulder injury, and Zaza Pachulia is unlikely to return for the next couple of games.
Starting power forward Josh Smith will also miss at least Game 3 with a knee injury.
The untimely absences not only deprive Atlanta of important players, but key bigs in particular. 
The Celtics' own lack of size becomes a much less pressing disadvantage, and the Hawks may simply be too shorthanded to steal a contest in Boston. That likely means this series will be over in five or six games.
Ray Allen may not be imminently available, but he should be able to help the Celtics in the second round, at the very least.
That would be a bonus for a Boston squad that would face either the Chicago Bulls or Philadelphia 76ers.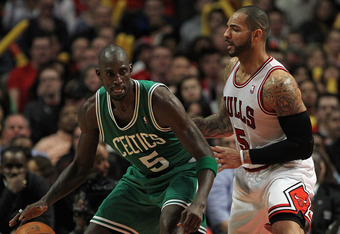 Jonathan Daniel/Getty Images
The Celtics would benefit from Derrick Rose's torn ACL either way in that series. If they faced Chicago, they'd do so without Rose involved. If they face Philadelphia (the Eastern Conference's eighth seed), it would be thanks in large part to that injury.
Neither scenario would be a cakewalk for the Celtics, but they're both pretty winnable matchups, as postseason opponents go.
The Celtics' luck might run out by the time they make it to the Conference Finals, though.
The Miami Heat have looked nearly unstoppable thus far against the New York Knicks, and that might not change anytime soon. Still, if there's any team in this league that's appeared to have Miami's number this season, it's Boston.
The Celtics emerged victorious in three games against the Heat in April. The starters sat out the last of those games, but the previous two were both convincing wins.
Regular season success isn't always a useful predictor of playoff outcomes, but the Celtics could potentially enter a series against Miami well rested—on account of their battered competition in the first and second rounds.
That might be all the advantage Boston needs to pull an upset and return to the NBA Finals.