2013 NFL Mock Draft: Where Most Dynamic Offensive Playmakers Will Land
May 3, 2012

Stephen Dunn/Getty Images
The 2012 NFL draft class provided quite the treat for football fans. Andrew Luck, Robert Griffin III and Trent Richardson are supremely gifted prospects should become stars at the next level. 
What about the class of 2013? 
Who are marquee offensive playmakers? 
Where will they land? 
1. Jacksonville Jaguars: Matt Barkley, QB, USC
The Jaguars are in dire need of offensive talent. After drafting Justin Blackmon in Round 1, what did they do? 
Drafted a punter in Round 3. 
They'll struggle offensively in 2012, which could lead to the end of Blaine Gabbert's tenure as quarterback. 
2. Indianapolis Colts: Jarvis Jones, OLB, Georgia
Jones was an absolute beast in the SEC last season, racking up 13.5 sacks. After another dominating season in 2012, he'll be the Colts pick, a guy to be groomed under Dwight Freeney and Robert Mathis. 
A perfect piece to add to the rebuilding defense.
3. Miami Dolphins: Robert Woods, WR, USC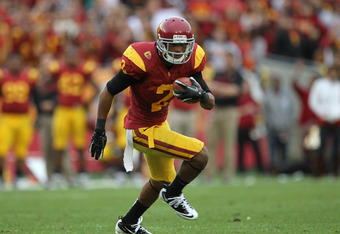 Stephen Dunn/Getty Images
Woods 6'1'' and 180 pounds with terrific route-running ability, soft hands an sneaky speed. 
He was essentially unstoppable last season for the Trojans, reeling in a ridiculous 111 catches for 1,292 yards with 15 touchdowns. 
With Matt Barkley throwing him passes in 2012, Woods should have another dynamic season for USC. 
When watching Woods, I see a lankier version of the Carolina Panthers' Steve Smith. 
4. Minnesota Vikings: David Amerson, CB, N.C. State
Minnesota decided to pass on Morris Claiborne in the 2012 draft, so they get their lockdown corner of the future with Amerson at No. 4 overall. 
5. St. Louis Rams: Manti Te'o, MLB, Notre Dame 
Michael Brockers was the team's 2012 first-round pick, and Jeff Fisher adds another strong dimension to the middle of the Rams recently struggling defense. 
Te'o has three-down potential and has an extremely well-rounded game. 
6. Tennessee Titans: Barkevious Mingo, DE/OLB, LSU
Mingo is raw, but he's got unparalleled speed off the edge. The Titans are looking for a youthful and talented pass rusher, that's what they get with Mingo. 
7. Seattle Seahawks: Keenan Allen, WR, California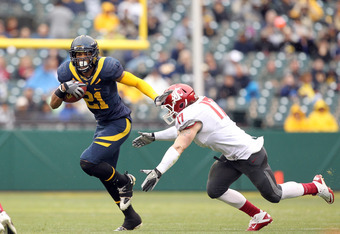 Ezra Shaw/Getty Images
As a sophomore in 2011, Allen hauled in 93 passes for 1,343 yards with six touchdowns for the Bears. He's got a big frame and can physically outmatch cornerbacks at the line of scrimmage and on jump balls down the field. 
At 6'3'' and 220 pounds, there aren't many defensive backs that can deal with him throughout the course or an entire game. 
The Seahawks don't have a legitimate No. 1 wideout, but after drafting Allen, they most certainly do. 
8. Tampa Bay Buccaneers: Sam Montgomery, DE, LSU
At 6'4'' and 245-pounds, Montgomery is a physical specimen coming off the edge. He and Mingo will feed off each other and wreak havoc this season in the SEC. 
The Buccaneers play in a division with Cam Newton, Matt Ryan and Drew Brees. They need pass-rushing help. 
9. Cleveland Browns: Brandon Jenkins, DE, Florida State
Jabaal Sheard registered 8.5 sacks last season and Jenkins would provide more speed and athletic ability opposite him. 
In a division loaded with skilled defenders, Jenkins will fit right in. 
10. St. Louis Rams (from Washington): Marcus Lattimore, RB, South Carolina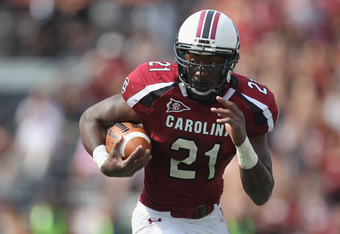 Streeter Lecka/Getty Images
There's no doubting it, Lattimore is the premier back in the 2013 class, especially if he returns to full strength from his 2011 injury. 
He weighs 232 pounds and stands 6'1'' and is nearly impossible to bring to the turf. He also exhibited great vision during his time in the hyper-competitive SEC. 
No one better to replace Steven Jackson than Lattimore. 
Mathieu is a dynamic play-maker and a decent cornerback. The Chargers' secondary is again, and there's a chance Quinton Jammer moves to safety in the near future. 
This pick makes too much sense not to happen. 
12. New York Jets: D.J. Fluker, OT, Alabama
We witnessed how bad Wayne Hunter can be last season. The Jets need an upgrade on the right side of their line, period.
Fluker's a mammoth prospect at 6'6'' and 340 pounds. He'll lock down the right tackle for a long time.  
13. Oakland Raiders: Tyler Wilson, QB, Arkansas
Wilson is the latest strong-armed quarterback to come from the pro-style system at Arkansas. The Raiders need a future franchise signal-caller, and Wilson's got a ton of upside. 
14. Arizona Cardinals: Jake Matthews, OT, Texas A&M
For some reason, the Cardinals decided to re-sign Levi Brown this offseason. If he has another down year in 2012, expect the team to cut ties with the former first-round pick and look for a premier edge protector. 
Enter Jake Matthews. 
15. Buffalo Bills: Logan Thomas, QB, Virginia Tech 
Ryan Fitzpatrick can have his moments, but he isn't consistent enough to lead this up-and-coming team. 
Logan Thomas isn't exactly the next coming of Cam Newton, but he's close. 
Chan Gailey will love him. 
16. Carolina Panthers: Kawann Short, DT, Purdue 
Short, registered nearly 30 tackles for loss and exactly 12 sacks over the last two seasons for the Boilermakers as the team's menacing defensive tackle. 
He'll fortify the middle of Carolina's defense in front of 2012 first-round pick Luke Kuechly. 
17. Dallas Cowboys: Barrett Jones, OG, Alabama
Jones has plenty of experience playing in the nation's best conference loaded with stud defensive linemen. 
The Cowboys would like to add more youthful parts around Tyron Smith. Jones is an exquisite option. 
18. New York Giants:  Kevin Reddick, LB, North Carolina
The Giants don't have a ton of holes, but adding depth and premier talent to their 4-3 linebacking wouldn't be a bad idea. 
19. Denver Broncos: T.J. McDonald, S, USC
The Broncos secondary wasn't necessarily stout last season and now that Brian Dawkins has retired, they need a new leader at the safety position. 
McDonald, like most players at USC, exudes athleticism. 
20. New Orleans Saints: Ricky Wagner, OT, Wisconsin
Wagner should have a solid year for the Badgers in 2012, that'll lead to his first-round selection. Drew Brees must be protected at all costs, so using an early pick on a tackle is never a bad idea. 
21. Cincinnati Bengals: Knile Davis, RB, Arkansas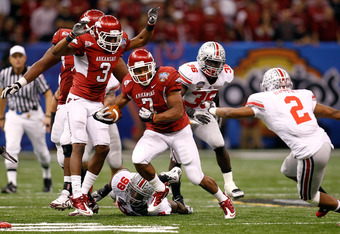 Chris Graythen/Getty Images
Yes, the SEC may have the best two running backs in the nation, just like the Pac-12 houses the two best wideouts in America. 
Davis sat out the 2011 season with injury, but he should be back to full strength this fall. In 2010, he had a crazy 6.5 yards per carry average and scored 13 rushing touchdowns. 
BenJarvus Green-Ellis is a good back, but Davis will bring an explosive facet to one of the up-and-coming teams in the AFC. 
The Razorback runner is 6'1'' and 226 pounds, and actually runs a lot like Darren McFadden did during his collegiate years—upright with deceptive speed while utilizing a one-cut-and-go style. 
22. San Francisco 49ers: Tony Jefferson, S, Oklahoma
Right now, Dashon Goldson is the team's franchise player. Will he sign a long-term deal after the 2012 season? If not, Jefferson would be logical. 
23. Kansas City Chiefs: Landry Jones, QB, Oklahoma
Everything about the Chiefs roster is solid, except for their quarterback situation. Jones, at the very least, would provide great competition for Matt Cassel. 
24. Atlanta Falcons: Seantrel Henderson, OT, Miami
Henderson was a prized recruit coming out of high school and has been steady for the Hurricanes. Somewhat of a luxury pick here, Henderson fortifies the protective unit in front of Matt Ryan. 
25. Pittsburgh Steelers: C.J. Mosley, ILB, Alabama
David DeCastro was too enticing not to take at No. 24 in the 2012 draft. However, the Steelers would love to find a young replacement for the recently cut James Farrior. That's Mosley. 
26. Detroit Lions: Johnny Adams, CB, Michigan State
The Lions don't need any help on offense, that's for sure. What they do need is supremely skilled cornerbacks. Adams was a play-maker for the Spartans last season and should improve in 2012. 
27. Philadelphia Eagles: Chris Faulk, OT, LSU 
With Jason Peters and Demetress Bell as the team's two left tackles, guys that have dealt with injuries throughout their career, Philadelphia gets more insurance up front. 
28. New England Patriots: Kwame Geathers, DT, Georgia
Geathers is pick to learn the intricacies of the nose tackle position from Vince Wilfork. A nice future replacement.  
29. Chicago Bears: Alex Okafor, DE, Texas
At 6'4'' and 260 pounds Okafor has the menacing size to bull rush offensive tackles. He's also rangy and get sweep around bigger blindside protectors to get to the quarterback. He and Julius Peppers? Scary. 
30. Baltimore Ravens: Sean Porter, OLB, Texas A&M
Who better to coach Porter on playing linebacker in the NFL than Ray Lewis? No one. Porter adds much needed youth to Baltimore's defense. 
31. Houston Texans: Tavon Austin, WR, West Virginia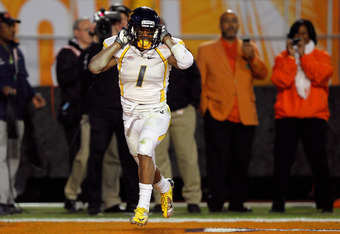 Streeter Lecka/Getty Images
Andre Johnson and DeVier Posey will threaten defenses down the field. 
Austin will contribute underneath in a chain-moving, Wes Welker-type role.
He caught 101 passes for over 1,100 yards in 2011 and added eight receiving touchdowns for the Mountaineers.
32. Green Bay Packers: Montee Ball, RB, Wisconsin
Harry How/Getty Images
The Packers draft the hometown Ball in hopes of balancing out their dynamic attack. Although the Badgers lost Peter Konz and Kevin Zeitler from their offensive line to the NFL, they'll still have one of the biggest and most devastating fronts in the nation. 
Ball possesses decent speed and desired lateral cutting ability, but he's an NFL-ready back due to his vision and the patience he's learned during his collegiate career. 
He'll enter the league with a bit more wear on his tires than you'd like, but he's a competent runner with versatility and some feature back potential. 
Ideal for a pass-happy team like the Packers.