NBA Playoff Schedule 2012: Teams That Will Be Swept out of 1st Round
May 3, 2012

Mike Ehrmann/Getty Images
After Amar'e Stoudemire's post game outburst and a performance that made the San Antonio Spurs look like the 1997 Chicago Bulls, the New York Knicks and the Utah Jazz will be swept.
On paper the Miami Heat vs. Knicks matchup had the potential of at least a six-game series, but after Stoudemire went "Fight Club" in the locker room, he all but extinguished the Knicks chances.
There's the first and only fire-equipment related pun, so moving on.
Not only did the Knicks lose one of their best players for a at least one game, but they lost the small amount of momentum they may have gained in a close loss in Miami.
Ok, 104 to 94 is not exactly a dictionary definition of close, but when comparing it to the 100 to 67 Game 1 beatdown, it's all relative.
The Knicks needed something to build on before heading back to Madison Square Garden, and Stoudemire just smashed it.
Oops, looks like this is going to harder than I thought.
The Jazz have been thoroughly beaten in two games. Game 1 they lost by 15 points, and Game 2 by 29.
Tony Parker looks like he is 24-years-old, not 29. 
Tim Duncan pushed back father time as well, scoring 12 points and grabbing 13 boards in 28 minutes of play in Game 2.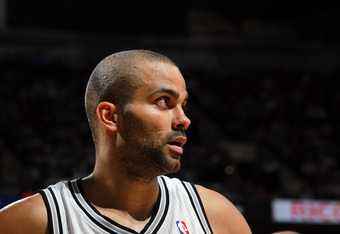 Ronald Martinez/Getty Images
It doesn't help that only two Jazz players scored in double figures. That doesn't sound too bad expect that Josh Howard and Al Jefferson each scored 10 points.
Sure raises the question, what's Gregg Popovich putting in the water?
But in all seriousness, the Spurs are the most disciplined, best coached team in the NBA, and with the great talent they have one through 12, they may be the strongest team in the West.
It's been 12 years since the Knicks have won a playoff game.
12 years, think what has happened over the last 12 years. Most of the current New York Knicks hadn't even graduated high school.
So can they win a playoff game? Sure they can, they have a talent laden team with a very good coach in Mike Woodson.
Will they win a playoff game? Probably not.
As much as Spike Lee and the Knicks faithful want, this team is too inconsistent to overcome the loss of Stoudemire.
Two weeks ago, when Carmelo Anthony was playing like the best player in the NBA, the outlook would have been different.
Anthony is struggling this postseason, even though he is averaging 20 points. Through two games he is only shooting 37 percent from the field, and has missed all five of his three-point attempts. 
Coming into the series, it seemed like he may be able to win a game on his own, that now is a distant thought.
The Utah Jazz actually entered the playoffs as one of the hottest teams in the NBA, winning their last five games. In their two games against the Spurs they have been ice cold.
The Jazz are shooting 38 percent from the field and 26 percent from behind the arc. 
Paul Millsap and Jefferson have underperformed, averaging only 14.5 and 13 ppg respectively. 
Besides the two big men, there has been no real offensive production with Gordon Haywood and Devin Harris struggling to find their shot.
Jazz fans hope their team can find a spark when they return home, because this year the Jazz were very good at home going 25-8.
Their only misfortune, the Spurs are the NBA's second best road team (22-11) and have won their last 12 games overall.
The Miami Heat also deserve credit, they were the second best team in the east and have been playing great basketball so far in the series.
While the Knicks have been shooting a respectable 43 percent, the Heat have been pouring it on, firing at a blistering 50 percent, including 40 percent from three-point land.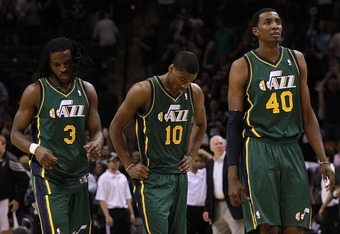 Ronald Martinez/Getty Images
Another reason for the Heat success is their passing. They are averaging 22 assists on 36 made baskets. 
No Heat player has averaged more than 16 field-goal attempts per game. 
With all the talent on the Heat, they can become selfish at times, but if they are passing well they are almost impossible to beat. 
To avoid the sweep, both the Knicks and Jazz need to come out hot on on their home court.
Get the crowd into the game and grab a first-quarter lead. But they way the Heat and Spurs are playing it may not be enough.
Sure Game 3 and Game 4 will be closer in each series, but the inevitable will happen and the Jazz and Knicks will be swept.