Will Middlebrooks: What We Can Take Away from His First Major League Start?
May 3, 2012

Jim Rogash/Getty Images
Boston Red Sox fans watched the future of the team start his journey towards becoming an everyday third baseman.
I'm a realist, I don't think the call-up will last for long right now. In fact, I think we've reached a point in the year where it would behoove the team to put Will Middlebrooks back down to Triple-A once Kevin Youkilis is healthy.
Why, you may ask?
The answer is simple—the team needs to raise the value of Kevin Youkilis.
Listening to WEEI's Rob Bradford do the color commentary for the game last night, he made a point that resonated with me: many fans are "falling in love" with the idea of Middlebrooks becoming the teams third baseman in lieu of Youkilis.
Bradford pointed out the value that Youkilis can bring to this team, stating that he is a middle of the order bat and solid defender.
Very true, Mr. Bradford, very true. Albeit an oft-injured player at that.
What we saw from Middlebrooks last night should dispel some of the concerns of his critics. Some would say that he is too young or lacks plate discipline. What we saw last night appeared quite the contrary.
In his first Major League at-bat, Middlebrooks showed patience and drew a four-pitch walk.
Upon getting on base, he displayed some base running savvy by stealing second during Marlon Byrd's at-bat. To further back that claim, in the fifth inning we saw him avoid a tag running towards second base that otherwise would have resulted in a double-play for the Oakland A's.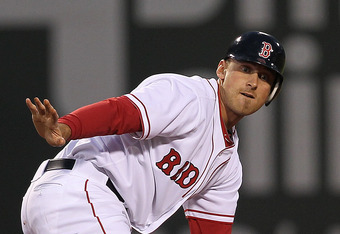 Jim Rogash/Getty Images
You can counter my argument stating it was poor defense on the part of the A's, but at the end of the day the team did not turn two on that instance.
Fans also got to see Middlebrooks' speed at hand when he beat out an infield single for his first Major League hit. Later, we saw a glimpse of his power as he added a double on the day, finishing off having gone 2-for-3 with a walk.
All in all, not a bad first start. The obvious questions now are: can Middlebrooks sustain this success at the Major League level and just how long of a leash will Youkilis have when he returns?
Time will certainly tell, but one thing is for sure, the future is knocking at the door.