Nick Perry, Jerel Worthy Add Pass Rush Presence to Packers Defense.
May 3, 2012

Harry How/Getty Images
If the Green Bay Packers had one goal entering the 2012 NFL Draft, it was to add to their pass rush, which they believe they've done, adding two premier players in outside linebacker Nick Perry and defensive lineman Jerel Worthy. 
However, doubts exist about whether these two players can contribute right away and revitalize a defense that ranked among the worst in the NFL last season at sacking the quarterback. 
During their 2010 Super Bowl season, the Packers defense was dominant, finishing second in the league in points allowed, fifth in yards and second in sacks with 47. 
Green Bay was effective on the defensive side of the ball that season in large part cause it featured an assortment of talented pass-rushers, highlighted by Clay Matthews, Cullen Jenkins and B.J. Raji.
But last offseason Jenkins jumped ship, signing a lucrative free agent contract to join the Philadelphia Eagles, leaving defensive end Mike Neal, a second-round pick of the Packers in 2010, as his replacement.
Unfortunately, Neal found himself on the injury report more than on the field and the Packers pass rush suffered a dramatic drop off in production. 
With no adequate replacement, Jenkins departure had wide-ranging affects on the play of Matthews and Raji, who combined for just nine sacks in 2011 compared to 20 the previous season.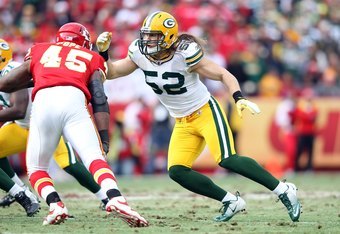 Jamie Squire/Getty Images
In all, the Packers saw their sack total fall to just 29, a big reason why their defense allowed more passing yards than any team in NFL history last season. 
So when Green Bay went on the clock near the end of the Round 1, it was easy for general manager Ted Thompson to select Perry with the 28th overall pick. 
A standout at USC, Perry is a 6'3", 265-pound edge player, who has the ability to play standing up or with his hand in the ground. According the the Milwaukee Journal Sentinel, Perry finished his three-year college career with 21.5 sacks, 29.5 tackles for loss and 51 total pressures.
The former Trojan may not be an ideal fit for defensive coordinator Dom Capers' 3-4 defense, yet he can pressure the quarterback, an essential component for success in today's pass-happy NFL.  
While some scouts have questioned Perry's work ethic and fit in Green Bay, here's what Capers had to say about him: "He certainly has the size and the athletic ability that we look for at the position. He tested extremely well at the combine. I think he's an explosive player. He obviously has the explosion you look for."
In order for a 3-4 defense to function, two exceptional edge rushers are required and Perry has more than enough talent become one, giving Green Bay the complement to Matthews it's been seeking. 
However, edge rushers alone do not make a great pass rush, it also has to come from the interior of the defense.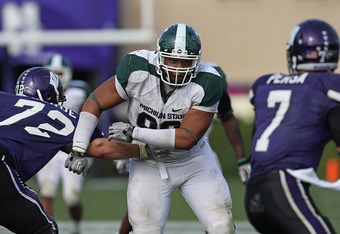 Jonathan Daniel/Getty Images
Last season, Raji was the only inside player with pass-rush ability—and it showed.
With no complement inside, opposing offenses engulfed Raji with double teams, greatly reducing his effectiveness.
Thus, when Michigan State's Worthy was available late in the second round, Thompson wisely traded up with the Eagles, sending them a fourth-round pick, in order to acquire the ex-Spartan's services.
Again scouts have raised questions about how Worthy fits in Capers' 3-4 scheme. Yet at 6'3", 310 pounds, he has the size and the athleticism the Packers look for in their D-linemen, meaning it shouldn't be hard to find a way to immediately incorporate him into the defense. 
Defensive line coach Mike Trgovac had high praise for Worthy, telling the Milwaukee Journal Sentinel, "He's a kid that has very good movement skills for a big guy, so he's not going to be restricted to just playing a certain amount of downs. He'll have the opportunity to compete here for all three downs. That will be up to him, whether he can do it."
Worthy used his immense skill set to rack up 12 sacks and 27.5 tackles for loss in three seasons at Michigan State. Not only does he give the Packers a legitimate option to start at defensive end in the base 3-4, but he can also contribute right away as an interior rusher in the sub packages lined up next to Raji.
The way Green Bay plays defense is determined in large part by its explosive offense. Last season, the Packers led the league in scoring, meaning they were ahead a majority of the time, which forced opposing offenses to throw the football. 
However, the Packers were not ready to handle the number of pass attempts thrown at them, as their nickel defense faltered due to the lack of a reliable four-man rush. 
Because the defense could not generate pressure with just four (two D-linemen, two edge rushers), Capers was forced to blitz, opening holes in the middle of the field that offenses were consistently able to exploit.  
Therefore, the drafting of Perry and Worthy is about upgrading the four-man rush as much or more than anything. Run defense is important, but for a team like the Packers a good pass defense, particularly on third-down, is imperative. 
Regardless of how they fit in the 3-4 defense, Perry and Worthy will be judged mostly on their ability to apply pressure on the quarterback.
If they succeed and the Packers can get consistent pressure from their front four, then watch out NFL... the Lombardi Trophy may be back in Green Bay before too long.