NBA Playoffs 2012: Grading the Performances of Top MVP Candidates
May 3, 2012

Chris Chambers/Getty Images
The 2012 NBA Playoffs are another opportunity for the game's best stars to shine on the big stage, and most of the NBA's top players have used the big stage to shine brightly.
While the playoffs have nothing to do with determining the league's MVP, some of the top MVP candidates have taken their game to an even higher level in the postseason.
Here's a look at how the top MVP candidates in the league have graded out so far through a couple of playoff games.
LeBron James, Miami Heat
LeBron is the front-runner to capture his third MVP award, but everyone wanted to see how James reacts to the postseason after last year's dismal finals performance.
So far through two games, James has been out to make a statement. He's playing with a killer instinct and a chip on his shoulder. His numbers are great, averaging 25.5 PPG, 5.5 RPG, 6.0 APG and is shooting 56 percent from the floor.
James has been next-to-unstoppable and is playing like a man who won't be denied a championship.
Grade: A+
Tony Parker, San Antonio Spurs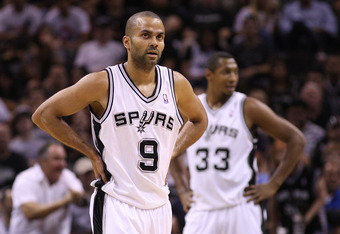 Ronald Martinez/Getty Images
Parker should be a serious MVP contender given the regular season he had, but he's been even better in the postseason, averaging 23.5 PPG and 8.0 APG in two easy Spurs victories over the Utah Jazz.
He's shooting a solid 55 percent from the floor and has a very nice 5.7 assist-to-turnover ratio. He has been the main reason why the Spurs offense is running like a well-oiled machine.
Grade: A+
Kobe Bryant, Los Angeles Lakers
Bryant is playing like he's on a mission and when he's focused like this, Kobe's very dangerous.
After a poor shooting season, Bryant is on fire, knocking down 49 percent of his shot attempts while posting scoring games of 31 and 38 points, leading the Lakers to a 2-0 series lead over the Denver Nuggets.
He's only 2-of-8 from behind the arc, but every other part of his game is clicking well right now.
Grade: A
Kevin Durant, Oklahoma City Thunder
Durant has played a big role in leading the Thunder to a 2-0 series lead over the Dallas Mavericks. He's averaging 25.5 points and 8.0 rebounds in the series, but is shooting the ball poorly, only knocking down 34 percent of his shots from the floor.
But he's been big in the clutch, knocking down the game-winner in Game 1 and having a solid 20-and-10 game during a tight Game 2. 
Grade: B+
Chris Paul, Los Angeles Clippers
Paul has been good, leading the Clippers to a historic Game 1 come-from-behind victory before the Clippers dropped Game 2 to the Memphis Grizzles Wednesday night.
He's got good numbers, scoring 21.5 PPG, dishing out 8.5 APG and recording three steals per game. However, Paul is not taking care of the ball very well, committing nine turnovers in two games for a paltry 1.9 assist-to-turnover ratio.
Grade: B-
Carmelo Anthony, New York Knicks
I threw Melo's name in here mostly because of the MVP-type April during which he averaged 29.8 PPG and shot .495 from the floor.
However, things haven't gone according to plan for Anthony so far in the postseason, despite his 30-point effort in Game 2. Anthony's field-goal percentage has dipped to .366 in the postseason and the Heat did enough to frustrate him in a Game 1 blowout when Anthony shot only 3-of-15 from the floor.
Grade: C