Manchester United vs. Swansea City: Preview, Live Stream, Start Time and More
May 3, 2012

Alex Livesey/Getty Images
Even though Manchester United are tied with Manchester City atop the Premier League table, City has the advantage in the goal-difference tiebreaker, which means the Red Devils' match versus Swansea City this weekend is very important.
United will look to dominate an inferior Swansea City side, since City have a difficult game this weekend against Newcastle United.
It's very possible that the Red Devils could be back on top of the title race with just one match remaining on the league calendar after this weekend's matches.
Let's look at everything you need to know about this exciting match.
Where: Old Trafford, Manchester, England
When: Sunday, May 6 at 11:00 a.m. ET
Watch: Fox Soccer Channel, Sky Sports HD1
Live Stream: Sky Sports
Most Important Player to Watch: Wayne Rooney
Wayne Rooney will be looking to dominate on Sunday, after he wasn't able to score in Manchester United's 1-0 loss to Manchester City at the Etihad Stadium on Monday.
Rooney will be going up against a weak Swansea City defense, which allowed four goals last week to a bad Wolverhampton Wanderers side.
Expect Rooney to score at least two goals in an impressive performance this weekend.
Key Matchup: United Back Four vs. Swansea Attack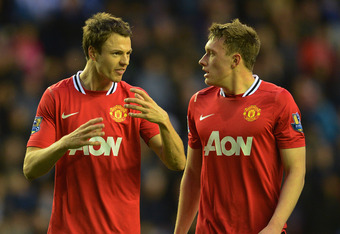 Michael Regan/Getty Images
With Jonny Evans set to miss the clash with Swansea, Manchester United manager Sir Alex Ferguson will have to be a little creative on defense.
If Swansea score first on Sunday at Old Trafford, their confidence and belief they can pull off the upset will skyrocket.
United needs to make sure they are strong in the central defense and don't let the Swansea forwards get comfortable early on.
What They're Saying
Ferguson confirmed this week that Evans and forward Danny Welbeck will miss the match against Swansea, saying via Soccernet:
Jonny Evans is still injured. He's improving a little bit but I don't think he'll be ready for Sunday. Danny Welbeck is still out - he got damaged on Monday night - although I'm hopeful he'll be available for the Sunderland game.
Prediction: United Win, 4-0
With an angry and motivated Manchester United squad playing a far inferior Swansea squad at home this weekend, there is no chance the Red Devils lose this match.