Junior Seau: Death, Disease and Finding the Right Answers in Life
May 3, 2012

Donald Miralle/Getty Images
Junior Seau died on Wednesday from what reports indicate was a gunshot wound to the chest. Suicide. One of the great football players of a generation thought it was better to end his life than go on. 
In the wake of Seau's death­—and the circumstances in which his life was taken—former teammates and friends shared their thoughts on a man everyone called uplifting, upbeat and positive.
"So sad to hear about Seau. Junebug. Buddy. The greatest teammate a young guy could ask for. This is a sad day. He will be missed."— Drew Brees
"Junior Seau was one of the most inspirational people I have ever met. He was a great leader, teammate, and friend. He will be missed."—Doug Flutie
"Junior was one of the most positive, uplifting people I have ever known. He was always full of life and energy and had an infectious spirit that lifted everyone around him."—Jason Taylor
This man, who worked hard to become not just a great NFL player, but a great man who played in the NFL, died because that became his only answer.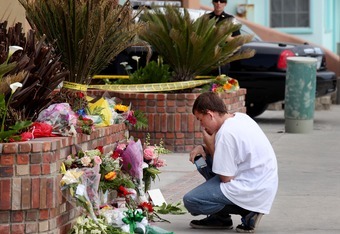 Sandy Huffaker/Getty Images
Suicide is a deeply personal experience. In many ways, suicide is selfish. Taking your own life and leaving behind those who love you, care for you and depend on you can be seen as the easy way out. 
Thoughts of suicide don't just pop into your head like the answers to your Calculus homework. They slowly infect your being. One day you wake up mad, and you don't know why. You aren't mad at the world or mad at your roommate or your wife or your kids or your boss. You aren't even mad at yourself. You are just mad. You are mad that you woke up, that you have to figure out a way to get through another day. 
You are mad that you exist. That life exists.
Eventually, those thoughts can go two ways. You can tell someone about it while you can still control your impulses. You can get help. You can surround yourself with friends and family who care about you and know what's going on.
Or you can try to go it alone. You can put on a brave face for everyone in your life and never let anyone know about the disease that has begun to eat your soul. You can try to fight it off—you have to try to fight it off, if not for yourself but for the people around you—but it's a cancer. It will consume you. 
The thoughts of wishing you hadn't woken up can quickly turn into thoughts about how you would end your life. What would be the least painful way? What would be the most painful way? Are these normal things to think about? Do other people sit around and wonder these things? If you ask someone, will he share his own thoughts or want to put you in the nuthouse? 
Those questions, on top of the anger, can quickly turn into madness.
Jonathan Daniel/Getty Images
For many people with depression or depression-like symptoms, there is help. If you realize it soon enough, there are ways to fight those thoughts and work through your issues. For some people who struggle with diseases like depression or chronic traumatic encephalopathy, which contributed to former NFL standout Dave Duerson taking his own life last year, it becomes impossible to see a way out.
There is no help for someone whose brain stops realizing there is something wrong. Your brain can't seek a solution if it doesn't think there is a problem.
Conversely, your brain can become so filled with problems, you can't find any of the solutions.
Duerson, like Seau apparently did, shot himself in the chest. Duerson did it to preserve his brain for study. Per a report in the New York Times in February, chronic traumatic encephalopathy has been found in more than two dozen retired NFL players.
This is not to say that Seau had the same disorder as Duerson. Time and research will determine that. Seau could have other demons. Often, players who have no brain trauma at all can have a hard time transitioning out of professional sports, falling out of the spotlight. It's wrong for us to assume anything at this point.
If there is any good out of this situation, regardless of his own reasons, Seau's death has made this a conversation we can have today.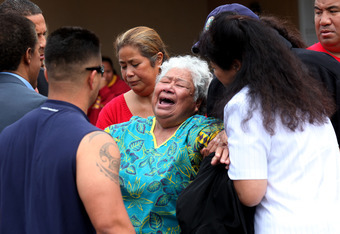 Sandy Huffaker/Getty Images
I called suicide a selfish act, and admittedly that may just be a crutch. You have to think suicide is selfish because the second you don't, you've lost that fight for your soul. While Seau left three kids and a grieving family behind, his final act of ending his life by shooting himself in the chest, thereby preserving his brain for study, could make a difference for current and future football players. 
Maybe the disease had won, as it too often does. Maybe Seau thought it was better for his kids to remember him for what he was than to see what he had become. Maybe something inside him—something out of his control—took away all the other answers.
It's impossible to think about Seau's career and rationalize how his life ended. I look back at all those quotes of his former teammates and fellow NFL alumni and can read the sadness and sense the fear. If this happened to Junior Seau, of all people, it can happen to anyone. It can happen to them.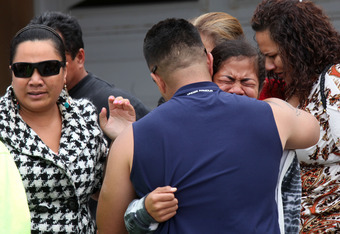 Sandy Huffaker/Getty Images
The last decision of Seau's life will do good for a lot of people, whether he intended it or not. And not only will his brain help the important scientific research of damage caused by repeated head trauma in football, but the fact that such an uplifting, upbeat and positive life can end this way should wake a lot of people up.
With time, Seau will become the catalyst for change in the NFL culture. Defenders won't suddenly stop using their bodies as weapons, and the hard hits will not stop coming. But technology has to catch up to the game. Rules need to change, all the way down to the pee wee level. 
Seau may not have been able to see any other answer, but his death will hopefully get others—both in the NFL and out—to start asking the right questions.