Saints' Bountygate Punishment: Long-Term Effects of Roger Goodell's Actions
May 3, 2012

Jamie Squire/Getty Images
Due to the latest bountygate suspensions, the New Orleans Saints could be headed for a steep decline.
NFL commissioner Roger Goodell had already suspended head coach Sean Payton along with other team personnel, but now punishments are being levied against the players with "leadership roles."
Linebacker Jonathan Vilma will be suspended for the entire season, while defensive end Will Smith will be out the opening four games.
Former players Anthony Hargrove and Scott Fujita will also miss time to start the year.
While these suspensions might seem harsh for players simply trying to impress their coach or make some money, it was revealed that each person played an instrumental part in allowing the bounty system to continue.
Now the Saints are at a crossroads. Without the right moves, things can go south quickly.
The fact that the latest punishments were not announced until after the NFL draft hurt the team's ability to plan for the future.
General manager Mickey Loomis traded away this year's first-round pick in an effort to get Mark Ingram a year ago, but the second-round pick was taken away from the team during the first wave of suspensions.
This forced the team to look deep in the draft for defensive help. Third-round selection Akiem Hicks from Regina has sleeper potential, but it is unlikely he will be ready to contribute too much this season.
Next season could be rough for the Saints. There is still a lot of talent, but they lost their leader on the sidelines in Sean Payton and their defensive leader in Vilma.
In addition, free agents Robert Meachem and Carl Nicks left for greener pastures.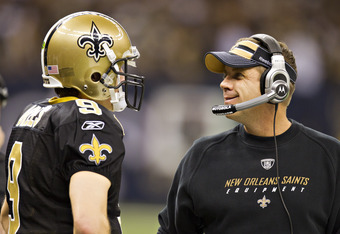 Wesley Hitt/Getty Images
However, the worst news is that star quarterback Drew Brees has still not signed a contract. According to Adam Schefter of ESPN, the two sides are not even close.
Brees might see them as team on the decline that is targeted by the NFL and choose to finish out his career elsewhere. This would leave New Orleans barren and send the squad back to the bottom of the standings.
On the other hand, the team could use these suspensions as a rallying cry of "us against the world."
Running back Mark Ingram tweeted yesterday, "Don't worry they just makin us hungrier and puttin a bigger chip on or shoulder."
This whole thing can simply serve as bigger motivation, maybe not next season, but a year later when the team is at full strength.
It all starts with Brees. Signing a long-term extension will give the team confidence in the future.
When a team sticks together and plays for each other, anything is possible.