Junior Seau: Is His Death Related to His NFL Career?
May 3, 2012

Stephen Dunn/Getty Images
Former NFL superstar Junior Seau was found shot to death yesterday morning with the police investigating his death as a suicide. If in fact Seau took his own life, he'd be the third former player to do so in the past 15 months.
Did Seau suffer the after effects of concussions as former Bears safety Dave Duerson and former Falcons defensive back Ray Easterling did? We don't know. A note has not yet been found.
A chilling reaction from former safety Shaun Gayle, who played with both Seau and Duerson (via Chicago Tribune): "It mirrors the situation with Dave."
The gun shot that killed Seau was to his chest in the same manner that Duerson took his life. Duerson left a note asking for his brain to be examined in an attempt to find the reasons for his suffering.
Boston University's Center for the Study of Traumatic Encephalopathy confirmed that Duerson had neurodegenerative disease, which is linked to concussions. The Center works with the NFL and has said that they've found two dozen retired players with the same disease.
Seau's death comes just 13 days after Easterling took his life after suffering from worsening depression, insomnia and dementia.
Seau denied that the events of last October 10 were a suicide attempt when he drove off a 30-foot cliff in Carlsbad, CA. Seau said that he fell asleep at the wheel. Earlier in the day he had been jailed for allegedly assaulting his girlfriend.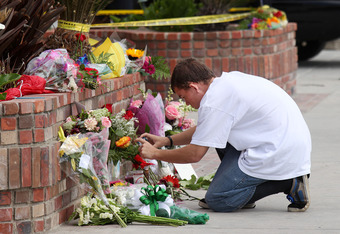 Sandy Huffaker/Getty Images
While we're not sure if Seau suffered from the effects of any brain trauma, it's widely reported that he did struggle in his transition to life without football. Football is the most macho of professions. Players are conditioned not to show pain. Unfortunately that generally prevents them from getting help physically, and perhaps even more so, emotionally. 
Former Chargers teammate Marcellus Wiley's tearful reaction to Seau's death was heartbreaking. The reverence that Wiley held Seau in was obvious. Wiley talked about Seau avoiding the trainer's room and getting attention from private doctors so his teammates wouldn't see him as anything other than a pillar of strength.
Ask for help? Not in Seau's make up. That would be a sign of weakness.
Quite the opposite. It takes tremendous strength to admit and face emotional problems that are looked on very differently than high blood pressure or diabetes. I've gone through things with my twin sons that I hope no parent ever has to experience. They're dealing with those issues now, and trust me, that's the brave and strong thing to do.
I've also watched my daughter deal with the aftermath of her fourth concussion—an ordeal that lasted a year and a half and caused her to struggle staying awake during school, suffer from headaches constantly and slip into depression.
My heart aches for the Seau family and my thoughts and prayers are with them. It was a sad sign of our times that there were microphones set up and a "press conference" held outside the Seau home only hours after his death. I felt for his mom Luisa as she faced the media. Obviously this is not something that she was prepared for or equipped to do. She was tremendous. I hope the family can have time now to deal with this privately.
Can something be done about this? I don't know. Football is a violent sport and certainly the players do have some responsibility for dealing with what they signed up for. But the league does have responsibility for making sure they provide as safe a work environment as possible for their employees.
The other part of this is trying to change a culture of players thinking playing through injuries is tough. It's not. It's stupid. Starting with Pop Warner, players have to be taught that it's okay to ask for help. It's okay. It's really okay.