NBA Rumors: 3 Title Contenders Where Steve Nash Could Make Biggest Impact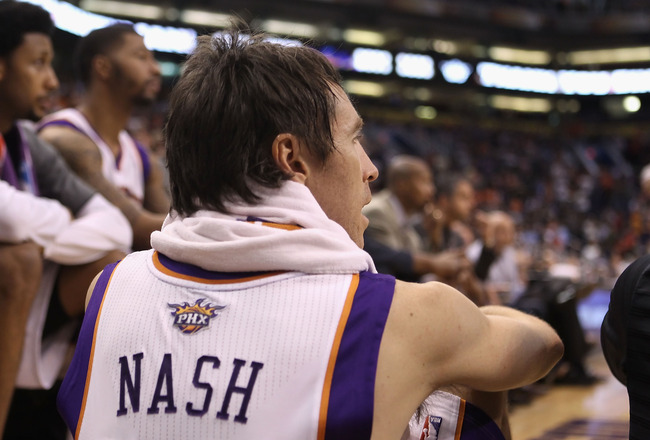 Christian Petersen/Getty Images
Steve Nash is an unrestricted free agent, and according to USA Today NBA writer J. Michael Falgoust, Nash is going to bolt to a contender.
Nash isn't coming back to #Suns. They need to get younger and truly rebuild. And he wants to play for a contender #nba

— J. Michael(@jmikeNBAusat) April 26, 2012
If Nash is going to leave, it will have to be to a championship-contending team. Immediately, three teams stand out as possibilities—Miami Heat, Dallas Mavericks and Indiana Pacers. Each offer a different situation, but all offer the chance to contend for a title.
Read on for what these three teams offer to Nash and which team would be the best fit for former two-time MVP Steve Nash.
Dallas Mavericks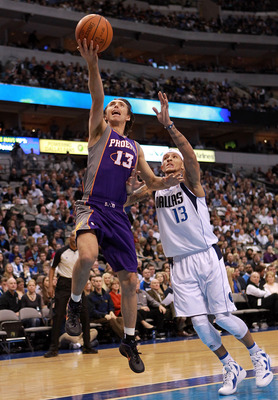 Ronald Martinez/Getty Images
As most people know, Dallas is where Steve Nash really kick-started his NBA career. He's best friends with Dallas star Dirk Nowitzki, and Maverick owner Mark Cuban is not shy about spending for talent. This situation makes a ton of sense for Nash.
Nash would instantly become the starter and provide a deadly two-man pick-and-roll with Nowitzki. Not only would the two man game be important, Nash would immediately draw more free agents to Dallas. I'm thinking big-name free agents like Roy Hibbert or Eric Gordon.
The Mavs would be very solid if they signed Nash and either Hibbert or Gordon. Both Hibbert and Gordon are restricted free agents, thus making it difficult to pry away from their teams. With the right signings, the Mavericks could be a top team in the Western Conference and a strong title contender.
Miami Heat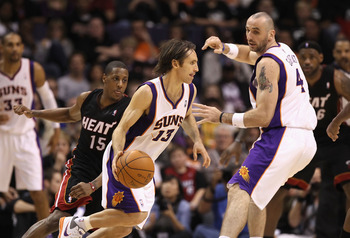 Christian Petersen/Getty Images
The Miami Heat seem to be a rumored destination for veterans looking to catch on with a contender but, Nash is not a journeyman veteran free agent. He's a two-time MVP.
Nash to the Heat would be a huge signing and would easily make the Heat title favorites. Nash has already expressed interest in signing with Miami, which shouldn't come as a surprise to many.
Just the thought of Nash running the fast break with LeBron James on the right and Dwyane Wade on the left is a scary thought for opposing defenses and exciting thought for fans.
The Heat will be strapped for cash this offseason, but you have to think they would jump at the idea of signing Steve Nash. In my opinion, the Miami Heat provide the best fit for Nash.
As a Suns fan, I want to see Nash win a title, so Miami would be a good fit for him.
Indiana Pacers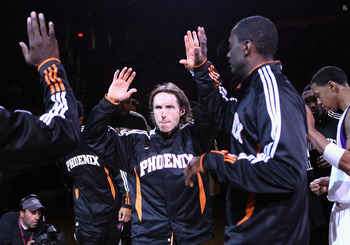 Christian Petersen/Getty Images
This is a team not nearly talked about as much as Miami or Dallas, but the Indiana Pacers could be a sleeper team for Steve Nash. The Pacers have plenty of young talent but seem to lack a true floor general. Enter Steve Nash.
The team already has young point guards Darren Collison and George Hill, but the potential logjam could be easily resolved before it happens. Decline to re-sign Leandro Barbosa and move Hill and Collison to the bench.
The Pacers could have a starting lineup consisting of Nash, Paul George, Danny Granger, David West and Roy Hibbert, if that is not championship caliber, then I don't know what is. Throw in Collison, Hill, Tyler Hansbrough and a couple free-agent signings, and this team is deadly.
The Pacers need to highly consider signing Steve Nash not only for his playing ability, but he would be a fantastic influence and mentor to all the young Pacer players.
Keep Reading