Floyd Mayweather: Power Ranking His 10 Most Important Victories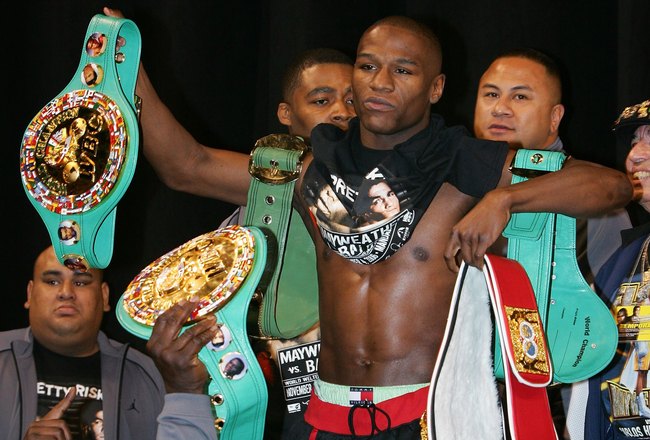 Ethan Miller/Getty Images
As Floyd Mayweather will tell anyone who will listen, he is 42-0. With all of those wins, some of them are more important than others as it pertains to Money May's career.
Some are more important than others due to the fighter he took on, if he won a new title in a new weight division or raked in insane amounts of pay-per-view buys.
Here are the 10 most important wins in Mayweather's illustrious career, as he looks to add one more to the list this Saturday night when he takes on Miguel Cotto.
10. Roberto Apodaca, October 11, 1996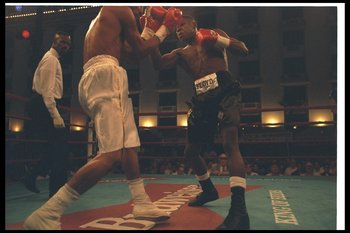 Jed Jacobsohn/Getty Images
Floyd Mayweather could not be where he is today without winning his first professional fight, as he did as a super featherweight, against Roberto Apodaca at the Texas Station Hotel and Casino in Las Vegas, Nev on October 11, 1996.
Money May's first pro bout didn't last very long, as he scored a TKO victory in the second round over Apodaca, bursting onto the professional scene after a highly successful amateur career that included a bronze medal at the 1996 Summer Olympics in Atlanta.
Who knows, if Mayweather didn't win so easily in this first bout, maybe his confidence would not be what it has become, and he may have not fared as well going forward.
9. Genaro Hernandez, October 3, 1998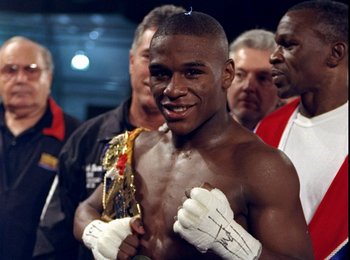 Al Bello/Getty Images
Unlike the Floyd Mayweather of today, who takes almost two years off between fights, Money May fought quite often, as most up-and-coming fighters do. He racked up a record of 17-0 in his first two years as a pro and earned himself his first title shot against Genaro Hernandez in the super featherweight division.
Money May dominated the fight, causing Hernandez's corner call a halt to the bout in the eighth round, giving Mayweather the TKO victory and the lineal and WBC super featherweight championship.
Mayweather moved his record to 18-0, with 13 of those wins coming by way of knockout, and showed the boxing world that he indeed was the real deal.
8. Zab Judah, April 8, 2006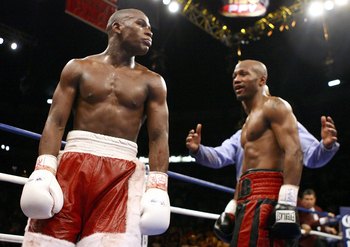 Al Bello/Getty Images
Floyd Mayweather faced off with one of the biggest names he had fought in his then-10-year-old career in Zab Judah on April 8, 2006 at the Thomas and Mack Center in Las Vegas, NV.
Although Judah was a big name, he came into the bout with Money May suffering a loss in his previous fight against welterweight Carlos Baldomir.
The fight was Mayweather's second career fight in the welterweight division, and he won a unanimous decision victory to stake claim to his first welterweight titles: the IBF and IBO belts.
A chaotic incident marred the fight somewhat, after Money May's trainer and uncle, Roger Mayweather, stormed the ring at Judah for a couple of illegal blows in Round 10. Judah's dad and trainer, Yoel Judah, also came into the ring to his son's defense, but the two were eventually broken up by police, allowing the fight to continue.
7. Shane Mosley, May 1, 2010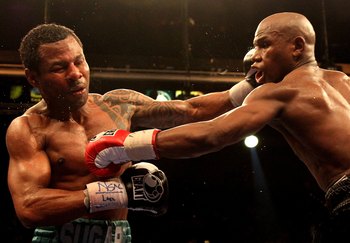 Jed Jacobsohn/Getty Images
Shane Mosley was ranked as one of the top five pound-for-pound fighters in the world when he stepped into the ring with Floyd Mayweather and Money May on May 1, 2010, giving boxing fans a hope of a close fight.
Instead of a close fight, Mayweather showed everyone just how much better he is than any other fighter in the world, cruising to a rather easy unanimous decision win over Sugar Shane.
The fight gave Mayweather yet another million-buy pay-per-view event, tallying up a total of 1.4 PPV buys, marking the fourth time in a row Money May was part of a fight that broke the million-buy mark.
6. Arturo Gatti, June 25, 2005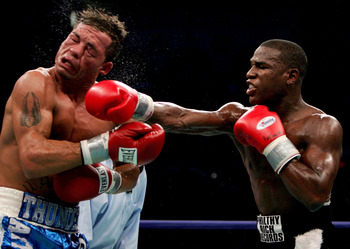 Al Bello/Getty Images
Floyd Mayweather left the junior welterweight division with a bang, as he thoroughly dominated Arturo Gatti in Money May's final fight at the 140-pound weight limit.
Money May did anything he wanted to Gatti in the ring, as Gatti failed to mount anything near a significant offensive attack. The fight was stopped in the sixth round by Gatti's corner, awarding Mayweather with a TKO victory and the WBC light welterweight title.
The title marked the third different weight class in which Money May held a significant title in his then-nine-year career.
5. Juan Manuel Marquez, May 2, 2009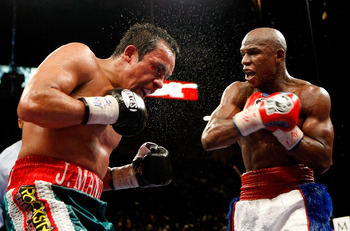 Ethan Miller/Getty Images
When Floyd Mayweather took on Manny Pacquiao's thorn in the side, Juan Manuel Marquez, he was coming in off a 21-month layoff, and many expected Money May to be rusty.
Mayweather proved any doubters wrong, putting on an incredibly display of defensive fighting on way to a lopsided unanimous victory.
The fight not only gave Money May another victory over a world class fighter, but it marked the first time Mayweather would achieve over one million pay-per-view buys and was the fifth time a non-heavyweight bout broke the million-buy mark.
4. Jose Luis Castillo ll, December 7, 2002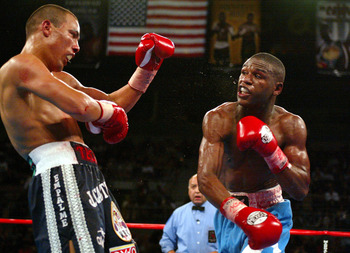 Donald Miralle/Getty Images
The second fight against Jose Luis Castillo that took place on December 7, 2002 is an important bout in Floyd Mayweather's career, simply because it was the one and only occasion Money May had a rematch with an opponent.
With the first fight between Money May and Castillo being a close and controversial one, Mayweather agreed to have a rematch with Castillo to settle the debate.
The second fight was much like the first, as Mayweather again squeaked out a unanimous decision, ending the debate as to who won the last bout between Money May and Castillo.
This win also marked the second weight division that Mayweather won a title in, as he captured the WBC and Ring lightweight belts.
3. Ricky Hatton, December 8, 2007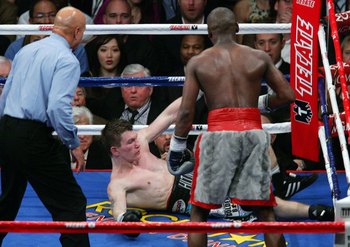 Ethan Miller/Getty Images
In a fight that many thought Floyd Mayweather had a legitimate chance of losing, Mayweather shocked the world when he beat previously undefeated Ricky Hatton by TKO, retaining the WBC and Ring titles.
Mayweather scored the TKO in the 10th round after being able to keep the entire fight at his preferred pace, giving Mayweather a big advantage on the cards at the time of the stoppage.
The TKO win marked the first time in four fights that Mayweather won by knockout victory and showed the world that he was still very much on top of the boxing world.
2. Diego Corrales, January 20, 2001
Tom Hauck/Getty Images
Floyd Mayweather's featherweight fight against the then-undefeated Diego Corrales was a giant stepping stone in Money May's career.
Corrales was 33-0 with 27 knockouts entering the fight and was thought to give Mayweather a difficult time in the ring heading into the bout.
Money May put on a show, winning every round in the fight and knocked Corrales down a total of five times. The bout was eventually stopped by Corrales' corner in the 10th round after the fifth and final knockdown occurred.
After the fight, the world took notice of Mayweather as a legitimate candidate as one of, if not the pound-for-pound champ of boxing.
1. Oscar De La Hoya, May 5, 2007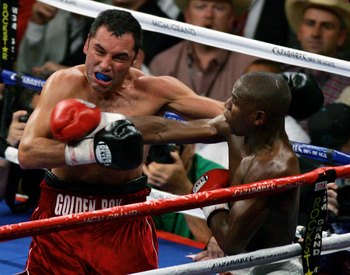 Ethan Miller/Getty Images
The most important fight in Floyd Mayweather's career is his pay-per-view record-holding bout against Oscar De La Hoya that took place on May 5, 2005 at the MGM Grand Garden Arena in Las Vegas, NV.
The fight brought in 2.7 million PPV buys and helped give Money May one of his many nicknames, "the PPV king."
This would mark the first time Mayweather would fight in the junior middleweight division as moving up to the 154-pound weight limit was required for De La Hoya to put his WBC light middleweight title up for grabs.
Although Money May weighed 10 pounds less than De La Hoya, Mayweather won the fight that was not as close as the split decision outcome.
The fight is easily the most important in Money May's career, as he beat boxing's marquee name—although Del La Hoya's career was on the decline—broke the PPV records and won a title in a fifth different weight class.
Keep Reading