Champions League Race for England Heats Up, as Do Newcastle United
May 3, 2012

Julian Finney/Getty Images
A week after being stunned 4-0 by Wigan, Newcastle United have once again been stunned: this time at Stamford Bridge.
Entering as $6.50 underdogs, the Magpies came out firing as a Papiss Cisse brace navigated a shock 2-0 victory over Chelsea.
To be fair, Chelsea did have some players out. Ashley Cole, Salomon Kalou and Michael Essien all got free tickets to the match, while Didier Drogba, "Fat Frank" Lampard and Juan Mata all arrived off the bench.
I said earlier that Chelsea would be victims of their own success, and they were.
But let's take nothing away from the victory. One does not simply win at Stamford Bridge.
Alan Pardew employed very similar tactics to the ones used at Old Trafford and Emirates Stadium earlier in the year.
His side came out with the confidence you'd expect from a UCL contender. For most of the first half, they were the better team, with Chelsea not really looking to score.
Of course, all that changed in the second half when Roberto Di Matteo fired some urgency into the Blues and replaced an out-of-sorts Daniel Sturridge with Juan Mata.
But like the games at Old Trafford and the Emirates, Newcastle sat back and waited the last 20 minutes out, keeping eight players behind the ball and watching the clock tick down.
That was enough to wear down the game and preserve the 1-0 lead they had built up from Cisse's first. Never did the club look desperate to hang on: Chelsea's best chance was deflected by a well-positioned Davide Santon, but based on where he was, it would have looked bad on his part had the shot gone in.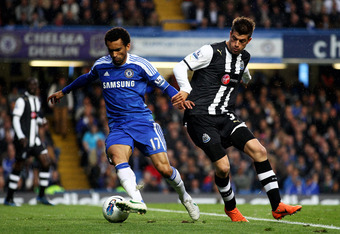 Julian Finney/Getty Images
During the final minutes, Cisse bagged the decider in emphatic fashion. By emphatic, I really mean it was a Goal of the Season front runner.
Honestly, though, the goal wasn't necessary in the grand scheme of things. Chelsea's diluted attack was unable to seriously threaten Tim Krul and that was unlikely to change in the game's final six minutes.
Importantly, Newcastle had clearly learned from their loss at the Emirates.
After scoring, they maintained their focus and didn't concede a weak equaliser shortly afterwards. Alan Pardew didn't move into defence mode too quickly this time, and they didn't rush too far forwards to move for another goal.
The Race to the Champions League
In case you didn't know (in which case I'm wondering how you furnish that rock you live under), Spurs and Newcastle are equal in fourth on 65 points. Arsenal can ill-afford to celebrate themselves, just one point ahead.
With two games left, Newcastle are two steps behind in the race to secure a berth in Europe's premier competition.
First, their points differential (plus-nine) is shocking when put against that of Tottenham (plus-23), Arsenal (plus-24) and Chelsea (plus-21).
Losing games 4-0 and 5-0 hasn't helped, but that's not the point. The way things stand, Newcastle have to pick up more points than Spurs or Arsenal barring a 19-0 win over Manchester City on the weekend.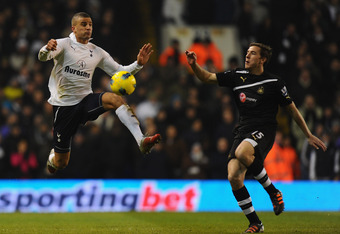 Mike Hewitt/Getty Images
Hey, stranger things have happened, but I'd stop to think before putting my house on the outcome. But that's just me: If that's your thing, go nuts (although if you regularly bet on outcomes like that, I'd be surprised if you still have a house).
Second is that minor irritant those in the highest ranks of football call the remaining draw.
Arsenal will host a Norwich City with nothing to play for, before finishing with West Bromwich Albion.
Tottenham Hotspur will travel to Birmingham to face Aston Villa and then host Fulham.
Newcastle are cursed with hosting Manchester City—who have everything to play for—and Everton, who are annoyingly good at this time of year. But hey, with the way they played against Wigan, maybe the tougher draw is a blessing.
So here's how things look:
If Newcastle drop points to a team to which there's usually no shame in dropping points, Arsenal or Spurs have to drop more points;
Even if Newcastle win both of their remaining games, one of the others still has to drop points.
The final track is a fine line for the three contenders. One mistake could prove to be costly.
While Tottenham Hotspur have chosen an opportunistic time to stop being useless, they still have the potential to drop points where they have no right.
Meanwhile, Robin van Persie has yet to pick up his token injury this season. Is it too late?
We'll have to wait and see, but for now, all I can do is cheer my team on from the sidelines. No matter what happens, Newcastle's season will have been considered a spectacular success given they would have leaped at Liverpool's spot at the start of the season.
How's that for progress?
**
If you really loved my work, head over to Stadium Journey and see what I've done over there. Seriously. Please don't make me go and find a real job, I love it there.