Minnesota Vikings: Reviewing Their 2012 NFL Draft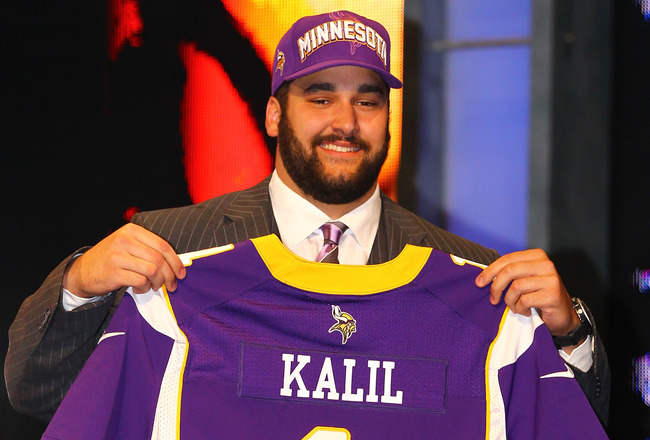 Al Bello/Getty Images
Leading up to the draft, the Minnesota Vikings talked a big game about trading down, but it was always clear that they should fill their biggest need with the best available prospect by drafting USC left tackle Matt Kalil.

The Vikings ended up with the best of both worlds. They traded down one spot from No. 3 to No. 4 overall with the Cleveland Browns, picking up three day-three draft selections in the process and stayed in position to draft Kalil.

The Vikings' trade and selection was one of the most brilliant moves of the entire draft, but how did their draft grade out as a whole?
Read through the following slides to find out.
Evaluating the Picks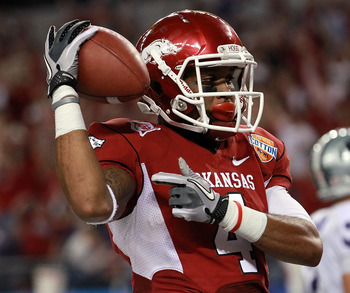 Jarius Wright
Ronald Martinez/Getty Images
Round 1, Pick 4: Matt Kalil, OT, USC

Overall Prospect Rank: No. 2

Kalil is an elite left tackle prospect with the talent to be a perennial All-Pro. He has everything an NFL team should look for in a left tackle—ideal size, terrific footwork, great strength and terrific anchoring and blocking techniques.


Round 1, Pick 29: Harrison Smith, SS, Notre Dame

Overall Prospect Rank: No. 59

Well-rounded safety. Sound tackler with very good instincts. Somewhat stiff in pass coverage but not a liability. Solid but unspectacular athlete. Productive and intelligent player who will be ready to start immediately.


Round 3, Pick 66: Josh Robinson, CB, Central Florida

Overall Prospect Rank: No. 73

Robinson has tremendous speed and was the fastest player at the scouting combine. Productive cornerback who had 17 pass defenses last season and has the potential to be a big playmaker as a defensive back. Lacks fluid hips, has poor hands and is an inconsistent tackler but has high upside.


Round 4, Pick 118: Jarius Wright, WR, Arkansas

Overall Prospect Rank: No. 77

Explosive wide receiver with tremendous speed and lateral agility. Very productive in SEC and a big-play threat. Ideally suited to be an NFL slot receiver. Dangerous in space.


Round 4, Pick 128 (compensatory selection): Rhett Ellison, TE/FB, USC

Overall Prospect Rank: No. 247

Solid tight end who is a decent athlete and can block. Not particularly productive at USC. He will have to be able to play special teams.


Round 4, Pick 134 (compensatory selection): Greg Childs, WR, Arkansas

Overall Prospect Rank: No. 223

Coming off a torn patellar tendon, Childs' production dropped sharply in his senior season, as he appeared to lose a step. Before that, he was a very skilled receiver. He has great size and hands and showed signs of his old self in pre-draft workouts. If he returns to form, he could be a No. 2 wideout.


Round 5, Pick 139: Robert Blanton, FS/CB, Notre Dame

Overall Prospect Rank: No. 168

Instinctive and physical defensive back. Skilled cover corner at Notre Dame but lacks the speed to play cornerback at next level. Has the physical tools to convert to safety.


Round 6, Pick 175: Blair Walsh, K, Georgia

Overall Prospect Rank: Not in Top 400

Walsh among the nation's best kickers as a sophomore and junior but only converted 60 percent of his field goal attempts as a senior, which should have kept him undrafted. With a solid veteran kicker already in Ryan Longwell, Walsh did not make sense for the Vikings to draft him.


Round 7, Pick 210: Audie Cole, ILB, North Carolina State

Overall Prospect Rank: No. 127

Cole has an impressive combination of size and athleticism for an inside linebacker, but he did not stand out at North Carolina State. Inconsistent tackler. Rotational player at next level.


Round 7, Pick 219: Trevor Guyton, DE, California

Overall Prospect Rank: No. 172

Guyton has good size for a defensive end, but collegiate productivity was inconsistent and he's not an explosive athlete.
Evaluating the Trades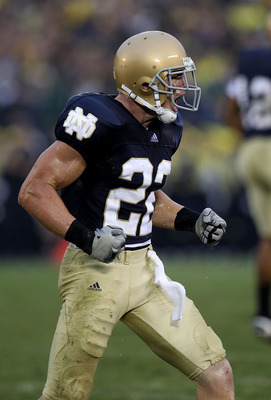 Harrison Smith
Jonathan Daniel/Getty Images
The Vikings traded Round 1, Pick 3 to the Cleveland Browns for the No. 4, No. 118, No. 139 and No. 211 overall selections.

The Vikings got three picks for free by making this trade with the Browns. The Vikings picked up extra selections in Rounds 4, 5 and 7 and still selected the player they would have selected anyways in USC left tackle Matt Kalil.


The Vikings traded Round 2, Pick 35 and Round 4, Pick 98 to the Baltimore Ravens for Round 1, Pick 29.

While Notre Dame strong safety Harrison Smith was a first-round reach and a questionable player to trade up for, it's hard to blame for the Vikings for making this move. Smith is the clear-cut, second-best safety in the draft class, and the Vikings needed to upgrade at the position.

Having picked up three extra day-three selections, the Vikings could afford to give up their Round 4 pick, and chances are good that Smith would not have made it to their selection six picks later.


The Vikings traded Round 5, Pick 138 and Round 7, Pick 223 to the Detroit Lions for Round 7, Pick 219 and the Lions' 2013 fourth-round selection.

The Vikings held five picks in a 22-pick span, including the pick directly following this selection, so trading down to move up into the fourth round and pick up an extra selection for next year made sense.

The Vikings traded Round 6, Pick 173 and their 2013 sixth-round selection to the Washington Redskins for quarterback Donovan McNabb.

McNabb performed horribly in his short stint with the Vikings, so these two picks were wasted. That said, they should not be blamed for making this low-risk move in an effort to give Christian Ponder time to develop as a young quarterback.


The Vikings traded defensive end Jayme Mitchell (in December 2010) to the Browns for Round 6, Pick 175.

Mitchell was an expendable part for the Vikings who has not been particularly productive since this trade for the Browns and is now an unsigned free agent.


The Vikings traded Round 7, Pick 211 to the Tennessee Titans for their 2013 sixth-round selection.

Once again, the Vikings had plenty of extra selections in this draft, so trading to add an extra selection for next year made sense, especially since they upgraded to a sixth-round pick.
Assessing Value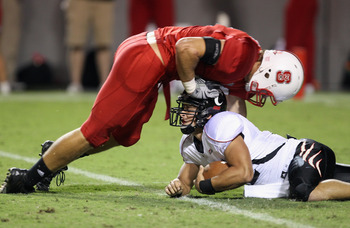 Audie Cole
Streeter Lecka/Getty Images
There were only three prospects that I considered worthy of the elite label in the 2012 draft.
Two of them were quarterbacks Andrew Luck and Robert Griffin III, and the other was Matt Kalil. By getting Kalil at No. 4, the Vikings got great value and made that value even better by trading down from No. 3 and getting extra draft choices.

Trading up for Harrison Smith was a first-round reach. Their next defensive back pick, Josh Robinson, was great value in Round 3.

In the middle of Round 4, Jarius Wright was terrific value. His teammate, Greg Childs, went earlier than expected, but he could end up being a steal if he returns to his pre-injury form.

The Vikings' only major reaches in this draft were Rhett Ellison in Round 4 and drafting Blair Walsh at all. Audie Cole and Trevor Guyton were also very good values in Round 7.
Addressing Needs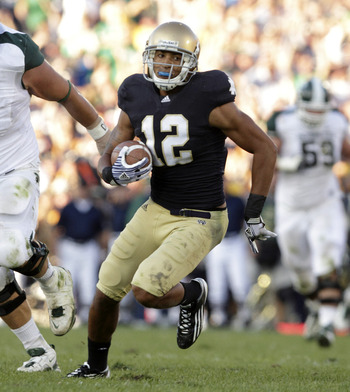 John Gress/Getty Images
The Vikings had a desperate need at left tackle, and they fill their biggest need by drafting an elite prospect.

The Vikings also really needed to upgrade the secondary, and they did a very good job of addressing that area of need. The Vikings added a safety in Smith, a cornerback in Robinson and a player who should contribute at either cornerback or safety in Blanton.

The other major need that the Vikings had coming into the draft was at wide receiver, and they addressed that position as well. While the Vikings may not have found the true No. 1 wideout they lack, they did add two potential playmakers in Wright and Childs.

The Vikings did a very good job of addressing their most significant needs in this draft.
Conclusion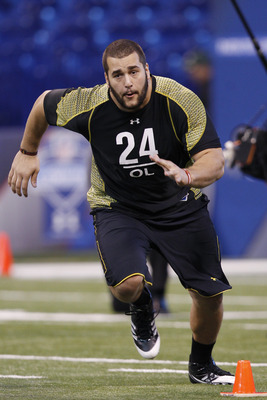 Joe Robbins/Getty Images
The Vikings became the first big winners of the 2012 NFL draft with the trade down and acquisition of Matt Kalil. The Vikings continued to have a solid draft throughout by adding quality talent at positions of need.

The Vikings traded up to ensure the opportunity to get a true upgrade at safety by selecting Harrison Smith. The Vikings also two playmakers with huge potential in Josh Robinson and Greg Childs.

The Vikings ended up with many picks to work with in this draft and made good picks with nearly all of them. Their draft certainly ranks among this year's best.

Grade: A
Thanks for reading!

Throughout the month of May, I will be reviewing one team's draft each day, in the order of the original 2012 NFL draft order.

Follow me on Twitter @Dan_Hope.
Keep Reading

Minnesota Vikings: Like this team?