Jered Weaver No-Hitter: Where Does He Rank Among AL's Top Starters?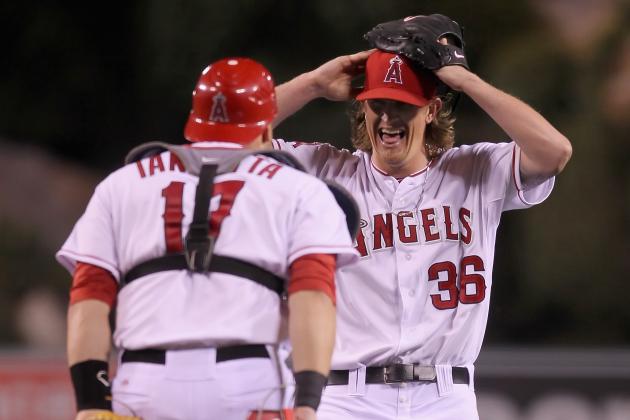 Jeff Gross/Getty Images

Perusing FanGraphs.com's list of Wins Above Replacement (WAR) leaders among American League pitchers so far this season yields a who's-who of Small Sample Size All-Stars.
Bartolo Colon—the fat guy? Jason Hammel—who? You get the point.
If by chance either happened to luck into a no-hitter, nobody in their right mind would believe it was a repeatable performance.
And then there are pitchers like Justin Verlander, Felix Hernandez and Jered Weaver, who all have the stuff and pitching know-how to dominate in any given outing.
Wednesday night, Weaver did just that, walking just one and striking out nine on his way to a no-hitter.
Weaver—who currently ranks second in the AL in WAR (1.3)—has ranked among the upper echelon of starting pitchers in either league for several years, and his performance thus far in 2012 indicates that he'll remain there for years to come.
I'll try not to bore you with a diatribe on Weaver's peripherals, but he's as sharp as ever. Weaver's K/9 rate is up (9.08), his BB/9 rate is extremely low (1.51) and he's inducing more ground balls than ever.
Now, all that said—where does Weaver rank among the AL elite?
Begin Slideshow

»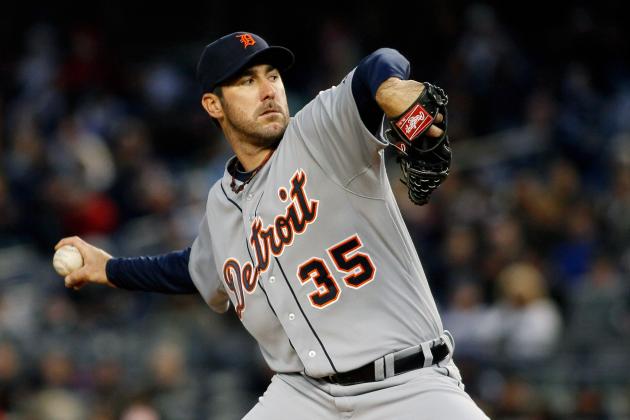 Mike Stobe/Getty Images

This much is obvious: Precious few pitchers can hit 100 mph, unless we're counting hot stadium radar guns. A fraction of those can locate such overpowering heat on a regular basis.
When you add in a mid-80s changeup that Verlander can and will throw in any count, a hammer curve and an increasingly consistent slider, that's when the word "special" starts getting thrown around.
In fact, it might be worthwhile to petition Webster's to change the definition of "elite" to: 6'5", throws 100 mph in the ninth inning and locates all four pitches.
2011 saw Verlander become the first pitcher to win an MVP award since Oakland's Dennis Eckersley in 1992. The Detroit Tigers' hurler's 24 wins surely bolstered his MVP candidacy, though gutting out 251 innings pitched and striking out 250 didn't hurt.
What's more: It wasn't even Verlander's best season—in 2009, he posted the highest K/9 rate of his career (10.08), his Fielding-Independent Pitching (FIP) suggested his ERA should have been more than half a run lower and he provided 1.3 more wins to the Tigers than he did in 2011.
Verlander's durability is remarkable, too: Since 2007, he's posted no fewer than 201 IP in a season.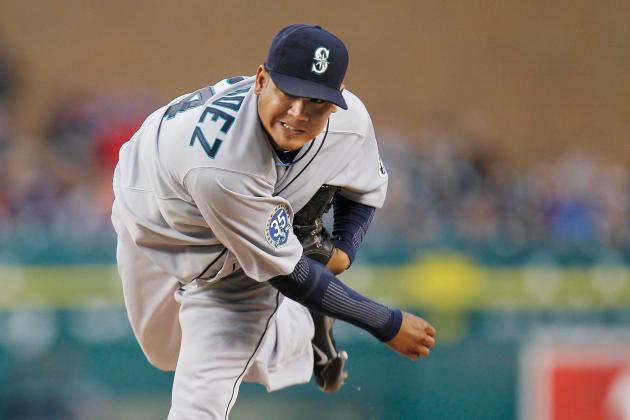 Gregory Shamus/Getty Images

Dave Cameron, known mostly for his work at FanGraphs and at the Seattle Mariners blog U.S.S. Mariner, coined Hernandez's "King Felix" nickname while the youngster plied his trade in Single-A ball (h/t ESPN's Jerry Crasnick for this anecdote).
What's the lesson here? Dave Cameron knows more about baseball than all of us. In seriousness, he was onto something.
Felix Hernandez gets far less credit than he should. His 2010 AL Cy Young notwithstanding—a rare instance of the national media ignoring Win-Loss record, plus factors out of Hernandez's control—King Felix keeps quietly churning out dominant season after dominant season in the pitcher-friendly confines of Safeco Field.
He's totaled at least 190 IP in every season since 2006. He jumped from a simply solid starter in 2008 to a truly dominant level in 2009, and his peripherals bear that out: Felix's K/9 rate jumped; his BB/9 rate dropped by almost a full walk per nine; he allowed fewer home runs, which amounted to three game leap in his WAR value to Seattle.
We should see more of the same in 2012 and beyond.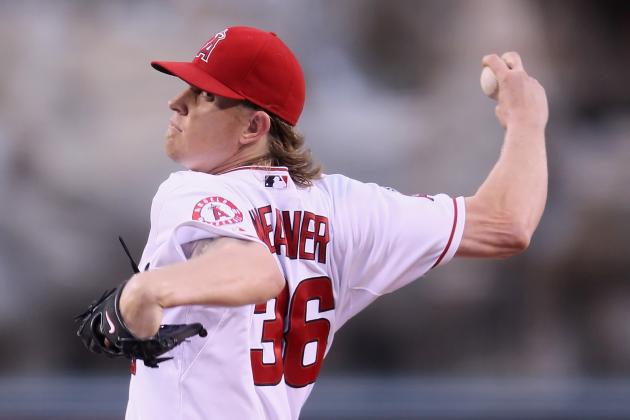 Jeff Gross/Getty Images

We reach the man of the hour.
Jered Weaver may not throw 95 mph like Verlander or Hernandez; in fact, he's never averaged more than 90.2 mph on his fastball.
In his masterful no-hit performance Wednesday, however, Weaver showcased nice tailing action on that fastball to freeze left-handed batters and a devastating change (which Pitch F/X indicates has been his best pitch over the course of his career) that features similar fading action.
In other words, Weaver possesses what scouts like to call "pitchability"—he throws the right pitches, in the right counts, to the correct spot. He's among the poster children for those who believe that velocity is not an absolute requirement for any elite starting pitcher.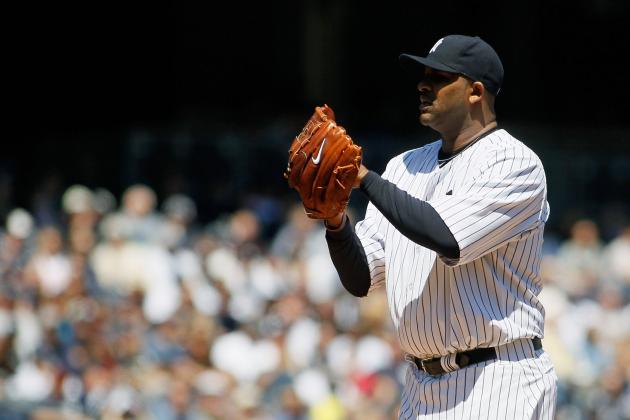 Mike Stobe/Getty Images

Despite playing in the Bronx, Sabathia seems to get lost a bit in the shuffle when the discussion turns to elite AL starters (or maybe it's just me).
Regardless, he's pitched at such a high level for such a long period of time that it's more surprising if he doesn't throw 200 innings, win 15-plus games, post an ERA below 3.50 and strike out eight batters per nine innings.
That's all you really can say. He's worked more than 180 innings in each of his major league seasons (2001-present). From 2006 to 2011, Sabathia only posted an ERA above 3.50 once. His strikeout rates are consistently high, while his walk rates are consistently low.
On a completely unrelated note, I've secretly been wishing the Jets would try him at quarterback as a Jared Lorenzen clone. It's not like they have any better options.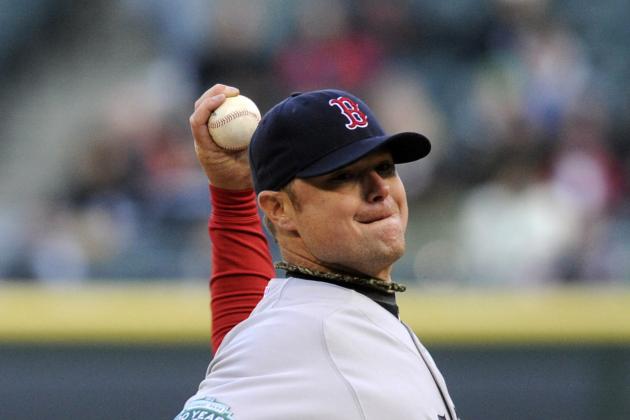 David Banks/Getty Images

I'm not entirely sure what to make of Jon Lester after his slow start to 2012—we'll chalk it up to a small sample size—but I do know that, from 2008 to 2011, Lester ranked among the best in either league.
He pitched no fewer than 191.2 innings during that span, posted a strikeout rate of nearly 10 per nine innings in 2009 and 2010 and provided nearly 21 Wins Above Replacement during that four-year stretch.
Lester's career K/9 rate (8.35) indicates that his success is sustainable, and his career FIP of 3.65 nearly matches his career 3.57 ERA, which says his stats have not been boosted by luck and favorable bounces.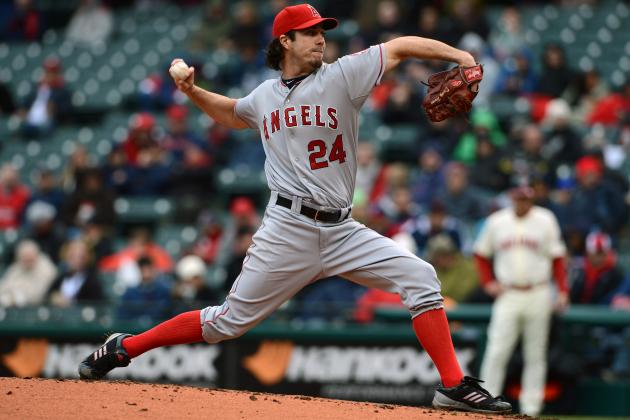 Jason Miller/Getty Images

I've always enjoyed watching Dan Haren ply his trade.
Haren's a craftsman—he's thrown six pitches at some point or another in his career, though currently he uses a four-seam fastball, cutter, splitter and curveball.
Such a diverse repertoire makes Haren's career BB/9 rate of 1.88 so impressive.
With such an ability to throw multiple pitches for strikes, Haren controls the tempo of at-bats and gets hitters to swing at the pitches he wants them to swing at. He can use the cutter to jam lefties and the splitter to induce ground balls.
When we add the four-seam and the curveball to consideration, it's next to impossible for hitters to sit on any one pitch.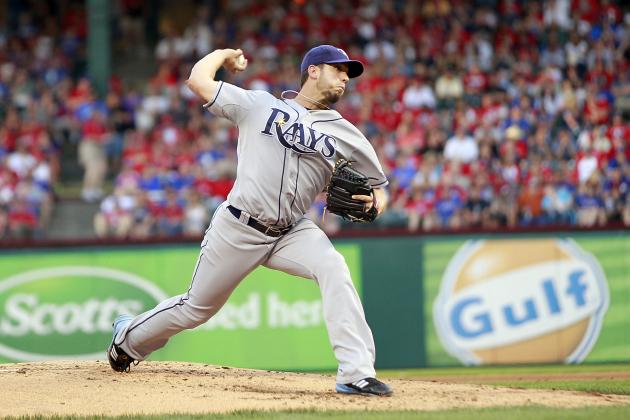 Rick Yeatts/Getty Images

James Shields or David Price? David Price or James Shields? Young, hard-throwing lefty, or veteran consistency?
I'll take the latter, though it wasn't an easy choice.
Most casual fans probably know little about Tampa Bay's 31-year-old righty, but all Shields does is eat innings (no fewer than 203.1 since 2007, with a career-high 249.1 in 2011), strike out batters at a solid clip (career 7.5 K/9) and throw strikes (career 2.07 BB/9).
After Haren, the quality of pitching in the American League starts to drop off sharply, but Shields is the type of player a team plugs into its rotation as a No. 2 or No. 3 starter, knowing it will get a quality start more often than not.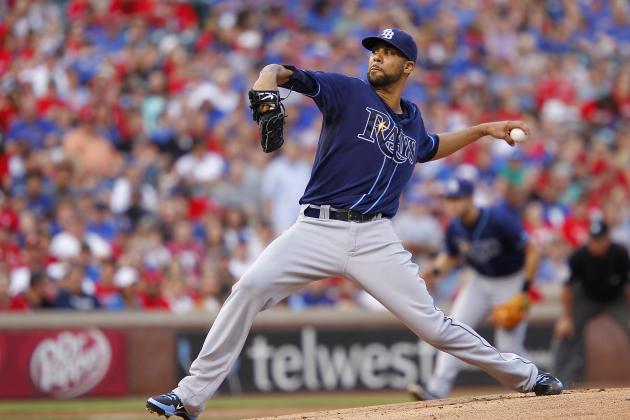 Rick Yeatts/Getty Images

The David Price train continues to chug along.
In 2010 and 2011, the 6'6" lefty provided the Rays 4.1 and 4.7 WAR, respectively, while striking out more than eight per nine and hurling a combined 433 innings.
So far in 2012, Price is 4-1 (not that W-L record has much, if any, merit this early in the season), though his shrinking K/9 (6.82) ratio and rising BB/9 (3.26) rate raise some red flags. On balls put in play against Price in 2012, hitters are reaching at a .297 clip (BABIP), but his career rate there (.273) indicates that Price should see luck go his way more often.
Price abandoned his slider before this season and turned to a cut fastball, and he still features a four-seam fastball (94.6 mph average velocity) and a changeup that's almost doubled in usage this season. One would think that Price's results will improve as he adjusts to a new repertoire