Jared Weaver No Hitter: Why This No-No Won't Turn Things Around for L.A. Angels
May 3, 2012

Jeff Gross/Getty Images
In a season that had been nearly devoid of positives, tonight the Los Angeles Angels got some seriously good news.
Jared Weaver, the team's ace, the local kid who last year signed an affordable contract to stay and pitch in the area he grew up in, threw a no-hitter against the Minnesota Twins in a 9-0 Angels victory. It's a great story and Weaver is well deserving of the praise he will receive for this feat.
The win brought the Angels all the way up to a still not-that-impressive 10-15. The problem with any singular win over the course of a Major League Baseball season is that rarely are they really that important.
If the Twins had roared back to cut the 9-0 lead to 9-8 and the Angels had still won, the Angels would still have a 10-15 record. 9-8, 9-0, two hits, no hits, 12 hits, it's all the same provided the team actually wins the game.
Throw in the fact that the Angels beat a team they'd have had zero business losing to. You think the Angels record is bad at 10-15? Try Minnesota's major league worst 6-18 on for size. Weaver and the Angels were absolutely supposed to win this game. The fact that they did it in spectacular fashion is nice, but they're still only getting credit for one win. 
Plus, Weaver really isn't the problem with the Angels this season. He entered tonight's game with a record of 3-0 and 2.02 earned run average. Now he's 4-0 with an eye popping earned run average of 1.61.
The Angels' problems are with nearly all the other pitchers, more specifically the bullpen, which was never even used on Wednesday Night. The Angels bullpen sports an earned run average of 5.08, which is good for 28th out of 30 major league teams.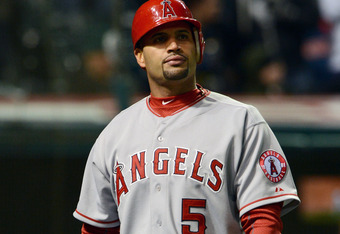 Jason Miller/Getty Images
Then there's Albert Pujols. The slugger signed a contract that will pay him a minimum of $240 million over the next 10 years. It's a little early to declare the deal a bust, but it's a little late for Pujols to be hitting .208 with zero home runs and five runs batted in.
Add all of this up and you've got a great performance by a class act last night. Hats off to Jared Weaver for his contract, his dedication and his no-hit performance. He's deserving of high praise.
Now it's up to the rest of his team to actually turn things around. Jared Weaver can only win the Angels one out of every five games. It's up to the rest of his teammates to step up and get this team back on the right track.