Junior Seau's Found Dead: His Legacy Should Live on
May 3, 2012

Elsa/Getty Images
I recently read the Bleacher Report article announcing to the B/R community that former San Diego Chargers linebacker Junior Seau had committed suicide at the age of 43. It stunned me, as every time I would see him on television, he always seemed so upbeat.
Nonetheless, a great man was lost, and I can only hope that the action that ended his life does not tarnish his legacy.
I grew up a Cleveland Browns fan and did not watch football religiously until 2007—after I attended my first Browns game, where the Pittsburgh Steelers clobbered us—but that is besides the point.
I did not grow up watching Seau, but I do however know and understand the respect that he demanded. Every die-hard fan knows the greats, and he was one of them.
Still, in the article announcing his death, I was bothered by some of the comments. Most stated how great of a person on and off the field Seau was. Others contemplated the connection between suicide and concussions. Others were harsh.
In the harsh comments, commonly used words were "selfish," and "judgement."
I am not one to judge. Recently a young man in my neighborhood hung himself and died shortly after. When it hits close to home it rattles the senses into a frenzy. Makes you think. I couldn't even begin to understand how Seau's family is feeling right now.
Regardless, with the connection of concussions and psychological effects in the air, it is a crime against humanity to attack a dead man.
Personally, I have received at least three concussions, but if I had to say so myself I account for five. On top of that, I have fractured my skull clear across the right side and suffered a brain laceration in the process.
I will be the first to tell you it has had its affects on personality. Not only do I get overwhelmed much easier and have rapid highs and lows in my moods, I get consistent headaches where the fracture/laceration occurred, and there are some blanks in my memory. Times in my life I know happened but I cannot account for.
My serious concussion occurred when a buddy of mine flipped me over his back and knocked me out. I can barely recall the event. Another time my chain caught the tire of my bike and flipped me head first into a curb. I do not recall much of that either.
My other concussions include another bike accident in which I also fractured my cheek bone, a car accident in which my head slammed against the passenger window, and an 80-mile-per-hour fastball to the temple with an non-padded helmet.
I am not eager to say these have had some bothersome effects on my persona, even if they are not severely drastic, but I am eager to defend someone who may be suffering from a much worse case of my personal experiences.
Anyone who knows a person suffering from a mental illness or someone dear to them is going through depression, knows it changes them. They are not the same person. They are calm and collected one second and on the brink of insanity the next.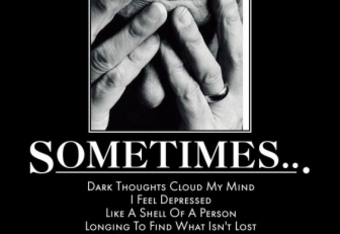 The negative comments need to stop. If it was a selfish act then let it be a selfish act; key words being Let it Be. If there is one word I will use to describe this event, it would be Tragedy.
Let us remember Seau for the NFL great he was and the great man he was. A passionate and caring individual. A man who would open his own property to the needy. A man who put his all into everything. A man who wore his heart on his sleeve. A Charger, a dad, a human who can make mistakes.
To Junior Seau, may you Rest In Peace.
1969-2012
My prayers and condolences go out to your family and friends.
And to anyone out there contemplating suicide, you can get the help you need. Death may be an option but it is not the only one. There is hope and good in life. Get the proper help and start living again.