NBA Playoffs 2012: Which Denver Nuggets Should the LA Lakers Be Worried About?
May 3, 2012

Doug Pensinger/Getty Images
I'm wondering if the Denver Nuggets have the Lakers right where they want them. We used to call it a false sense of security.
L.A. is en route to Denver today after winning the first two games of their best-of-seven series with relative ease. For the most part, it seemed as if the Lakers could do no wrong against the undersized Nuggets, thoroughly dominating them, 103-88, in Game 1 and holding for a four-point win Tuesday night at Staples Center that really never seemed in doubt despite the margin of victory.
So why is there this little voice in my head that keeps saying, "Watch out for the Nuggets once they get back on their home court"?  Should Kobe Bryant and company be wary? Have we seen the "real" Nuggets yet? 
Or should we all take a deep breath and relax?
Bryant has never lost a first-round playoff series after winning the first game, going 11-0. The Lakers obviously go into Friday night's Game 3 a clear cut favorite to win this series.
Still, you have to win four games, the Nuggets are at home, and the Lakers must pay attention to a handful of players who are capable of breakout performances and big time scoring. I sense these Nuggets will not go quietly.
Denver led the league in points scored this season, averaging 104 points per game. Point guard Ty Lawson came into his own this year, hitting on 49 percent of his field goals as he averaged 16.4 points and 6.6 assists per game. He showed what he can do in Game 2, hitting 11 of his 17 shots, scoring 25 points and adding seven assists in 37 minutes.
Rookie Kenneth Faried has blossomed into an outstanding forward—he scored a very efficient 14 points on 5-of-7 shooting in just 27 minutes on Tuesday while collecting a team-high 10 rebounds. He brings tremendous energy to the Nuggets and could give the Lakers fits in the open court.
Arron Afflalo, the former UCLA Bruin star, has quietly put together a stellar season for the Nuggets.  The 6'5" small forward averaged 15.2 points and made 40 percent of his three-point attempts in Denver's hurry up offense this year. He scored just 11 on 4-of-12 shooting Tuesday and missed all five from beyond the arc. That probably won't happen again.
At 6'10", Danilo Galinari is an aggressively quick big who fights and scraps for every rebound and averages a steady 16 points a night for Denver. He, too, was off in Game 2, making just five of 18 shots, though he did secure eight boards in 27 minutes as the Nuggets out-rebounded the much bigger Lakers, 52-48.
Denver also has one of the league's top benches with players like Corey Brewer, Andre Miller, Al Harrington and center JaVale McGee. If they are allowed to play their game, which is run, run, run, shoot, shoot, shoot, ask questions later, the Lakers could be in for a long night on Friday.
Denver is one of these teams that you just cannot dismiss, despite them being down in this series. The Nuggets finished the regular season sixth in the West with a 38-28 record, winning their last four in a row. They were 20-13 at home in the Mile High City.
Having said all this about Denver, I cannot close without mentioning the Lakers, who took care of business on their home court. They were locked in from the opening tip off of Game 1 and have not lost a lead in 96 minutes of action.
Pau Gasol, Andrew Bynum and Kobe Bryant have all lived up to their billing as the Big Three. Ramon Sessions has gotten over whatever playoff jitters he might have had and was tremendous in the fourth quarter Tuesday, scoring 10 of his 14 points on a variety of shots.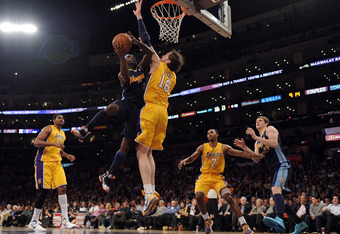 Harry How/Getty Images
Kobe looks like he went into a time machine and came out five years younger—that rest at the end of the regular season seems to have done a world of good. His 38 points Tuesday night came on 15-of-29 shooting. He also had four rebounds, two assists, three steals and a block, where he ran the length of the court, came from behind a streaking Al Harrington and swatted away what would have been an easy layup. 
It was vintage Kobe.
For the most part, the Lakers looked fresh, although their shaky bench remains a troubling work in progress. Matt Barnes and Steve Blake had two points between them. Jordan Hill added six points and, to his credit, pulled down 10 rebounds.
The next game in any playoff series is the most important one—but this one on Friday truly is. If Denver can force the Lakers into defending against their fast-paced style of play, the Nuggets have a legitimate opportunity to get on the board and then even the series on Sunday.
The Lakers have been an enigma all year, looking invincible at times and utterly confused and defeated at others. 
Los Angeles seems to be locked in so far against the Nuggets. They'll need every ounce of that tomorrow when they face their next big test.
My gut tells me they'll pass.