Young Stars Who Would Make Olympic Basketball Roster If Age Limit Is Imposed
May 3, 2012

Brett Deering/Getty Images
In one of David Stern's more interesting ideas, Olympic basketball rosters would be composed only of players 23 years old and younger. 
Speaking on ESPN Radio, Stern said he would be in favor of making a new age restriction on who can participate in the basketball tournament.

"My own view is that post-London, we should be thinking about even what soccer does and make it 23 and under," Stern said Monday.
While the rule may never come to fruition—and won't affect this summer's games at the very least—it's still worth imagining what such a roster would look like.
Before you lament the loss of talent at the summer games, remember that more than a few of our brightest stars are actually still under 23. And we're not talking about up and coming prospects, either.
If the rule were in play for the 2012 London Games, here are a few names you could expect to see.
Kevin Durant: SF, Oklahoma City Thunder
The NBA's leading scorer for two straight seasons, Durant wouldn't be a half bad first option for the Olympic team. His length on the perimeter is unguardable for most teams around the globe, and he would show the world what he's been up to in Oklahoma City.

Russell Westbrook: PG, Oklahoma City Thunder
Durant's teammate is one of the league's best young point guards and an extremely effective scorer from all over the floor. He averaged over 23 points this season, his best all-around performance in four years with the Thunder.
Kevin Love: PF, Minnesota Timberwolves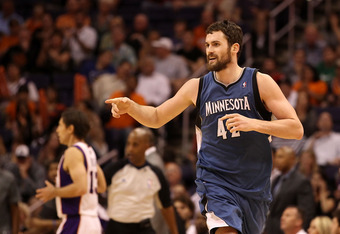 Christian Petersen/Getty Images
Love has put up eye-popping numbers this season and supplemented his first-rate rebounding with a remarkably consistent three-point touch. The occasional fan pleas for MVP consideration may have been a bit premature, but there's no doubting Love's accomplishment or his ability to remain a force in this league for years to come.
Greg Monroe: C, Detroit Pistons
In a season with little good news for the Pistons, Monroe emerged as one of the league's most improved players. He averaged over 15 points a game and nearly 10 rebounds, giving Detroit a badly needed post presence. Monroe might not be the most exciting guy to watch, but he's awfully effective.
Tyreke Evans: SG, Sacramento Kings
After a fantastic rookie campaign, Evans has regressed a bit and faces an uncertain future with the young Kings. He remains an incredibly versatile guard with tons of upside, though. He'd also look pretty good playing alongside more talented guys.
James Harden: SG, Oklahoma City Thunder
This league's best sixth man by most accounts, Harden gives the Thunder one of the league's most dangerous trios—they also happen to be incredibly young. Harden would fit into the Olympics easily given his history with the up-tempo Thunder.
Kyrie Irving: PG, Cleveland Cavaliers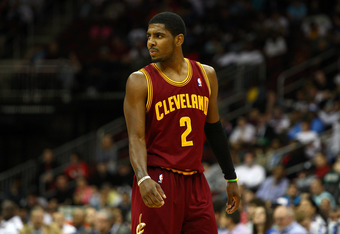 Chris Chambers/Getty Images
Few rookies have demonstrated the court I.Q. and composure that have defined the young Irving. He's also one heck of an all-around point guard who can score, pass and play tough defense.
Blake Griffin: PF, Los Angeles Clippers
Yes, he's about more than just dunks and would be more than deserving of a spot on this youthful Olympic roster. He could have a field day on some of the front lines he'd encounter in London. His biggest fans might even think he deserves a starting position over Kevin Love, but he'd be a very good sixth man on this team.
DeMarcus Cousins: C, Sacramento Kings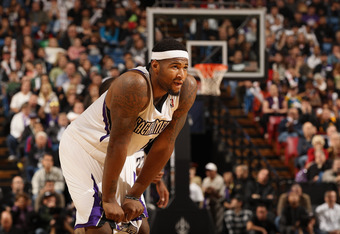 Ezra Shaw/Getty Images
Few young bigs display anything remotely resembling Cousins' range and good touch around the basket. He's explosive, rebounds and does a lot of other good things—but he's developed a scoring ability rare for men his size.
John Wall: PG, Washington Wizards
Wall's highlights and solid production don't get the attention they deserve on the lowly Wizards, but he's still one of the best young guards around. And chances are we still haven't seen Wall at his best. A better supporting cast and an improved perimeter shot will change all that.
Honorable Mention: Derrick Rose and Stephen Curry
They'd be out of consideration due to injury, but there's no question Rose and Curry would otherwise belong on this roster. One is an MVP and the other holds just about all of the Golden State Warriors' hopes for a turnaround.