New England Patriots: 1 Reason Why Every WR Could Make Final Roster
Elsa/Getty Images
The dominoes have begun to fall within the New England Patriots wideout battle this offseason. The roster attrition has already started with the likes of Anthony Gonzalez and Chad Ochocinco receiving their release.
That leaves a total of nine players who could be classified as wide receivers left, and that's still an inflated number compared to what the team is likely to carry on the final 53-man roster.
The situation can be simplified a little when analyzing the pros and cons of each player. In the the spirit of optimism, here's one reason why every receiver has a shot at cracking that final roster.
Wes Welker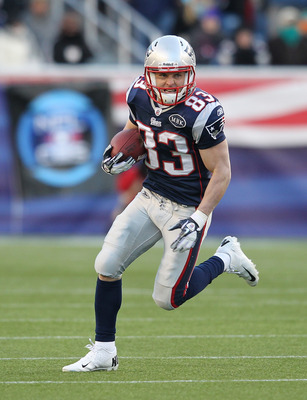 Jim Rogash/Getty Images
If one was forced to sum up, in just one reason, how and why Wes Welker will be the starting slot receiver for the Patriots heading into 2012, it would be NFL history.
Welker is a dead lock to make the cut and lead the receiving corps as he's done for the last half decade. Over that five year span, Welker has put up record-breaking numbers in nearly every category imaginable.
Seriously, it's almost silly how many records he's got now.
Welker holds franchise records for most receptions and yards in a game along with the longest single reception, which also tied an NFL record. He owns the franchise record along with the top four spots for total receptions in a single season.
He became the only receiver in NFL history to ever post three seasons with 110 receptions, and he did it consecutively. There hasn't been a single season since joining New England that Welker hasn't been selected to either the Pro Bowl, the All-Pro squad or both.
Brandon Lloyd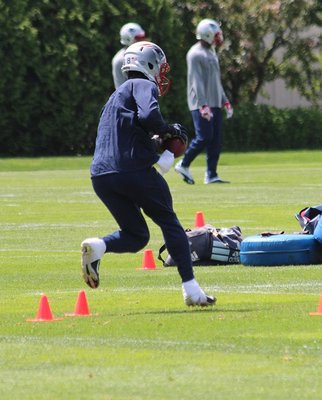 The driving force behind bringing Brandon Lloyd to Foxboro is so the Patriots can re-implement the vertical passing game. Lloyd possesses the skills and experience to get downfield successfully and in a productive fashion.
He's thrived in similar offensive systems employed by offensive coordinator Josh McDaniels and is coming to the team quarterbacked by the NFL's touchdown record holder. Lloyd has big shoes to fill as he represents the first true deep threat since Randy Moss was rendered useless in the role early in 2010.
Moss is on the comeback trail and Lloyd has some competition with regard to ball distribution, but there's no question he's going to get the first look when Tom Brady makes his deep reads.
Jabar Gaffney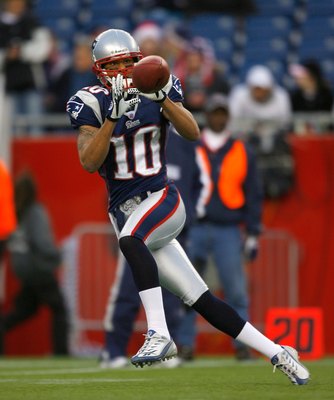 Jim Rogash/Getty Images
Most know Jabar Gaffney from his three-year stint in New England when he developed into a dependable intermediate threat for Brady. His numbers weren't through the roof, but Gaffney had a defined role in the offensive cog and No. 12 was vocally displeased when he left for Denver.
Since then, Gaffney has produced three consecutive career years, proving he's got more than a little gas in the tank at 31 years old.
His recent production is the reason the Patriots brought him back, he's far outpaced Deion Branch, New England's incumbent No. 2 receiver over the past three seasons. Since 2008, Gaffney has averaged 62 receptions for 851 yards (13.7 average) and three scores.
Donte' Stallworth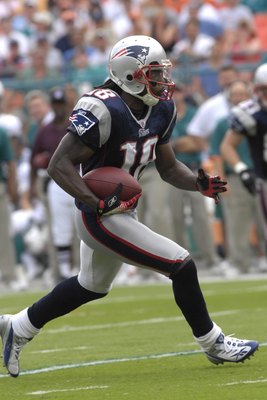 Al Messerschmidt/Getty Images
If Donte' Stallworth is to make the 2012 squad five years after last gracing the roster he'll do so in a depth role. Stallworth's game relies on speed, and the Patriots interest in getting deep in the playoffs this year will ride on their ability to get vertical in the passing game.
Brandon Lloyd, as previously mentioned, is the first look deep but New England would be smart to keep an insurance plan around. Stallworth comes with experience and success in this system and at nearly no cost. He's still got speed in those legs and may even be able to find a niche in the return game which could help his roster eligibility even more.
Julian Edelman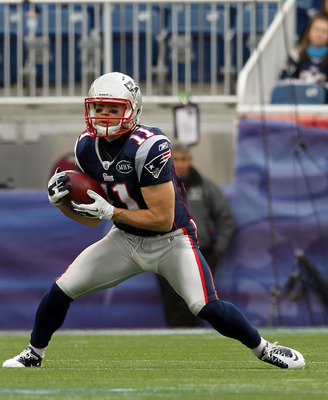 Jim Rogash/Getty Images
Julian Edelman was a seventh-round selection in 2009 and despite converting from college quarterback he was able to contribute immediately as a receiver. Edelman finished third on the team in receptions and has gone on to lead the team in punt returns and average for the last two seasons.
He's routinely a core part of the special teams and a well established backup on offense, but 2011 saw Edelman grace the defensive stat sheet as well. He made more of an impact on defense than many high profile signings and draft picks including Ron Brace, Shaun Ellis and Leigh Bodden.
Versatility is Edelman's biggest selling point, but his future depends on whether he can continue to out produce in his roles. If the Patriots can find someone who does one of his jobs just a little better, it's going to be hard for him to make the roster.
With Welker well ahead of him on the slot depth charts, Edelman will need to hang onto punt returning duties to maintain his value.
Matthew Slater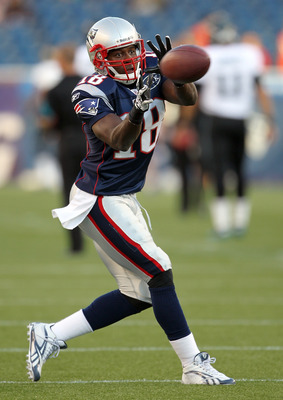 Jim Rogash/Getty Images
Continuing the special teams trend Matthew Slater's role is a highly specialized one.
In fact he's the special team's incumbent captain and his success last year should do nothing to loosen that grip. The Pro-Bowler led the team with 17 special teams takedowns in 2011 and projects to fill the same integral role on the team's third unit moving forward.
He realistically doesn't count against the receiving corps depth limits, but does need to be figured in somewhere on the 53-man final roster.
Deion Branch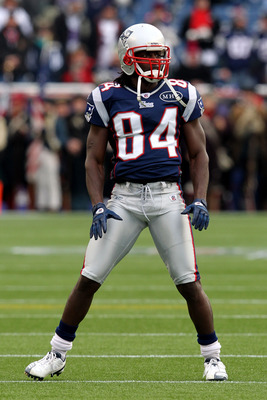 Jim Rogash/Getty Images
The value in a veteran's prowess is what Branch is staking his roster spot on this offseason. If he's unable to slow the regression of his on-field skills I'm not so sure his spot is guaranteed either.
His knowledge of the Patriots offense is second to none and his rapport with Brady has been properly described by Rotoworld.com as a "mind meld". There's no question Branch knows how to achieve success given these circumstances, but they just aren't the same this year.
He's a year older, coming off a season in which he was leaned on way too heavily and now has a lot of competition to hold off. If it were an easy answer the Patriots would have made their minds up already and imitated a few cuts.
That's already occurred with Chad Ochocinco and Anthony Gonzalez. For Branch to keep his name on the active roster and away from the cut list, he'll have to show he can still be productive from a limited role.
Jeremy Ebert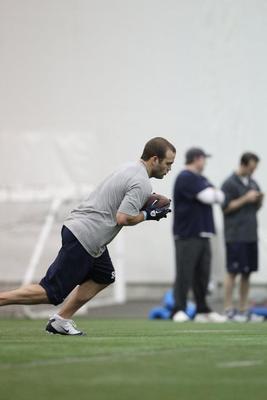 While Branch is hoping to rely on his previous body of work, rookie draft selection Jeremy Ebert is hoping instead to make the roster based on his youthful promise and potential.
The speedy college slot receiver has a congested lane in front of him with regards to playing time, but projecting a role for Ebert requires a heavy dose of speculation at this stage. He's yet to be fully released from his collegiate obligations—Northwestern's graduation takes place on June 15th.
Once fully immersed in New England, Ebert could find a special teams role, but would likely have to beat out veterans in front of him to do it. The practice squad seems like a much more likely result.
Matt Roark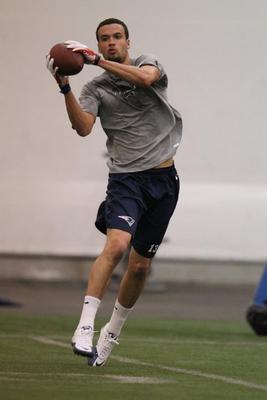 On the other end of the developmental spectrum, Matt Roark wasn't drafted in April, but will still receive attention this Summer as the team attempts to decipher the prospects of the 6'5'', 225-pounder.
He's very lanky and still a project at receiver and actually spent time at Kentucky during his senior year playing quarterback.
There are some pros and cons here, Roark has some upside long-term, but also already has a DUI on his record from 2010. He wasn't extremely productive during college in the passing game, but did display a knack for making plays on special teams.
He's likely ticketed for a practice squad role, if anything, with a special teams role in mind.
Keep Reading

New England Patriots: Like this team?