NBA Playoffs 2012: Can the San Antonio Spurs Continue Their Strong Play?
May 3, 2012

Ronald Martinez/Getty Images
Tim Duncan scored 12 points, and Manu Ginobili added only four more, yet the San Antonio Spurs still routed the Utah Jazz 114-83.
Probably more surprising than that is that Tony Parker didn't explode having scored just 18 points himself.
The Spurs dominated because their supporting cast played tremendously.
Rookie Kawhi Leonard added 17 points of his own, many of them coming before the game got truly out of hand. Known as an excellent defensive player coming out of college, his offense has been a pleasant surprise.
Danny Green, Boris Diaw, Gary Neal and DeJuan Blair also added double-figure points, the scoring as balanced as one will see in a playoff game.
As a whole, the team shot almost 58 percent from the floor on a night when it seemed like every shot was going in.
All season long, the Spurs have shown their amazing depth as they continued to win games despite frequently resting the big three of Duncan, Parker and Ginobili. Being able to do so during the rest of the playoffs will determine just how far they can go. 
One key will be making sure Tiago Splitter returns to the lineup and is at his best. Besides Duncan, he is the only good defensive post player and rebounder, though he is not as much of a scorer as the team's other big men.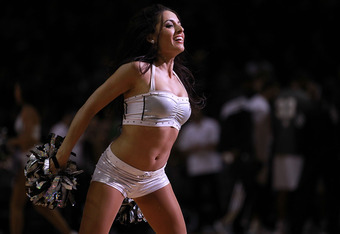 Ronald Martinez/Getty Images
Another issue they face will be consistently knocking down open shots. Jump shooting teams typically have dry stretches, so their bench players will have to find a way to get easy buckets when the starters get a breather.
All of their three stars have the ability to get open looks for their teammates, and those other players must capitalize. 
Finally, they need to rebound as a team. Tim Duncan can still grab boards at a solid clip, and that is the only consistent presence they have on the boards.
Balancing between leaking out early for fast breaks and coming back to secure the ball will make the difference against better rebounding teams. 
Looking ahead to Round 2 (as it is doubtful the Jazz will come back), the high-scoring Spurs must have all hands on deck. They know what the Grizzlies bring, having lost to them in the first round last year, and any team with Chris Paul and Blake Griffin will be a tough out in the playoffs. 
Tony Parker and Manu Ginobili will likely be relied on heavily down the stretch of games as the Spurs become tighter, but in order to get there, the team must continue to get outstanding production from the players most casual fans rarely think of.
If they are able to play as well as they did Wednesday night, there is no telling just how far the team can go.