NHL Playoffs 2012: Are the Predators Better Without Radulov and Kostitsyn?
May 3, 2012

Christian Petersen/Getty Images
For all intents and purposes, the Nashville Predators had yet to experience any significant setbacks this season prior to the Andrei Kostitsyn/Alexander Radulov incident. 
They were among the elite teams in the Western Conference for the majority of the year, they've kept pending free agents Ryan Suter and Shea Weber relatively happy and had about as easy of an opening round series as they could've hoped for against the always-dangerous Detroit Red Wings.
So when the news broke that the Pred's two big in-season acquisitions had been suspended for staying out late the night before Game 2 vs. the Coyotes, there was no telling how the remaining players in Barry Trotz's locker room would react. 
"Every team that has success in the playoffs has to go through some adversity," Trotz said on Tuesday. "They haven't had to go through a whole lot of adversity yet, so this is a good test."
But if Game 3 is any indication as to how this group deals with hardship, the Preds will do just fine without Kostitsyn and Radulov—perhaps even better.
In what was virtually a must-win game, Nashville defeated Phoenix 2-0 on Wednesday to cut the Coyotes' series lead in half, giving the Preds a renewed sense of hope and a much-needed injection of confidence. 
Not only did Nashville win, they essentially stole away all momentum Phoenix had built up in the past two games in the desert. Now, the Predators have the opportunity to even the series on Friday and put themselves in a strong position to advance to the conference finals. 
"It was a wake-up for us. We realized we weren't playing our game, and we got back to that and were a lot better tonight," captain Shea Weber said. "(The suspensions are) only as big a distraction as you make it. Everyone in here is focused."
When David Poile announced the suspensions earlier this week, he made it clear that he works under the belief that the whole is always greater than the sum of its parts. The Preds have functioned that way since their inception in 1997, and being in the midst of their most successful season in team history doesn't change that. 
"The Nashville Predators have a few simple rules centered around doing the right things," Poile said. "We have always operated with a team-first mentality and philosophy. Violating team rules is not fair to our team and their teammates."
Chemistry is important for any team in the postseason, but it's especially vital for ones like Nashville that work under a tight budget. Having a group that can play together is more important than having talented individuals, and Wednesday's victory was a prime example.
The Preds have gotten this far with that attitude, so why change it now? 
"I will never apologize for doing what we felt was right," Trotz told NHL.com. "(The win) was a statement. I think it's a privilege to play in the Stanley Cup Playoffs, to play for the Cup, and those guys took advantage of the privilege of playing. I think that's the sacred part of the playoffs. It will be very hard to change a whole lot from that group."
The question facing Poile and Trotz at this point is whether or not to allow Kostitsyn and Radulov to play in Game 4. It's not only a matter of discipline at this point, but also a matter of toying with what has proven to be successful.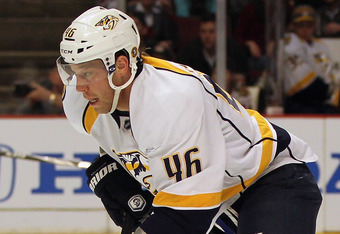 Jonathan Daniel/Getty Images
Strong arguments can be made for and against bringing back the two suspended players for Friday's contest, but the best course of action seems to be for the Preds to ice the same lineup they did for their first victory of the series.
Jordin Tootoo and Matt Halischuk—Kostitsyn and Radulov's replacements—both made positive impacts in Game 3, particularly Tootoo, who logged over 10 minutes of ice time, played a strong two-way game and led the team with five hits. 
And being down in the series 2-1, messing with the current fabric of the team could have dire consequences. Removing the hard-working Halischuk and Tootoo and substituting them with two players who were terrible in Game 2 doesn't seem to be in their best interests at this juncture.  
"It's very hard to change it if everybody is committed like they were," Trotz said following Game 3. 
Indeed. If it ain't broke, don't fix it. 
Andrew Hirsh is a credentialed NHL writer based in North Carolina and a Featured Columnist at Bleacher Report. Follow him on Twitter: @andrewhirsh