One Writer's Experiment: Not a Game Recap, Mock Draft or Power Ranking
May 3, 2012

Scott Cunningham/Getty Images
I was watching the Atlanta Braves score eight unanswered runs off Roy Halladay—seriously—while trying to navigate Tweetdeck, keep an eye on the Indiana Pacers-Orlando Magic game and figure out a writing niche all at the same time. I'm sure many fellow aspiring writers can relate to the futility of trying to find a unique style in an industry populated by infinite Internet voices.
It's easy to either get lost in the digital wilderness, frustrated at the lack of professional opportunities in a shrinking and dynamic industry, or both. So I'm trying something different.
It might turn out to be a horrible idea. It'll probably be a little disorganized at first. It could easily fizzle out a month from now. But I'm gonna try it, because why not?
Bill Simmons created the running diary. Some rich guy created Twitter. I watch just about every sport.
There's a way to combine the three into an effective writing device. I think. I hope.
So for the next however long, this is how I'm going to write every night. Between MLB—gonna be a lot of Braves stuff, I'm warning you— and the NHL and NBA playoffs being in full swing, there's bound to be a ton of quality games on the tube this month.
Thus, my tentative plan is to write daily running diaries of each night's games, with a sprinkling of input from people I follow on Twitter. Sometimes I'll link to an interesting article; I might tell you why I agree or disagree with the author of the piece. I might come up with ideas that build off of other writers' ideas. I'll probably do some other things that I haven't thought of yet.
Frankly, I don't know what's going to happen. But that's exciting to me, because the digital sports media universe has enough people writing game recaps, mock drafts, power rankings and other monotonous drudgery. I don't want to be one of "those" guys, no offense.
A lot of these thoughts are disheveled, and that's probably how the first series of these hybrid posts will be at first.
Strange. Scattered. Somewhat aimless. The same attributes that just might make this work are the very same ones that have turned off readers who already chose to stop reading this.
That's okay. Part of me expects this little experiment to fail. The other part doesn't really care. Whether it proves to be an utter failure or launches me into a career in this industry, the next month will be interesting, if nothing else.
Most of all, I'm excited. So I got that going for me.
I'd rather try something that winds up being incredibly bad than settle for the same generic mediocrity that has come to be the norm. Here goes nothin...
9:33: After turning a six-run deficit into an 8-6 lead, the Braves promptly give the Phillies a 9-8 lead after normally reliable reliever Eric O'Flaherty gives up three runs in the seventh. It's strange rooting for a Braves team that scores at will and can't get anyone out. Usually the other way around.
9:39: Not gonna lie, I'm pretty upset with myself for passing on Pacers minus-3. They currently lead 85-64 with six minutes remaining. Note to self—and you, since you're reading—always go with your gut. But don't gamble. It's illegal, I think.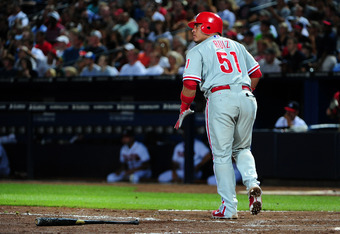 Scott Cunningham/Getty Images
9:48: Dick Stockton and Chris Webber on the call for Game 2 of Clips-Grizz. Not sure how Stockton is going to follow up his Game 1 unveiling of Blake Griffin's latest, and undoubtedly worst, nickname—The Dunkmaster.
9:52: I'm not a Carlos Ruiz fan right now. 12-8 Phillies. *Flips back to Clips-Grizz.*
9:54: I like Ian O'Connor's work, but couldn't disagree more with his column on the Knicks' chances of trading Amare Stoudemire. The problem with O'Connor's premise is that Gilbert Arenas and Rashard Lewis were traded for each other.
There aren't as many terrible contracts as there were two years ago, so while "it only requires one sucker, maybe two," the Knicks are going to struggle to find that sucker. None of the teams he named—Cleveland, Sacramento, New Orleans, Portland and Brooklyn—is going to sacrifice three years of cap flexibility for a past-his-prime Stoudemire.
10:13: Now 12-10 Phillies, and the Barves (er, Braves) now have 'em loaded with one out for Martin Prado. Bang! Single up the middle and we're tied at 12.
          @CoachMattTurner: #MVPrado
10:15: A Freddie Freeman sac fly makes it 13-12 Braves and we're going to the ninth. The starting pitchers for this game were Halladay and Tommy Hanson. The o/u for this game was six. Overtime starting in Washington! Too many options, only one TV.
10:20: Braves closer Craig Kimbrel walks light-hitting Juan Pierre on four pitches. The way this game has gone, that was predictable.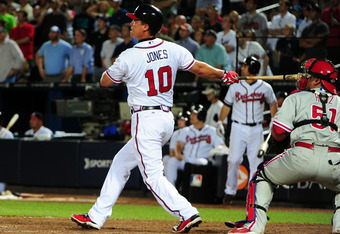 Scott Cunningham/Getty Images
10:28: RBI infield single for Shane Victorino ties it at 13 in the ninth. Of course.
10:41: Braves leave 'em loaded in the ninth. 13-13 going to extras.
          @CrashburnAlley: Games like this are why I love Twitter
          Well said.
10:58: 13 runs on 17 hits for each team as they go to the 11th inning. Can't remember a more exciting Braves game.
          @BarrettSallee: Too invested in the Braves game to sleep now...but Durbin is coming in, so maybe I should reconsider. #Linebrinked
11:03: Chad Durbin throws an eight-pitch, one-two-three 11th inning. Barrett's tweet summed up the feelings of Braves fans everywhere, though.
11:10: Chipper. Jones. Ballgame. Braves win 15-13.
          @gondeee: AAAAAAAAAAAHHHHHHHHHHHHHHH!!!!!!!!!!!!!!!!!!!!!!!!!!
          @BoogSciambi: Chipper Jones is a bad man
          @Kevin_Goldstein: Larry Wayne Jones
          @ChopAttack: One of the craziest #Braves games I can remember. It had everything.
Yes, yes it did. Originally intended to go back and forth between Clips-Grizz and this one, but, ya know, stuff happened. If you actually read this entire entry, thank you.
And if you think it failed, you're probably right. For now.