WWE News: The Bella Twins Open Up About WWE Departure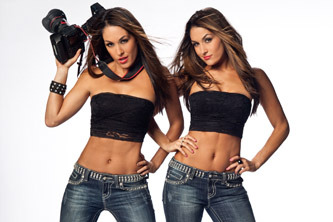 photo from wwe.com

As most will surely know by now, The Bella Twins, Nikki and Brie, have parted way with WWE. After the duo's contracts came up, they opted not to renew their deals.
Per the storyline, the sisters were fired by the newly empowered Eve Torres, after Monday night's episode of Raw. They made some mildly insulting remarks towards the former Diva Search winner backstage and implied they were after her job as John Laurinaitis' right-hand woman.
Bad idea, ladies.
A disgruntled Eve then mentioned that after looking over some paperwork she'd noticed the twins' contracts had just expired (which is correct).
After making some spurious references to the troubled economy and claiming that the hugely profitable WWE was eager to find new ways to save money, she coldly told the girls they were done.
Back in the real world, Nikki and Brie have commented on their exit from the promotion in a blog on their official website. Entitled "The Fun Is Just Getting Started Bella Style!," neither seem to be dwelling on their releases, and, in fact, they spoke glowingly of their time in the promotion. They write:
What a whirlwind few days. As you all know by now, TwinMagic has decided to take some time away from wrestling. First and foremost, we want to thank each and every one of you for your support. We would not be where we are without the Bella Army. This beautiful chapter in our life was filled with many amazing memories, friendships and moments with you all that we will cherish. Being apart of WWE is like being apart of a family, we will always be in.
No one is quite sure what Nikki and Brie's futures hold. Although it looks like the two sisters will be doing the rounds on the autograph/convention circuit for the next couple of months, with various currently advertised appearances under their real names—Nicole and Brianna Garcia.