UFC on FOX: Josh Koscheck Really Doesn't Like It When You Call Him an Old Man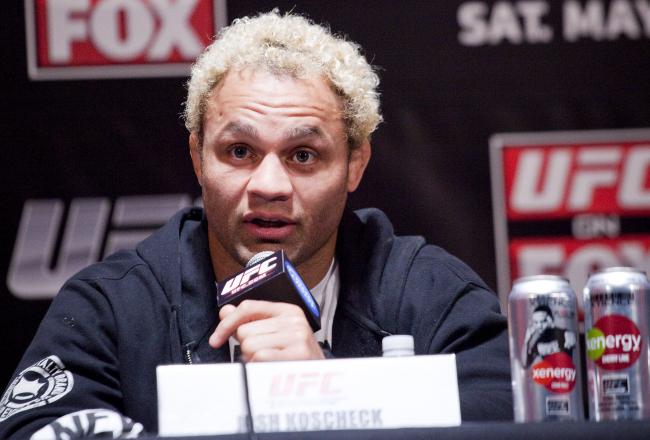 Michael Nagle/Getty Images
Josh Koscheck says a lot of things. Some of them are designed to build up fights—Koscheck is, after all, one of the best heels in mixed martial arts. He's found his niche and understands that the fans hating him with a passion is far better than the fans not caring at all.
And then there are the times when Koscheck is simply being a jerk.
Today was one of those days. Koscheck unloaded on the media attending the UFC on FOX open workouts—which Bleacher Report attended—taking them to task for stories highlighting Koscheck's age as a factor in his upcoming fight with Johny Hendricks.
"A lot of you people write all these stories. 'Youth versus age'. Bull[expletive]. You guys are all [expletive] retards. Retards."
"Every one of you, counting me out, I love it. Keep counting me out. I'll be fighting for four or five more years. Every time you write a story about me, just say I'm too old. Too washed up. Too many fights. Too many miles," Koscheck said. "I like that. I've got a lot of people to prove wrong on Saturday night, and I'm looking at every one of you. You're probably all writing that [expletive] about me."
Well, then.
Koscheck has never been a media darling. Interviewing him is often a chore, as you're more likely to get a sarcastic answer to a serious question than anything resembling a real response. He wasn't always this way; I remember talking to him a few months after the completion of the first season of The Ultimate Fighter. Koscheck was courteous and gave honest answers to every question I had.
But time changes everything, and the Josh Koscheck of 2005 is far different than the Koscheck of 2012.
I understand that dealing with media is a chore. I've followed fighters as they've gone through media gauntlets during fight week, and it's like Groundhog Day—a never-ending line of reporters asking the exact same questions. That has to get on a fighter's nerves after awhile. Hell, it got on my nerves, and I wasn't the one being forced to repeatedly answer the same question.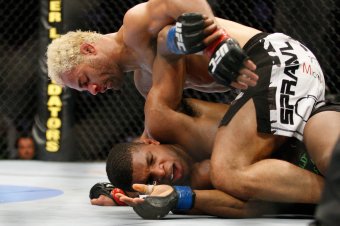 Richard Wolowicz/Getty Images
But dealing with the media is part of the job when you're a public figure who is constantly in the limelight. All professional athletes go through the same thing. When you're being paid millions of dollars and appearing on high-profile sporting events, it's only natural that the public will want to know more about you, and getting to know you requires the media to ask questions.
Koscheck's age is a very real angle in this fight. He's 34 years old—not exactly a spring chicken when it comes to the fight game—and Hendricks is 28. The age difference becomes an even more appropriate storyline going into the fight because of the many similarities between Koscheck and Hendricks.
They're not mirror images of each other, but they're close. Both were outstanding collegiate wrestlers. Both have developed big power in their hands. But one of them is 34 and has been in far more battles than his younger, less-seasoned opponent.
How does that affect the fight? Will the knockouts Koscheck suffered in the past cause his chin to fail him against a guy who has never experienced a knockout blow in a fight? Does Koscheck lose his speed and response time as he gets older?
These are valid questions, no matter what Koscheck thinks.
This article is
What is the duplicate article?
Why is this article offensive?
Where is this article plagiarized from?
Why is this article poorly edited?