Green Bay Packers: Evaluating How Each New Packer Fits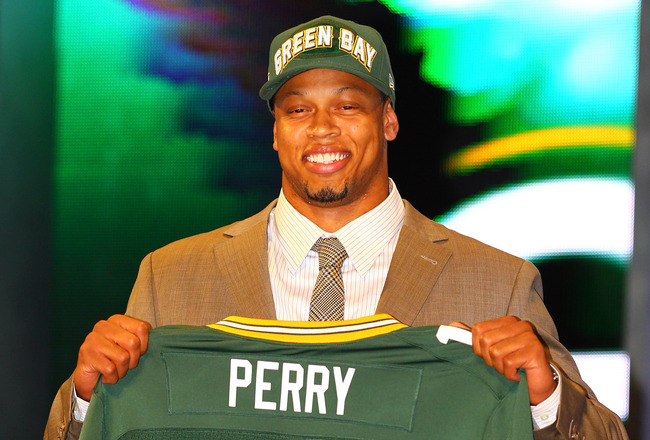 First Round Pick: Nick Perry
Al Bello/Getty Images
The Packers' 2012 draft class has eight players hoping to make an impact on a team that was considered the best in the NFL most of last season.
But 2011 was a Jekyll and Hyde year in Green Bay. An explosive offense as good as any was offset by a sieve-like defense that gave up 6.3 yards per play, tied for worst in the league.
Not surprisingly, the Packers' first six picks were spent on the defensive side of the ball. All six will have the opportunity to make the roster. Let's take a look at each of them and how they're expected to fit in Green Bay.
Nick Perry: Round 1, Pick 28 (6'2.5", 270 Pounds, DE/OLB, USC)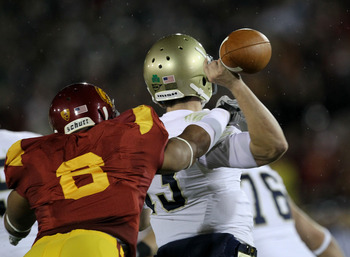 Packers want more of this from Perry
Stephen Dunn/Getty Images
How will Perry fit in Green Bay? Like a glove.
The biggest need for the Packers in 2012 is improving the pass rush. Perry will line up at linebacker opposite fellow Trojan Clay Matthews, and the two will wreak havoc in offensive backfields.
Perry added 15 to 20 pounds last year to bulk up to 270 but still ran a 4.58 40-yard dash at the combine. The single best word to describe him? Explosive. That explosiveness led to 9.5 sacks last year and 21.5 for his career. Just what the doctor ordered.
Perry's coverage skills might be a little lacking, but defensive coordinator Dom Capers is salivating at the thought of scheming with him on one side and Matthews on the other.
Jerel Worthy: Round 2, Pick 51 (6'2.5", 305 Pounds, DT, Michigan State)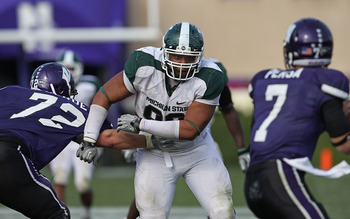 Packers' new DT Jerel Worthy
Jonathan Daniel/Getty Images
The Packers need Worthy to fit quickly, especially considering today's news that defensive end Anthony Hargrove has been suspended for eight games for his role in the Saints' bounty fiasco, according to the Los Angeles Times.
Worthy's 305 pounds make him a little light for nose tackle, so he seems more suited to defensive end in the Packers' 3-4. With Ryan Pickett established on the left side, Worthy will battle with Jarius Wynn for playing time on the right side.
He gets great penetration as evidenced by his 27.5 tackles for loss in his three years as a Spartan. He should thrive in the Packers' nickel 2-5 defense since he'll play more of a defensive tackle spot like he did at Michigan State.
There are slight questions about his effort, but I expect Capers and his staff to easily manage that. All in all another good pick.
Casey Hayward: Round 2, Pick 62 (5'11.5", 193 Pounds, CB, Vanderbilt)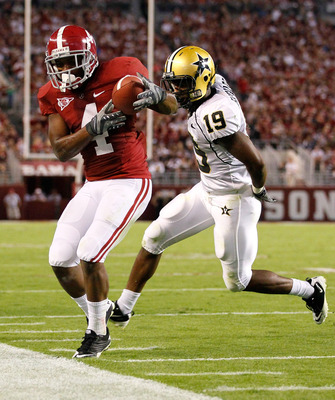 Second round pick Casey Hayward
Kevin C. Cox/Getty Images
A better source than me, NFL Network's Mike Mayock described Hayward as "one of the most instinctive corners in the draft."
The former high school quarterback sure seems to understand offense and sense where the ball is going, which allowed him to intercept 13 passes the past two years at Vanderbilt.
Hayward is also solid against the run, which should allow him to contribute as the fourth corner behind Charles Woodson, Tramon Williams and Sam Shields. He'll also be able to play some free safety in the nickel and dime packages and contribute on special teams.
Another good fit.
Mike Daniels: Round 4, Pick 132 (6'0.5", 292 Pounds, DT, Iowa)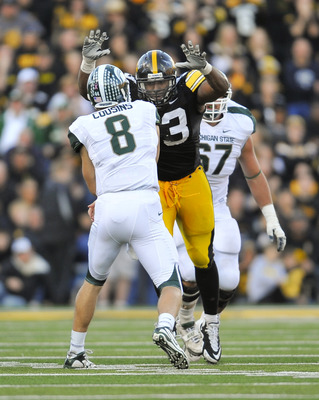 Fourth round pick Mike Daniels
David Purdy/Getty Images
Daniels is best described as versatile. He can play inside in the 3-4 and has the size and quickness to hold his own as a down lineman in the 2-5 special packages.
It takes a lot to succeed as a lineman for Iowa coach Kirk Ferentz, and Daniels started 21 games the last two years, leading the Hawkeyes in sacks each season.
Daniels should contribute as part of a vastly improved line rotation in Green Bay.
Jerron McMillian: Round 4, Pick 133 (5'11", 201 Pounds, S, Maine)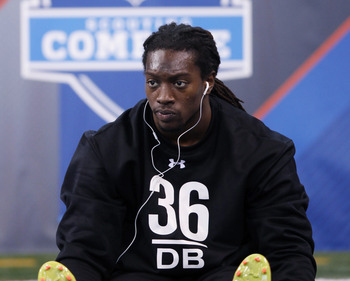 Fourth round pick Jerron McMillian
Joe Robbins/Getty Images
McMillian is an excellent tackler and is solid in run support. He has outstanding speed, as he ran a 4.42 40-yard dash at the combine.
NFL.com's scouting report says, "Without a doubt he is a player who needs to be heavily involved with the front seven and will be attractive to blitz-heavy defenses."
To the Packers and Dom Capers, he looks down right beautiful.
Terrell Manning: Round 5, Pick 163 (6'2", 236 Pounds, ILB, North Carolina State)
Fifth round pick Terrell Manning
Streeter Lecka/Getty Images
Manning is very athletic and good in coverage, which will be a good balance to outside rushers Matthews and Perry.
On the inside, he will be behind Desmond Bishop and A.J. Hawk and should be a very solid special teams contributor.
Andrew Datko: Round 7, Pick 241 (6'6", 316 Pounds, OT, Florida State)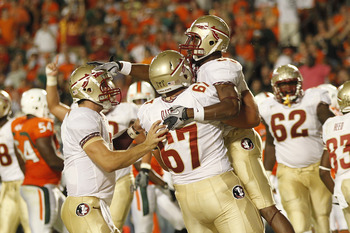 Seventh round pick Andrew Datko
Joel Auerbach/Getty Images
The Packers' first offensive pick could end up being a steal. Datko's third shoulder injury caused him to miss most of his senior year. If healthy, his size and athleticism will allow him to be an outstanding left tackle.
Datko should be a solid backup in 2012 as the line starts to rebuild after the release of veteran Chad Clifton. Bryan Bulaga will stay on the right side with Marshall Newhouse and Derek Sherrod fighting to start on the left.
The fit here is great for a seventh-round pick.
B.J. Coleman: Round 7, Pick 243 (6'3", 232 Pounds, QB, Tennessee-Chattanooga)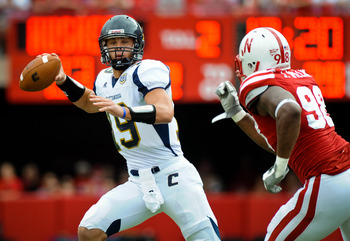 Seventh round pick BJ Coleman
Eric Francis/Getty Images
Coleman was at Tennessee for two years before transferring to Tennessee-Chattanooga. He's big and strong, and if any team can have patience with a developmental quarterback, it's the Packers.
Coleman should push Graham Harrell for right to be Aaron Rodgers' backup.
Keep Reading

Green Bay Packers: Like this team?