MLB Trade Rumors: Each Team's Worthless Trade Bait No One Else Wants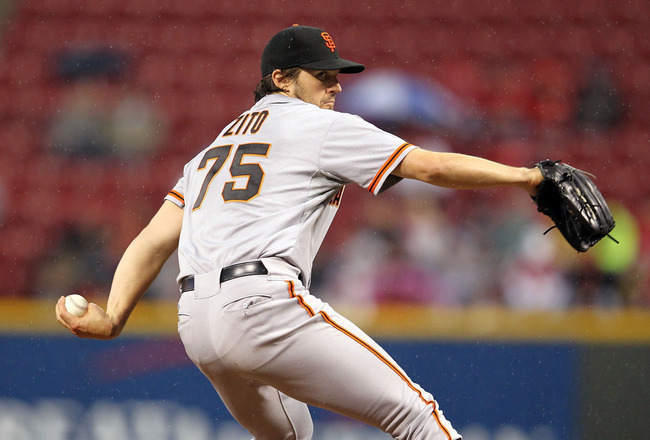 Andy Lyons/Getty Images
Every MLB team has players on their team that nobody else would want.
Whether it is due to sub-par performance, a contract that was signed for way too much money or both (Carl Crawford and Jayson Werth anyone?), there are a wide variety of ways a player can lose his value.
In addition, there are players such as Carlos Zambrano that have temperament issues that disrupt the clubhouse. What makes this a fun discussion, is that every team has their own version of this type of player.
Here is a look at every team's worthless trade bait.
Arizona Diamondbacks: Josh Collmenter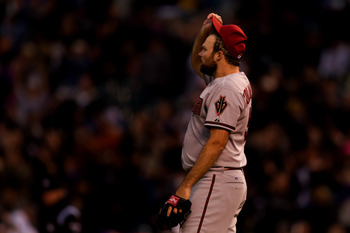 Justin Edmonds/Getty Images
Josh Collmenter may have had a nice season for the Diamondbacks last year, but in 2012 he has been flat out awful.
His 2011 xFIP was 4.18, which normally means great things for a pitcher. However, since his ground-ball rate was just 33 percent and his K/9 was only 5.83, both below league average, there were signs that his performance was not repeatable moving forward and that has come to fruition this year.
After a 9.82 ERA in four starts, Collmenter has already been demoted to the D-Backs' bullpen and he should see Triple-A when Daniel Hudson returns from the DL.
Atlanta Braves: Jack Wilson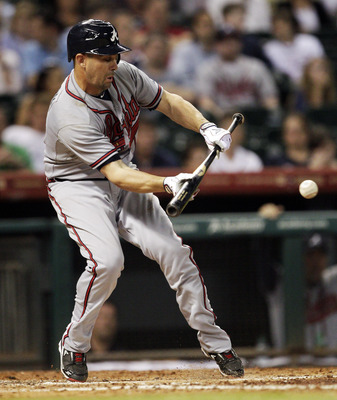 Bob Levey/Getty Images
This past offseason, Jack Wilson garnered very little interest from major league teams looking for a veteran infielder.
If he was a free agent now, I doubt even the Braves would come calling.
Wilson has just three hits in 27 at-bats without a single extra-base hit or walk to go along with seven strikeouts. To say nobody else would want him is being very kind.
Baltimore Orioles: Mark Reynolds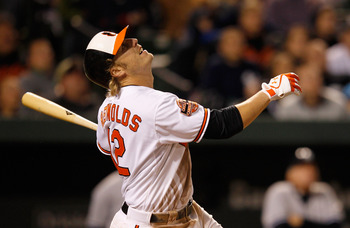 Rob Carr/Getty Images
Forget real life for a second, Mark Reynolds has been so bad he cannot even be traded in fantasy baseball .
Not only does he make too much money at $7.5 million this season, but he plays terrible defense and doesn't even make up for his strikeouts with power anymore. Reynolds is hitting .143 with a .206 slugging percentage and has not yet hit a home run. Despite those terrible stats, he still has 30 punch-outs in just 63 at-bats, good for a 48 percent strikeout rate.
The Orioles are 16-9 and can no longer let these types of players play their way through a slump, if we can Reynolds' performance a slump.
According to ESPN's Jayson Stark, the Orioles are dying to move Reynolds, but as you can see, no team has shown any interest.
Boston Red Sox: Carl Crawford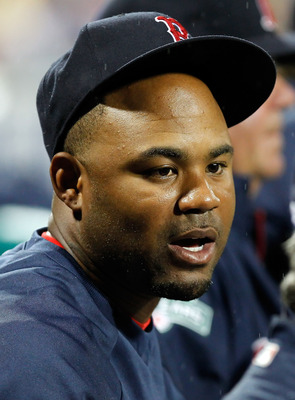 J. Meric/Getty Images
When the Red Sox originally signed Carl Crawford, many believed that he was given too much money, but nobody can honestly say they worried he was not going to perform.
Unfortunately for Crawford and the Red Sox, his performance has fallen off a cliff.
In 2011, Crawford had an injury-plagued season and this year things have gotten even worse as he is now reportedly out for three months.
Until he is able to get back onto the field and show he has recovered from his wrist/elbow issues to play at a reasonable level, he will be as immovable as anyone on this list.
Chicago Cubs: Alfonso Soriano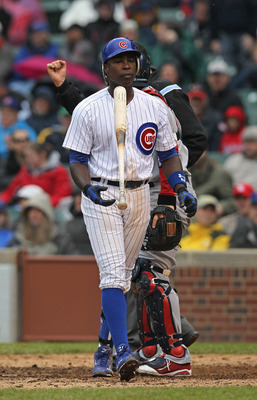 Jonathan Daniel/Getty Images
Alfonso Soriano is another combination of terrible performance and an albatross of a contract.
The Cubs signed Soriano to an eight-year deal worth $136 million after he hit 46 homers and stole 41 bases for the Nationals in 2006. In the six years since, Soriano only has 55 total steals, while averaging just 22 home runs with a .265 batting average.
Considering the Cubs still owe Soriano $54 million through 2014, no other team has asked about acquiring his services, and they probably never will.
Chicago White Sox: Adam Dunn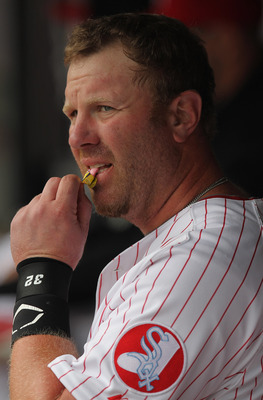 Jonathan Daniel/Getty Images
While Adam Dunn has recovered from his 2011 season, which was one of the worst in baseball history, he is still nowhere near the player he once was.
Dunn still strikes out way too much (he leads the league in K's), and he will never be confused with a strong defender or batting average champ.
He is still guaranteed $44 million through 2014 including this year, so even if he returns to the form that made him one of the most feared power hitters in NL, he is not going anywhere anytime soon.
Cincinnati Reds: Ryan Ludwick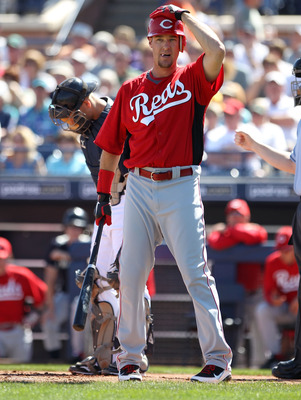 Christian Petersen/Getty Images
When the Reds signed Ryan Ludwick, I was a little confused because he had drawn very little interest and they already had a solid left fielder in Chris Heisey.
As we head into the second month of the season, Ludwick has not done anything to change my opinion as he continues to show signs of his precipitous decline from his 2008 season, which looks more and more like an aberration.
Ludwick is not making a lot of money, but he is hitting just .190 through 17 games which makes him just as undesirable.
Cleveland Indians: Roberto Hernandez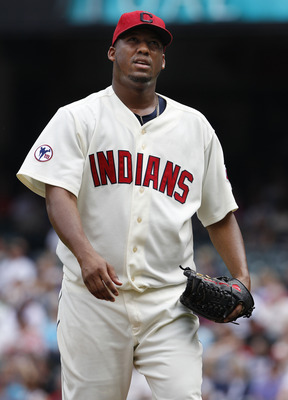 David Maxwell/Getty Images
Roberto Hernandez, formerly known as Fausto Carmona, was once one of the top up and coming pitchers in all of baseball.
After getting charged with using a fake identity, he is now one of the players in the game nobody wants to touch.
He is still under contract with the Indians for the next three seasons with a couple of team options, but because of all of the uncertainty surrounding his age and when he will be able to return, no team will come calling anytime soon.
Colorado Rockies: Esmil Rogers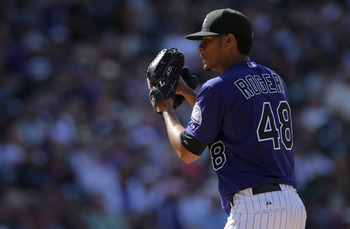 Doug Pensinger/Getty Images
Esmil Rogers has great stuff, as evidenced by his 17 strikeouts against just four walks in 12 innings this season.
The problem for Rogers and the Rockies though, is through 171 innings over the course of three years he has a 6.53 ERA and 1.75 WHIP.
Even when Colorado did not have a strong starting rotation, Rogers was not able to lock down a spot and that is an indication of how he is valued with the Rockies. He is out of options and even though he was listed on the trading block, he was not dealt, and I do not believe any team would give up anything to acquire him.
Detroit Tigers: Delmon Young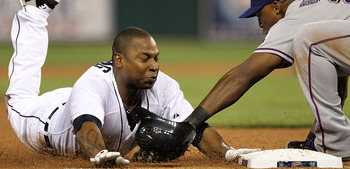 Leon Halip/Getty Images
Talk about a big red flag.
Delmon Young still has an incredible amount of talent and potential; just ask the Yankees about last year's ALDS, I am still a believer in his ability to play baseball.
However, would another team be willing to add him after his second-degree aggravated harassment charge?
For most, if not all organizations, there is no way.
Houston Astros: Chris Snyder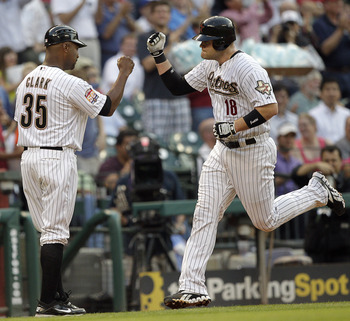 Bob Levey/Getty Images
The Astros are going to be one of the biggest sellers at the trade deadline this year, but if Chris Snyder does not improve his production, they will not find any takers.
Snyder has been overvalued ever since 2008 when he hit 16 homers for the D-Backs. From 2009-2011 he was paid $13.5 million for just 200 games, eight homers a year and a .216 batting average.
This year his production has been even worse with a .139 average and a .222 slugging percentage heading into Wednesday's action. No matter what he did in the past, the Astros are going to have an incredibly tough time selling him to a contender.
Kansas City Royals: Bruce Chen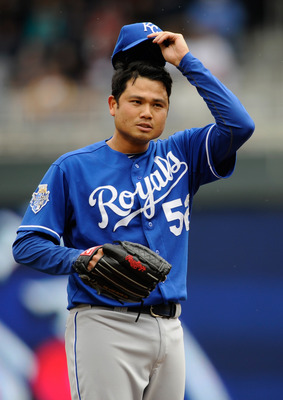 Hannah Foslien/Getty Images
Bruce Chen is a 35-year-old that is owed $9 million over the next two seasons.
While he has been good over the past two seasons for the Royals, he still has a 4.51 ERA over the course of his 14-year career and that is not something any team wants to commit to for.
A contender cannot trust him to perform, and a non-contending team is trying to rid themselves of salary, not add on.
The Royals are stuck with Chen whether they like it or not.
Los Angeles Angels of Anaheim: Vernon Wells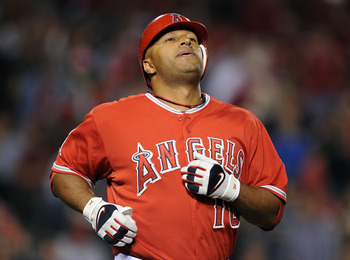 Harry How/Getty Images
The man, the myth, the legend, I give you Vernon Wells.
The Angels owe Wells $63 million over the next three seasons. For a player who hits .229, strikes out six times for every walk he draws and plays average defense at best, Wells is as immovable a player as there is in baseball.
Los Angeles Dodgers: Juan Uribe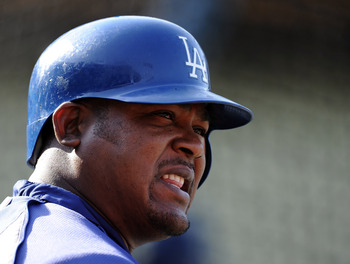 Harry How/Getty Images
Juan Uribe has picked it up of late, but as a 32-year-old middle infielder who is owed $16 million over the next two years, the Dodgers are virtually stuck with him.
After an injury-plagued 2011 season which saw Uribe hit .204 in 77 games, he is hitting just .267 without a home run and only three runs scored.
That type of performance is not going to help the Dodgers win any games on the field, or increase his value off of it.
Miami Marlins: Carlos Zambrano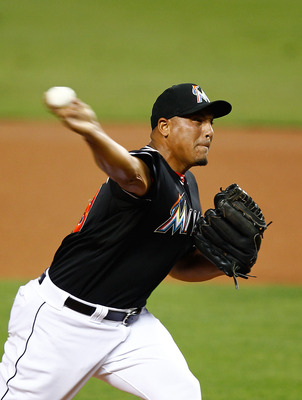 Sarah Glenn/Getty Images
The Cubs have not had a good team in quite some time, but Carlos Zambrano and his temperament did nothing but hurt their organization for a couple of seasons.
He fought with ex-Cubs' clubhouse leader Derrek Lee and former manager Lou Piniella.
The Cubs announcer in that video said it best when he described it as "another Z moment."
No other team outside of Ozzie Guillen and the media frenzy that is Miami Marlins would be willing to put up with that type of behavior.
Milwaukee Brewers: Randy Wolf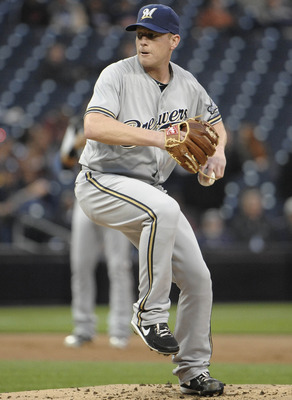 Denis Poroy/Getty Images
Would you sign up to pay a 35-year-old pitcher at least $11 million guaranteed for the rest of 2012 when he has a 6.84 ERA and 1.90 WHIP in five starts?
Neither would the 29 other major league teams out there.
Yes, it is still early in the year and Wolf has been good each of the last three seasons. However, at his age, it's not impossible that he has reached the end of his career, and no team wants to be on the hook for the rest of his contract.
Minnesota Twins: Justin Morneau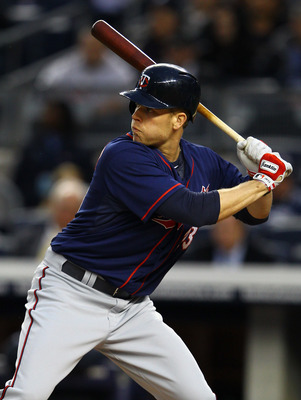 Al Bello/Getty Images
Through no fault of his own, Justin Morneau is simply not the same player he once was due to concussions.
After originally suffering a concussion July 2010 on this play, Mourneau would miss the rest of that season, and only play in 69 games in 2011 as his performance suffered greatly.
This year Mourneau appears to be healthy, and he already has as many homers in 2012 as he did in 2011, which is a great sign moving forward. Having said that, since he is owed $28 million through 2013, no team would be willing to acquire him and risk having to pay him that much money for the reduced production.
New York Mets: Jason Bay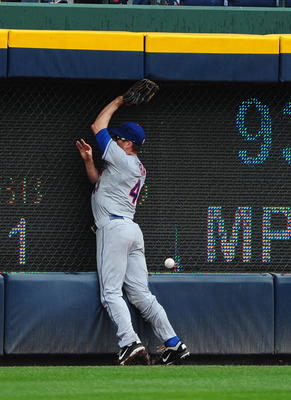 Scott Cunningham/Getty Images
That picture sums up Jason Bay's career thus far as a New York Met.
Over the past few seasons, the Mets have had their share of worthless trade bait, namely Oliver Perez and Luis Castillo, but at the moment Bay found a way to garner even more hatred from the fanbase.
With Oliver Perez in New York, that would seem unimaginable.
After his first two seasons were sub-par and injury plagued at best, Bay is back on the DL again this year and his contract is heading towards Vernon Wells territory. He is owed $49 million over the next three seasons, and no matter how well he produces, no other team will want to trade for him.
New York Yankees: Alex Rodriguez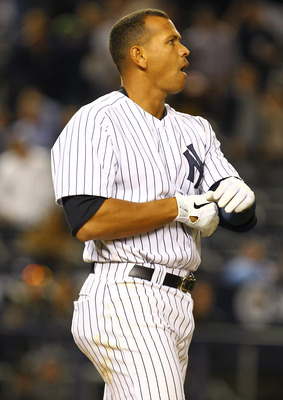 Al Bello/Getty Images
Alex Rodriguez is still a useful player.
However, considering he is owed $143 million through 2017 (age 41 season), his precipitous decline will scare off every team, even the Yankees.
Every season since 2007 A-Rod's batting average, home runs, steals, runs scored and slugging percentage have declined. Every season!
He already has bum hips, cannot play the field everyday and even when he's on the field he isn't as good defensively.
While the name is certainly still there, that may be the only value the Yankees get out of Rodriguez from this point forward.
Oakland A's: Kurt Suzuki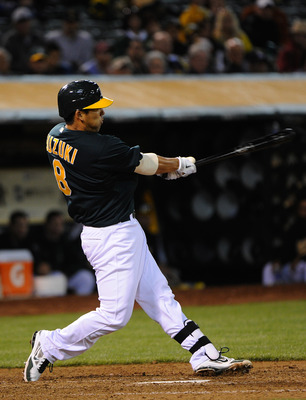 Thearon W. Henderson/Getty Images
When Billy Beane signed Kurt Suzuki to a three-year contract extension, he thought he was getting a bargain on a player that would become one of the best hitters in the AL.
However, Suzuki has only had one good season since 2009, and in 2012 things have been even worse. His triple slash line of .229/.235/.301 are each the worst numbers of his career if they hold up.
Since the A's owe him $11.45 million through 2013 with a $8.5 million team option for 2014, he is one player that no team would want to add to their payroll.
Philadelphia Phillies: Placido Polanco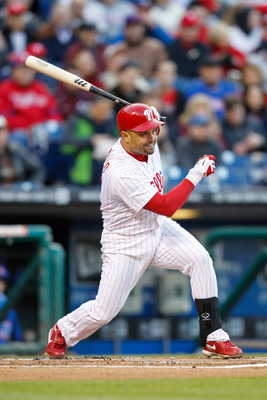 Brian Garfinkel/Getty Images
The Philadelphia Phillies' pitching staff is too good not to contend in 2012, but with all of the injuries to their lineup and Cliff Lee, they sit at .500 heading into Wednesday night's action.
One of the main reasons for their inability to score runs is Placido Polanco.
He is making $6.25 million this year as the Phillies third baseman but is hitting just .250 with only four RBI and a .289 slugging percentage.
This is supposed to be their third baseman!
Third base needs to be a position that produces runs, especially for a team that wants to win. Considering Polanco has been in a decline for six year now dating back to 2007, the Phillies are stuck with him until his contract expires.
Pittsburgh Pirates: Rod Barajas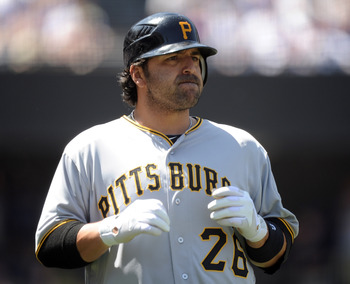 Harry How/Getty Images
When Rod Barajas signed with the Pittsburgh Pirates, there was great potential.
Barajas was coming off four consecutive double-digit home run seasons, but this year, nothing has gone right.
Coming into Wednesday's action, Barajas was hitting .151 with a .208 slugging percentage and has yet to drive in a single run for the Bucs in any of his 17 games.
It is still early, but unless he finds his game sometime soon, the Pirates are going to have to sit tight with his empty bat and his $4 million salary.
San Diego Padres: Orlando Hudson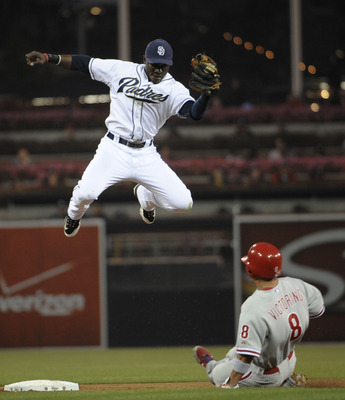 Denis Poroy/Getty Images
Orlando Hudson is yet another player on this list whose production has declined stupendously over the past four seasons.
The unfortunate part of the story for the Padres is that it looks as if they have already tested the waters on Hudson. Nobody was interested.
Scott Miller of CBSSports.com reported they are prepared to release him and simply get rid of the $7.5 million they owe him for the remainder of this season to open up playing time for a prospect.
San Francisco Giants: Barry Zito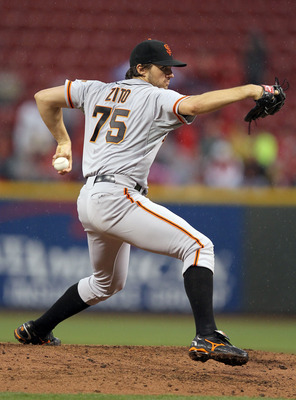 Andy Lyons/Getty Images
As if the world has turned itself upside down, Barry Zito has been spectacular this season.
In his first four starts he has averaged seven innings a game and has a fantastic ERA and WHIP to boot (1.67 and 0.92 respectively).
Having said all of that, the Giants still owe him at least $46 million through 2013, so there is still no chance that any team will be willing to take on that type of contract.
Sorry Giants fans, but you are going to have to put up with Zito through the end of 2013.
Seattle Mariners: Chone Figgins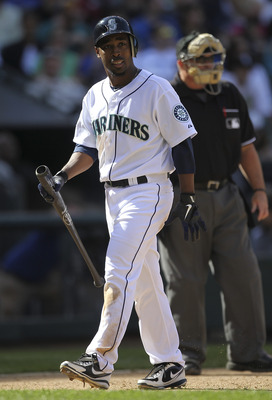 Otto Greule Jr/Getty Images
At this point, all Mariners fans can do is hope they wake up from their nightmare that is Chone Figgins.
After rejoicing when they signed him away from the rival Angels a couple of years ago, Figgins has been flat out awful for the M's, and he has done nothing to change that perception this season.
Coming into Wednesday's action, Figgins was hitting .209 though his first 99 plate appearances, getting on base at a paltry .274 clip despite being entrenched as the team's leadoff hitter.
Since he has been so bad for so long in Seattle, there is no way that any other team would be willing to take on his remaining salary, which could end up being a terrifying $26 million by the end of 2014.
St. Louis Cardinals: Chris Carpenter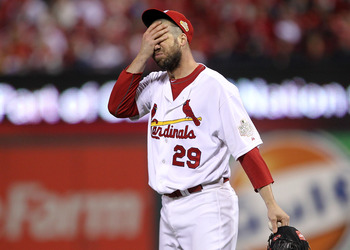 Ezra Shaw/Getty Images
The Cardinals have been so smart with their roster and investments with players that there was nobody on their roster I could find that other teams would not want.
Other than the injury concerns surrounding Chris Carpenter and the massive amount of money that is owed to Matt Holiday, just about everyone else on the Cards roster is scotch free.
That brings us to Carpenter and his injury situation.
The words "nerve irritation" are never two things you want to hear when talking about your neck and/or your back, and the fact that Carpenter had a similar problem in the past makes the $21 million he is owed even more daunting.
Would another team be willing to acquire Carpenter? Maybe. That is because of how good he is when healthy. However, because he is on the 60-day DL and because his return date is unknown at this juncture, the 29 other teams in baseball would tread very carefully if they were proposed a deal for Carpenter, and I believe they would turn it down.
Tampa Bay Rays: Sean Rodriguez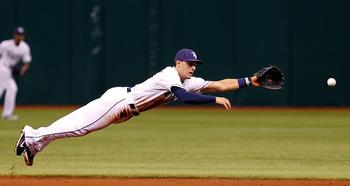 J. Meric/Getty Images
The Tampa Bay Rays are another organization that has been so good with their finances, they tend to always have players other teams would love to have on their roster.
Sean Rodriguez just happens to be one of the few players on the Rays who has not lived up to expectations.
Rodriguez was a tremendous power hitter in the minors who hit for a solid average, but those skills have never translated to the big league level. In both 2008 and 2009, he had a slugging percentage greater than .600 in the minors, but his highest mark in the MLB for a full season has been .397, with it declining to .357 last season.
He is still a valuable player, however, he's heading into arbitration next season so his salary will be on the rise. Many teams, including the Rays, may not want to have a player like Rodriguez who has turned into a below-average hitter at the big league level.
Texas Rangers: Joe Nathan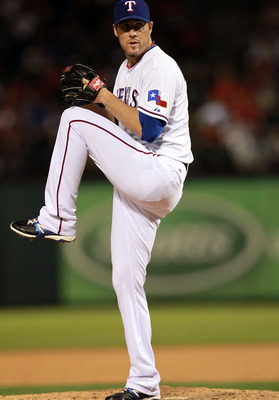 Ronald Martinez/Getty Images
This is what we call nitpicking.
The Texas Rangers are 17-8 and are one of the best teams in baseball. Joe Nathan is the choice for Texas because he is owed $14 million and is coming off a bad season.
Nathan has gotten off to a good start so far with a 3.38 ERA and 11 strikeouts against just one walk. However, because of his age, contract and subpar 2011 season, if he has a couple of bad outings he will go from the closer of a great team to a player the Rangers would not be shy about giving away.
Problem is, once he starts struggling, no team will want to acquire him.
Toronto Blue Jays: Adam Lind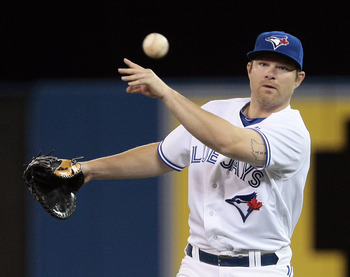 Abelimages/Getty Images
In 2009, Adam Lind had a breakout season.
After batting .305 with a .370 OBP that season, Lind has hit .241 with a .291 OBP since, and his numbers have been even worse this season as he currently sits with a .203 average.
With Edwin Encarnacion having a Jose Bautista-type breakout season and Travis Snider getting off to an outstanding start in Triple-A hitting .400 in 86 at-bats, the Blue Jays may look to move Lind even with Snider's recent injury.
Toronto will have trouble finding a suitor because not only has his performance declined, but he is owed at least $12 million through 2013 and has team options through 2016.
Washington Nationals: Jayson Werth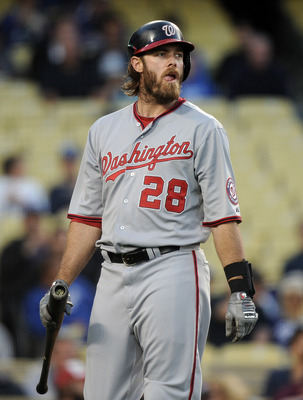 Harry How/Getty Images
When Jayson Werth originally signed his contract with the Nationals, everyone believed they had greatly overpaid.
Nothing Werth has done on the field has made anybody change their minds. In fact, he has helped verify their opinions with sub-par play.
The Nationals owe Werth an incredible $99 million from 2013-2017, so there is no chance any other team will be willing to trade for him.
Keep Reading