Phil Jackson Wouldn't Rescue New York Knicks from Chemistry Crisis
May 2, 2012

Kevork Djansezian/Getty Images
Phil Jackson may be many legendary things, but he's not an alchemist.
His limitations as a miracle-worker notwithstanding, the New York Knicks are a franchise in perpetual desperation–even when the outlook isn't all that bad.
Murmurs have suggested the Knicks might offer Jackson something in the neighborhood of $50 million to come out of retirement if this postseason ends in disappointment, as it's almost sure to do at this point.
The coach extraordinaire has 11 championships to his name (as a coach) and a history of allowing guys like Michael Jordan and Kobe Bryant to flourish on their own terms. It's hard not to wonder if he could do something similar for Carmelo Anthony.
No one should be surprised this team is at least entertaining the possibility. Regardless of how Jackson feels about returning to the team for which he played 11 seasons, New York can't pass up the opportunity to recruit an icon.
Whether that icon would make a difference is another question altogether.
After all, the mess at hand isn't Mike Woodson's fault. By all accounts, the Knicks have been a much better team under Woodson and could improve still more with a bit of continuity in the locker room.
Woodson hasn't had a full season to mold this team, much less a complete offseason and training camp. That's not to say that he's a better coach than Jackson. There's clearly no comparison in terms of career achievement, and there's every reason to believe Jackson might be a better option over the long-term.
But, there are no guarantees.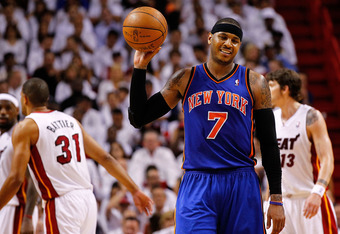 Mike Ehrmann/Getty Images
Even Jackson might struggle to solve the riddle of Carmelo Anthony and Amar'e Stoudemire's elusive chemistry. Until one of these guys radically alters his offensive game, they will remain an awkward on-court pairing.
Nor is Jackson equipped to make Stoudemire a better defender or improve the roster's depth of big men.
Most importantly, any new coach would create yet another change for a club that has already suffered through more than its fair share.
That instability may have more to do with the Knicks' problems than any coach or personnel problem. Yes, New York needed to give up on the Mike D'Antoni experiment, but that failed experiment should be reminder to James Dolan that bringing in outside help isn't always the best plan.
The Knicks might improve under Jackson, but they'll improve even more when they can finally move past this perpetual "adjustment period."
If changes are in order, those changes should reflect the need for a roster that better complements  Anthony's impressive skill set. They should give Mike Woodson the tools to build a championship-caliber defense.
They shouldn't send this team all the way back to the drawing board. It's been there long enough.