Green Bay Packers Were Prepared for DE Anthony Hargrove's Suspension
May 2, 2012

Jay Drowns/Getty Images
Today it was reported that Packers defensive end Tony Hargrove will be suspended for actions taken in the Saints' "Bounty Scandal."
Man, the Packers didn't see that coming, huh?
Or did they?
The right or wrong, harshness of softness of the penalty, whether the players should fight it or not has been hashed and rehashed already so, I'm not going to debate that here.
I'm here to tell you that though it might suck to lose a player for eight games, it could have been worse and that, in fact, the Packers prepared for this.
How do I know this? Do I have a friend in the organization? Am I privy to inside info?
Am I a wizard?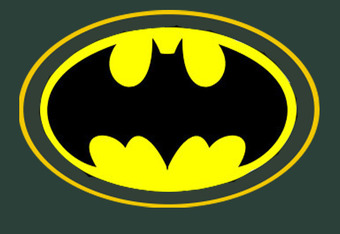 None of the above (though man I wish the last was true). All you have to do is look at several facts and you'll feel better, my dear Cheeseheads.
Huh, turns out I might not be a wizard, but I might be Batman.
Exhibit A: The Contract
Hargrove was signed to a one-year, cap-friendly $825,000 deal. It's not a terribly big contract, and I'd wager there is some protection in it for just this eventuality. However, even if there wasn't, we're talking about a cap-blip if they choose to cut him and a minor amount spent if he plays half a season.
They protected themselves from the start, just in case.
Even though this is some conjecture based on facts, I feel confident enough in the wisdom of the organization to firmly believe that I'm likely right.
Exhibit B: The Rookie
The Packers second-round pick has been talked about this week as a defensive end rather than a tackle, and while Nick Perry is slated to go to an outside linebacker spot, he could play there as well.
I want to focus on Jerel Worthy though. Worthy's quick first step and overall speed would be useful on the end and focus a lot of attention his way, freeing up other defenders to get at the quarterback.
I find it interesting that the Packers' first two draft selections might play at defensive end.
Worthy wasn't drafted just because Hargrove might get benched—he's worth the spot anyway. However, we know how Thompson and McCarthy think—there's never just one reason for a pick.
I'd be willing to bet it was in the back of their minds on draft day, though by no means a major factor.
Exhibit C: The Truth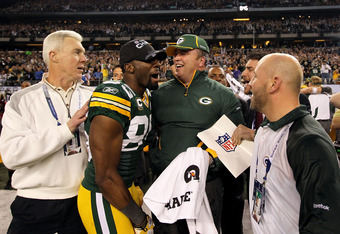 Al Bello/Getty Images
The truth is that nothing is taken for granted in the Packers' organization. They don't always think of everything, but they come very close.
It is almost laughable to think they signed him without the thought of losing him.
So even if the reasoning above isn't right, something else is.
That's pretty bad evidence in a court of law (I think hearsay is the term), but just fine in the court of public opinion.
The Packers, as most fans already know, will probably be fine. Whether they keep Hargrove on or not, they've already got this wired.
They'll let us know how when they feel like it.
Now excuse me, I'm off to Wisconsin in my Bat-Plane to investigate whether Thompson is Captain America and McCarthy, Bucky.