Undrafted Free Agents 2012: Top Prospects That Won't Make the Final Cut
May 3, 2012

Steve Dykes/Getty Images
Once the 2012 NFL draft concluded, the next step in the offseason was checking out the undrafted free-agents. A lot of college football's more well-known prospects were available and the period, although brief, was intense.
The bad news, though, is that not all these players will make a final roster because best available prospects don't always turn out to be as such. Former Oregon Ducks' corner Cliff Harris is a prime example, as he played in just five games in 2011 before getting removed from the team. 
Now, whether it's because of off-the-field issues or simply not being productive, Harris won't be the only top undrafted free-agent signing that fails to make the final cut.
View more undrafted free agent signings at NFL.com.
Cincinnati Bengals: Vontaze Burfict, LB (Arizona State)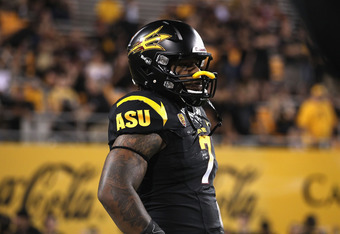 Christian Petersen/Getty Images
The Bengals have dealt with many off-the-field issues before, but Vontaze Burfict simply doesn't have the talent to contribute on a potential top-five defense.
While at Arizona State, Burfict enjoyed two solid seasons in 2009 and 2010 where he collected 69 tackles, defended five passes and forced two fumbles as a freshman. As a sophomore he compiled 90 tackles, forced two more fumbles and defended three passes.
Then the man had a nosedive in production with only 69 tackles and five sacks in 2011. Another year in college would have made Burfict a mid-rounder at the very least in 2013, and he could have revived his career.
Lacking the acceleration, top speed and the agility to maintain a low-center of gravity, Burfict won't be able to defend anything but the run to his side of the field. Although Cincinnati's overall defensive talent does help, Burfict has to improve fundamentally or he won't last in training camp.
Carolina Panthers: Tauren Poole, RB (Tennessee)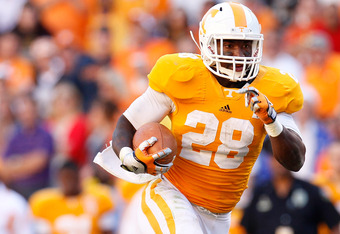 Kevin C. Cox/Getty Images
The only real reason why Tauren Poole won't make the final cut in Carolina is because the Panthers don't need another running back.
Currently, the Cats already have DeAngelo Williams, Mike Tolbert and Jonathan Stewart, so the practice squad is best-case scenario. Not to mention that Poole wasn't a consistently dominant performer at Tennessee.
After playing scarcely through the 2008 and 2009 seasons, Poole had a strong 2010 year with 1,205 total yards and 12 touchdowns. 2011, however, was a quick fall from grace, with just 857 total yards and six scores.
Now, he does have the size to be a potential third-down back, but the inability to make guys miss and accelerate through an open lane limits his yards after first contact. We've seen the Panthers use numerous ball-carriers in a season before, but Poole has a lot of developing to do if he wants a final roster spot.
Philadelphia Eagles: Cliff Harris, CB (Oregon)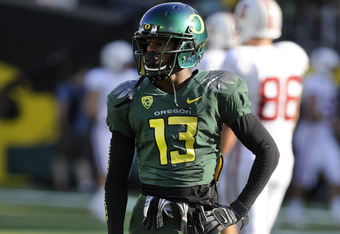 Steve Dykes/Getty Images
As mentioned in the intro, Cliff Harris had a disappointing 2011 season off the field, and it clearly affected his draft status. Still, the Eagles have given him an opportunity in 2012, but it won't last as Philadelphia runs rather deep in the secondary.
At corner, the Eagles already have veterans Nnamdi Asomugha and Dominique Rodgers-Cromartie on the outside and Brandon Boykin to take over as the nickel/dime back. Elsewhere, Philly has a solid safety in Nate Allen, and Harris is way too small to play back deep or roll down into the box.
Harris obviously does bring natural talent to the Eagles however; as he did defend 23 passes and make six interceptions in 2010. He is also somewhat appealing because of his dynamic punt returns (546 yards and four scores in 2010).
Unfortunately for Harris, not only is punt returning DeSean Jackson's responsibility, but Brandon Boykin also brings that to the table if Jackson ends up focusing more on offense. Harris will likely end up on the practice squad, and his opportunity will only come if injuries become an issue.
Jacksonville Jaguars: Jarrett Boykin, WR (Virginia Tech)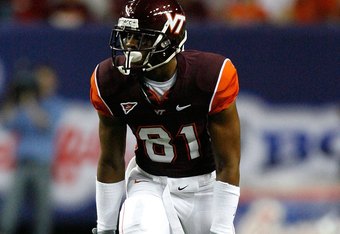 Kevin C. Cox/Getty Images
This offseason, the Jacksonville Jaguars have made some impressive additions to their receiving corps for quarterback Blaine Gabbert.
Obviously, leading the way is Oklahoma State's Justin Blackmon from the draft, but the Jags got him complements in Lee Evans and Laurent Robinson as well. Then include tight end Marcedes Lewis and running back Maurice Jones-Drew and Jacksonville doesn't need Jarrett Boykin in the long run.
Despite presenting solid size to be a No. 2 receiver, Boykin lacks explosiveness, top speed and strength to get immediate separation in the NFL. Now, Boykin did enjoy a solid collegiate career with 184 receptions, 2,884 yards and 18 touchdowns. Plus, he did average just over 16 yards per reception for coach Frank Beamer's Hokies.
However, with Jacksonville's questionable pass protection, Boykin won't have the time to get downfield and make plays, especially with his lack of acceleration and strength against press coverage. He'll likely make the practice squad, but that can at least provide him with the potential to develop more quickness at the line.
John Rozum on Twitter.