Why Chris Paul Will Never Get the Respect He Deserves
May 2, 2012

Harry How/Getty Images
During the offseason, the Los Angeles Clippers took a big step in the right direction when they acquired one of the best point guards in recent memory, Chris Paul.
Judging by his numbers (18.8 PPG, 9.8 APG), Paul has put together a terrific seven-year NBA career.
In his first season in a Clippers uniform, Paul has been just as outstanding, averaging 19.8 PPG, 9.1 APG and putting up an outstanding efficiency rating of 27.09, according to ESPN's John Hollinger's PER ratings.
And yet, despite winning the NBA Rookie of the Year Award in 2006, being named to the All-NBA First Team in 2008 and the NBA All-Defensive First Team in 2009 and five different All-Star teams (2008-12), Paul still doesn't get the respect that he deserves.
Don't get me wrong, Paul is an elite level superstar, but when you are talking about the current greats in the NBA, his name often gets left out of the conversation.
Why is that? 
All Paul has done is lead the NBA in assists twice and steals four times. This season he's put together an MVP-type campaign, but there's still not enough love for him.
Here's a look at a few small things that prevent Paul from getting the respect he deserves.
1. Injuries
Injuries cost Paul major time in both 2007 and 2010. It's only been seven years in the league for him, but he's already gained a reputation as a guy that is prone to injuries.
In seven NBA seasons, Paul has missed a total of 76 regular season games, averaging almost 11 per season. The past two seasons he's been relatively healthy, though, so hopefully he's on his way to shaking that reputation.
2. Playoff Failures
Before this season, Paul has taken a team to the postseason on only three different occasions, all with the New Orleans Hornets (2008, 2009, 2011).
Paul managed to lead New Orleans out of the first round on only one of those occasions, in 2008 where the Hornets lost to the San Antonio Spurs in seven games in the Western Conference semifinals.
3. Market Size
Compared to other NBA markets, playing in New Orleans did Paul no favors, which is one reason why he forced a trade in the offseason.
In the Los Angeles market, while the Clippers are much improved, they still take a back seat to the Lakers.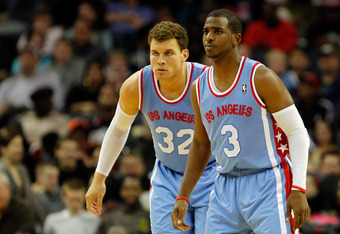 Streeter Lecka/Getty Images
4. Flash
Face it, people like high-flyers and dunks. They dominate the highlight shows and brings every fan out of their seats.
For example, how many Blake Griffin dunks did we see this season?
While those are well-deserved highlights, most of them came off passes from Paul. Fans tend to remember the dunk and not the pass, unfortunately. 
5. Ego
Paul doesn't have a huge one, which is great for a basketball player, but horrible for drawing attention to himself, which today's superstars do all the time.
LeBron James, Dwight Howard and plenty of other guys seek the attention. That's not really Paul's personality, though. You won't see him causing a lot of drama to keep his name in the news.
Even his trade saga before the season was very quiet, compared to Carmelo Anthony last season and Howard this season.
Will He Ever Get His Due?
The only way to get the basketball world to wake up and give Paul the credit he deserves is for him to do the unthinkable—win a championship in a Clippers uniform.